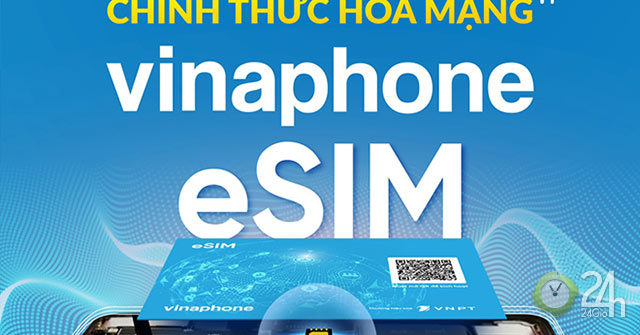 Tuesday, March 12, 2019 18:00 (GMT + 7)
VinaPhone officially provides free eSIM to customers. On this occasion, the network also donated 5GB to customers who activated eSIM for the first time from March 11 to May 6, 2019.
IPhone XR, iPhone XS, iPhone XS Max users can now register for eSIM VinaPhone for FREE in all VinaPhone transactions across the country or via the freedoo.vnpt.vn website to select numbers and deliver home.
VinaPhone subscribers can also register to turn eSIM's normal physical SIM into VinaPhone stores. On this occasion, VinaPhone also donated 5GB (*) to subscribers who activated eSIM for the first time in the period 11 / 3-6 / 5/2019 and registered SIM 4G VinaPhone.
Mr. Nguyen Truong Giang, Deputy Chief Executive Officer of Winafon, shared: "eSIM technology is considered a pioneering step, paving the way for a series of new features explored by VinaPhone, such as electronic signatures and smart software. allow users ".
Previously, VinaPhone provided eSIM to the top 5,000 registered users through the website: esim.vinaphone.com.vn/. Mr. Vu Minh Quan shared: "I'm an iPhone fan, and I also want to update the new technologies, so when VinaPhone announces the eSIM exchange program, I immediately registered. The eSIM physical SIM conversion process eSIM convenience is that I can install a road SIM card when traveling abroad to avail the privileges of the local operator while still registering a roaming service but eSIM VinaPhone to stay in touch and actively access the Internet when needed. "
In addition to features such as the physical SIM, eSIM is also very flexible in the use, easy and secure network switching for users, eSIM users can also use 2 SIM cards to take advantage of the DATA privileges on the network operators … In the near future eSIM will integrate more and more new features that are better and better for users who want smart technology.
For eSIM VinaPhone users, it also has many benefits from network quality and a lot of attractive incentive programs. According to the latest results of SpeedTest – the most popular network speed measurement network in the world, VinaPhone is a 3G network operator, Vietnam No.1 4G at an extraordinary speed. HEY and ECO packets with data and packet parameters attract many clients.
In the world, 24 countries support eSIM with 45 mobile operators. VinaPhone is the first operator to provide eSIM on the market in Vietnam and bring Vietnam to become the 25th country to support eSIM. For more information about eSIM VinaPhone, please call 1800 1091.
(*) 5GB has 7 days usage, including 4GB for 4GB and 1GB for 2G, 3G networks. The program also applies to VinaPhone subscribers who use 4G phones but are not yet connected to SIM 4G VinaPhone and receive SMS notifications from the system. The preferential period from now to 6/5/2019.