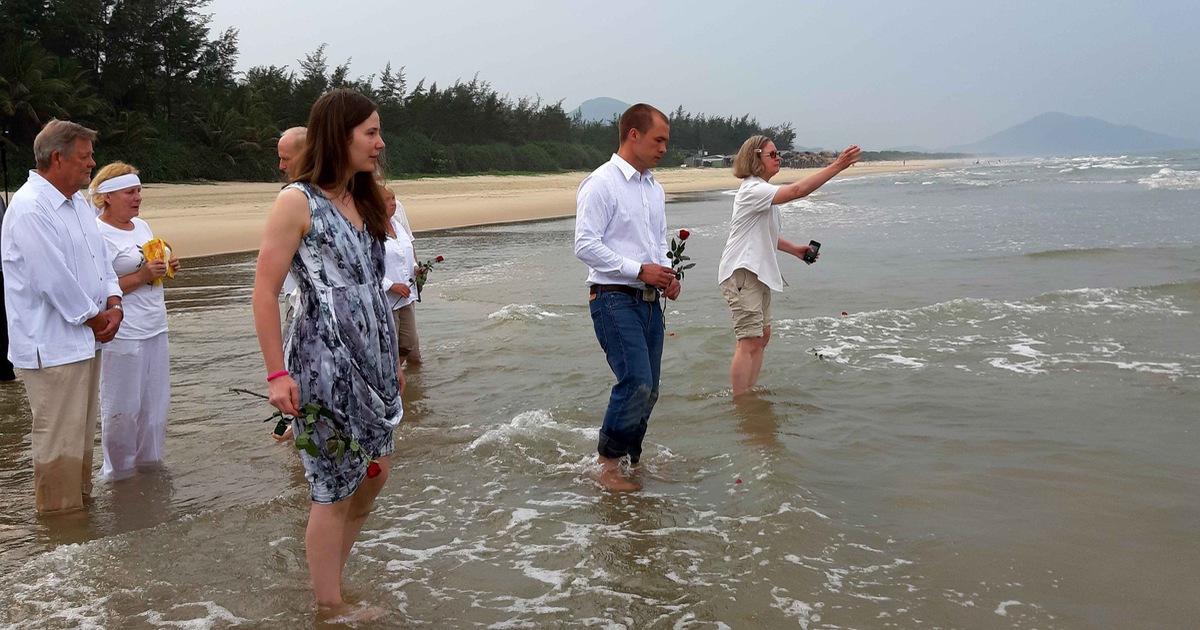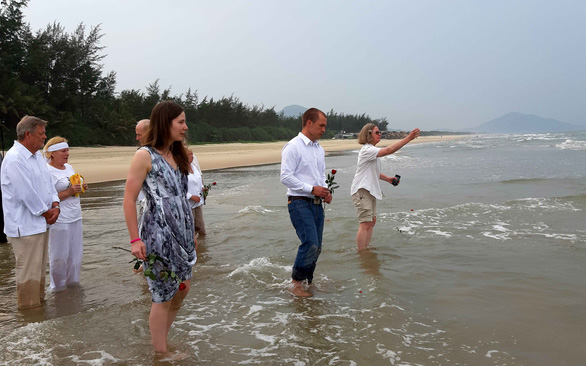 The second minute touched Jess Devani to join the Lang Ko beach – Photo: MINCH TU
I believe Jess is here with us and testifies about what we do. I believe that he is pleased that he was truly eternal in Vietnam
Ms. Marsha
The veteran is Jess Devany, US Marines who fought Vietnam the years 1968-1970.
After the day of peace, almost every year he returned to visit the old battlefield, making charity. And the last time he returned with a few ashes in the hands of his veterans and friends.
US veterans' soldiers returned to the sea in Vietnam
Special guests Stay Lang Co.
One afternoon in April, Lang Ko beach appears special guests. The foreigners dressed in white clothes, the head of the towering towels, holding roses, mounted their hands in the glasses according to the prayers of the monks.
They came here not to swim, but to do the sacred thing.
The Monk by Quang Nam was invited to celebrate the funeral ritual for Jess Devany, born August 15, 1949, in Tucson, Arizona, USA. July 31, 2016, enjoy 70 years of age.
Ms Marsha Devani, the deceased husband, said she died 9 months ago. After cremation in her hometown, veterans' friends Marsha and Jess decided to bring some of their ashes to Vietnam.
Marsha said Jess died at once, so she could not leave the will, but immediately after her husband died, she thought to take him to Vietnam.
"Jess always said that he loves Vietnam, for me, for his children and friends. He returns to Vietnam more than 20 times, but whenever he comes back, he always says he wants to stay here forever," said Ms Marsha dynamic.
She followed her many times to return to her husband's home, and twice rested on Lang Ko beach, where Jess liked the most.
That's why Marsha decided to return her late husband back and fit into the ashes of Lang Ko beach. "I know his soul will be happy to stay here forever."
Ms Marsha's decision got enthusiastic sharing from Jess's veterans, who were also in Vietnam. Not only that, some of the children of veterans also volunteered to go together.
So is a group of 12 young and old people who come from many cities in the United States, quietly went to Lang Ko beach to do the sacred work.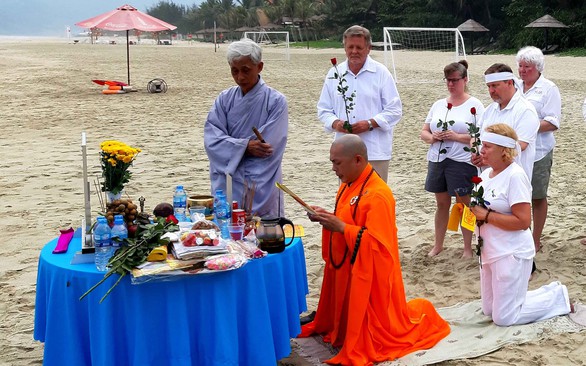 Ashes Jesse Davany is organized according to the Vietnamese ritual – Photo: MINH TU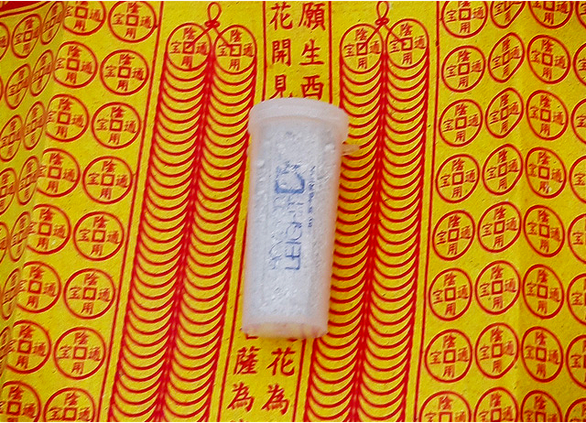 Ashes Box of Jess Devany – Photo: MINH TU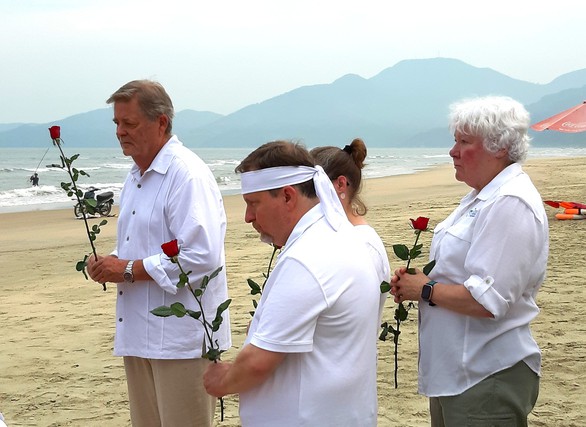 Commissions sent to the deceased – Photo: MINH TU
Stay forever with Vietnam
The monk has just completed supernatural prayers, Marsha and Bruce Logan – a veteran of the alliance – hold the jesus ash to the sea. Marsha murmured something farewell to Jess and the sea, then the ash dropped gently.
Heaven and earth are like wind. The waves were frozen and then dissolved in a few minutes. The group slowly went out to stand around Marsh and Bruce Logan, and then dropped the roses in the sea for a good prayer for the deceased.
Everyone was silent, just to hear the waves as the last greeting to Jess!
"Today, we did a wonderful job for our friend. It's amazing, halfway through the world we brought Jess here to stay forever with Vietnam, but he is very polite and respected!" This is shared by Elaine – wife Bruce Logan. Even if it's just your wife, but Mrs. Eleine still willingly tape a mourning cloth on her head to regret Jess.
Mrs. Eleine just finished speaking when a young man, who also had a mourning scarf, came out with special emotions. He is Chens Chambers, the son of a friend veteran Jess.
Chance said he thought bad about his father and what he did in the blood-stricken war in Vietnam.
Then, it was Jess, who repeatedly returned the chance in Vietnam, so he understood and sympathized with his father.
Thanks to that, Chance has understood better than the country far from his hometown, but now he considers it a friendly place. That's why Chance decided to be with Jess in this special afternoon at Lang Co Beach.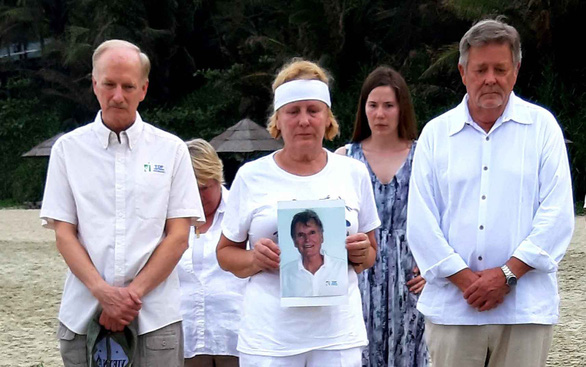 The wife of Jess Devany photographed her husband and veterans with veterans. America, expect him to stay forever with Vietnam – Photo: MINCH TU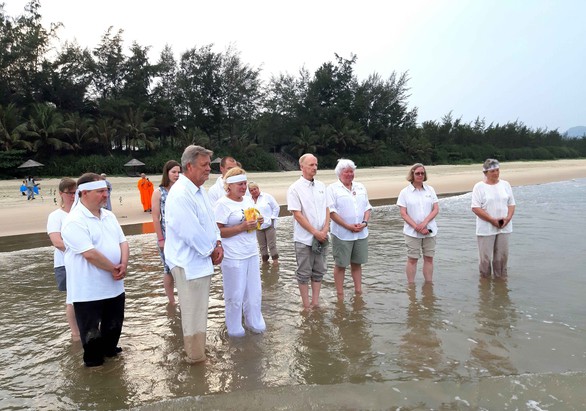 Veterans and their children have expanded the ashes of Jess Devany on Lang Ko beach and stood up to greet – Photo by: MINCH TU
Same flow human love
50 years ago, young soldier Jess Devany stationed on the flaming land Quang Tri with Bruce Logan and Chuck Houston. Both Jess and Bruce are Marines, and Chuck Houston is a soldier.
After the day of peace, Vietnam became their close attachment. Almost every year they had a long journey back to their old battlefield, and Jess was always the initiator. They traveled throughout Vietnam, visited the old place and performed humanitarian and social projects to help people in disadvantaged areas.
Bruce Logan said that today he and his friends came here not only to return Jess in Vietnam, but also to make a charity journey they planned earlier. If there is no sudden upheaval, Jess leads this charity journey.
Over the years, Jess and the veterans traveled throughout Vietnam to help children and the poor, in the first place where they return, the old battlefield of Khye Sanx and Louis.
This special trip, a friend of Jess gave presents at the Hoi Center for Social Protection and awarded scholarships to poor students in the city of Hue. And surely the spirit of Jess was very happy.
A Vietnamese veteran, who was present at this emotional and unusual funeral ceremony, was journalist Le Duck Hung, who lived in Da Nang.
After hearing the words of US veterans who were on the other side of the front, the journalist – Revolutionary veteran Le Duck Hoon asked permission to share a few words.
He said that he had just attended the burial ceremony of his comrade's body earlier in the afternoon. It was a young girl, Nguyen Ti An, who worked with him in the special office of Doan Quang Da, died in February 1970, when she was only 18 years old.
"My emotion when standing before the wreckage and yesterday's spirit brother of my friend is not different from what lies before Jess's soul this afternoon, all are soldiers. Like us today, we were soldiers on two fronts, but now we will say goodbye to friend Jess is a friend of us all, "said Mr. Hung.
At that moment, I saw a conceived expression of American veterans stretching through a bright smile. Both Bruce and Chuck said they were surprised to see "Vietnamese veterans" who were on the other side of the front line who presented him here to clear Jess.
They quickly realized that, although they were far from the ocean, they were still in the flow of people. The word entrusted to the sound of waves on the beautiful day – peace without weapons, hatred …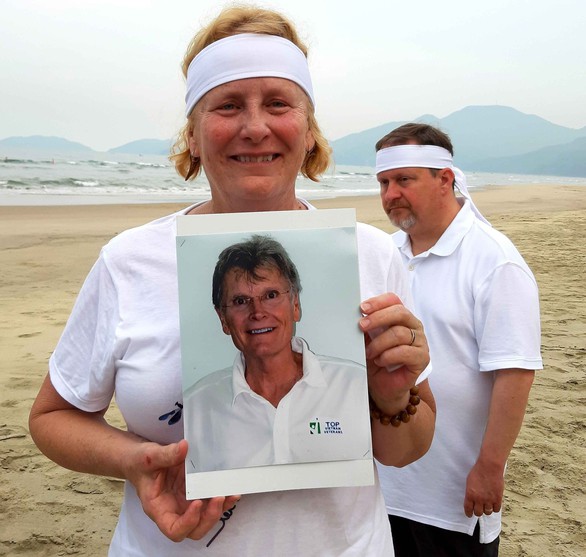 Ms Marsha Devani and her husband's photo – Photo: MINCH TU
Jess Devani graduated from the University of East Arizona and then serves the US Marine Corps in Vietnam. He is a talented vocalist and violinist with full name Jesse Ulysses Devany.
From the battlefield in Vietnam, Jess works on radio stations, recently at KYIM Radio in Tucson, where he called "DJ DJ" from the listener with a smooth, friendly person.
Jess will also be remembered for his humanitarian work with the veterans.
"Jess changed my life"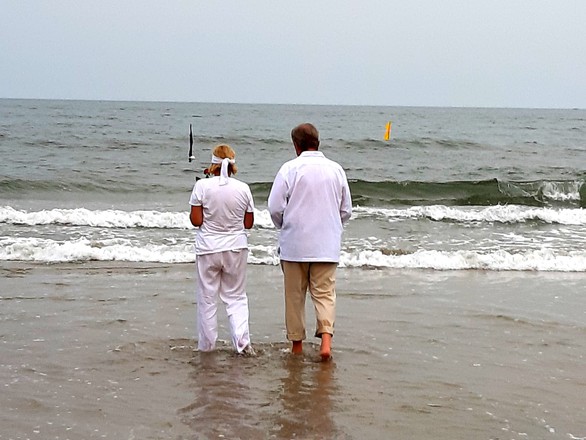 March and Bruce Logan Spread Jess' Ashes Into The Sea – Photo by: MINCH TU
In the guest delegation that day, an elderly man cried during the ceremony to spread the ashes. His name is Charles Huston, but everyone calls him Chuck.
Chuck said he was a soldier, initially stationed at A-Sau Airport, between the valley of the Louis area, near the Vietnam-Laos border.
His job is to make marching paths. In 1971, he was at Chekh San Airport, making way to Laos.
"Now there are many changes, too much development, the place where I was stationed one day earlier became a tourist destination," Chuck said.
After sharing the old soldier, a woman with silver hair touched the last word to Jess. Michele – wife of the veteran. The grandmother could not understand the temperament of her husband's temperament.
"Afterwards, Jess changed my life, did it better." After returning to Jesse with Vietnam, I understood and sympathized with my husband. "Thanks to Jess, I had more friends here," Michelle said.
Source link