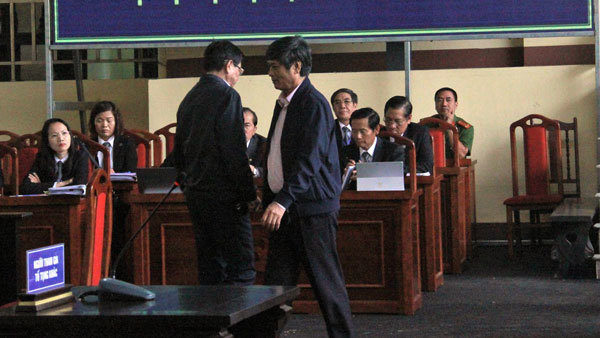 – After meeting with Nguyen Van Duong, two former police generals have "indigo indigo".
Accidentally summoned 2 subordinates of Nguyen Thanh Hoa to face
Nguyen Thanh Hoa increased blood pressure, was admitted guilty, blamed
At court hearing gambling a thousand billions Yesterday, in connection with the relationship with Nguyen Van Duong, defendant Nguyen Tan Hoa said that he first met Yang in 2010 in a very special case.
"I went to the" Tran Temple "festival, my friend's car was detained by the Nam Ding police because of the wrong location. They all reported that Duong is very close to the director of Nam Din, he might ask, and rightly I asked and finally I got the car, "said Mr. Hoa.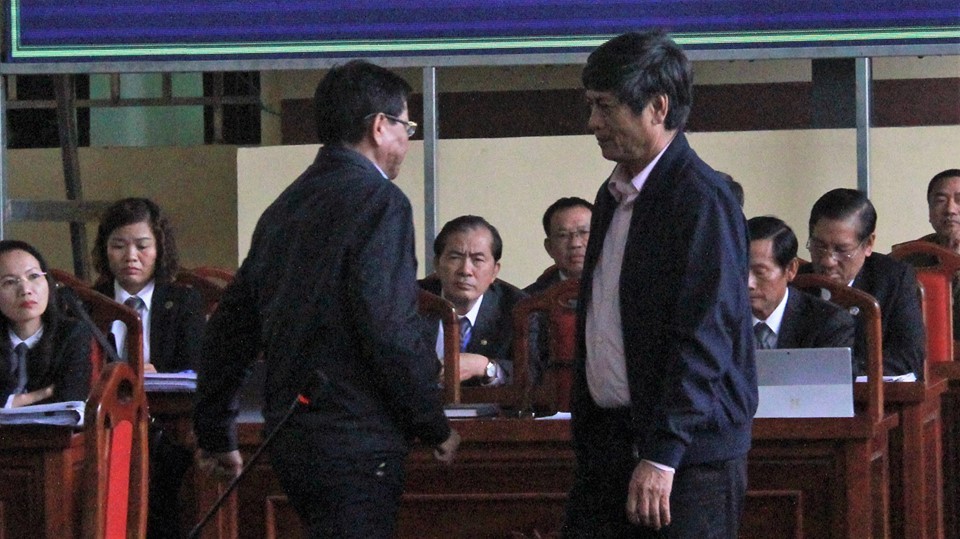 Mr. Fan Van Win and Nguyen Tan Hoa at the trial of trillions of cubes. Picture: Dean Hee
After that meeting, at the moment he asked for a policy to set up a screening company, Mr. Hoa again met with police general Fan Van Win to meet with Nguyen Van Dong to form a screening company for the C50.
On September 30, Nguyen Van Dong Establishment of Hi-Tech Development Security Investment Co., Ltd. (CNC) and Chairman of the Management Board. 10 days later, Mr. Hoa signed a memorandum of business cooperation with Duong …
On May 3, 2012, Duong sent a letter to two former police officers, Fan Van Win and Nguyen Tan Hoa, to report on the status of online gambling activities in Vietnam. In it, the C50 leadership proposed the suspension of crime, "C50 facilitates collaboration with partners in building and organizing online gambling games."
This is to find out, give recommendations from reality to manage illegal activities, generate CNC revenue to finance the construction of professional hackers who will serve assigned political tasks.
In early 2015, Phan Sao Nam (former president and chief executive of the VTC via the Internet) know that the CNC screening company had to meet and propose to co-operate for the publication of online games for online games in the form of card games, Ripkip and Yang agreed.
The declaration "donated" an account for two former police generals
According to Nguyen Van Dong of CQDT, he collected a lot of money from the organization of gambling, he spent a lot on Mr. Hoa and Mr. Win.
Since the C50 and the General Police Department, as well as a large number of individuals from these two agencies create favorable conditions for CNC in business, Duong used part of the company's profits and most of the money received by a gambling organization to give two former police officers generals.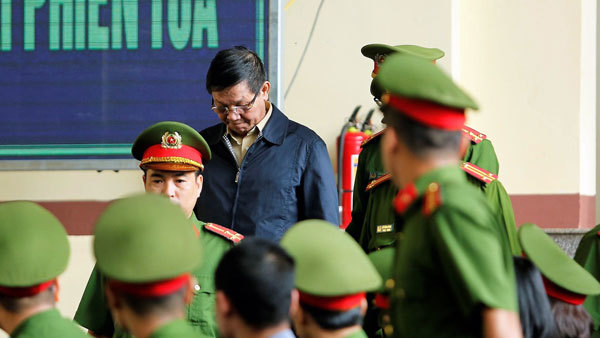 Mr. Fan Van Win on the trial of trillions of cubes. Picture: Dean Hee
Defendant Duong Thanh Nguyen charged 22 billion; For Phan Van Vinh 27 billion dollars and 1.75 million dollars.
In particular, during the operation of the game Rikvip.com Duong on Vinh 2 billion per month, for 12 months. Stage game Tip.Club game for Mr. Vinh $ 200,000 per month for 8 months.
Net for $ 150,000 Tet ($ 20,000, $ 15,000 in 2014, $ 20,000 in 2016, $ 10,000) and $ 7,000 Rolex watch.
In addition, Duong holds many birthday parties for it, including foreign alcohols (Maccalan alcohols worth 100 million denars).
Then, when she went abroad, she bought a Win shirt, worth $ 100 or more; Many times go on a visit with Phan Van Vinh and cost up to $ 10 billion.
So far, both Mr Hoa and Mr Vin have not been confirmed and the CKDT has insufficient evidence of separation when the grounds are considered to be a later treatment.
In court, defendant Fan Van Win said he was passionate to play bonsai for 30 years, with trees buying up to $ 10 billion. In this process, they exchange and buy and sell plants with many people.
And $ 7,000 received from Nguyen Van Duong, Mr Hoa has paid 1.1 billion VND in cash to the former CNC chairman. "The defendant did not take the salary to buy the watch, it's the money sold by the merchants," – said Fan Van Win.

The lawyer to read Poetry Fan Van Win, the president stopped
Lawyers returned home to find out about defendant Fan Van Winne and read the four verses of the writers.

In court, Nguyen Than Hoa spoke a lot about Fan Van Win
Defendant Nguyen Tan Hoa, former director of the Crime Prevention Department, told the panel of his "highly respected Mr. Fan Van Win."