Wednesday, 20/11/2020 20:06 (GMT + 7)
Having experienced many failures in the early days of leaving a steady job to start a business, so far, Ms. Pham Ti Dieu Huyen – 8X in Hue is beginning to reap the fruits of her passion.
Ms. Pham Ti Dieu Huyen was born in 1985 in the Tuan Tan department of Hue, Tua Tien-Hue, and said she studied biotechnology at Hong Bang International University. After 7 years of living in the country with a lot of accumulated experience, she decided to return to her hometown to start a business.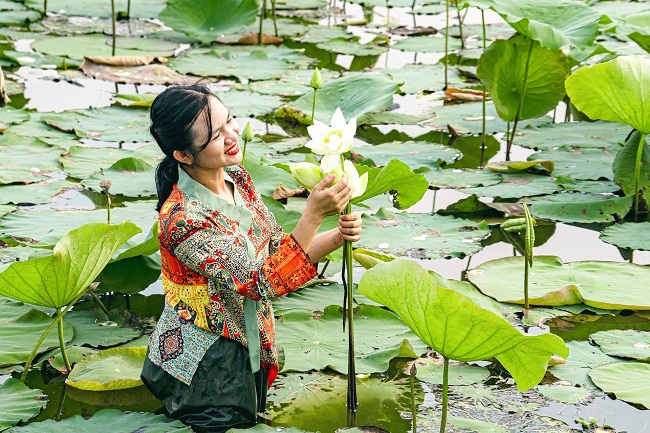 Mrs. Dieu Huyen began to receive sweet fruits from her passion for the lotus Hue trees
Ms. Dieu Huyen said Hue is a gift and specialty tourist town, but currently Hue's gift products do not meet the needs of tourists. Hue has many specialties, but there are many products that are increasingly lost and lost. Having products, it is not allowed to work professionally, without packaging, marking the hygiene and food safety …
In the beginning, she started with many different jobs, from selling gifts to tourists, selling cafes, selling typical Hue products … However, these business times are all unsuccessful.
When starting the project and planting a white lotus on a large pond in 2019 to develop the economy and preserve the varieties, many people considered it "risky".
Sharing her initial idea with the white lotus, Ms. Huyen said: "I want to smell a lot of white lotus in the early morning in the ancient capital and I want to enhance the value of the white lotus with unique products. This is a project. "My enthusiasm, I want to do something to help Hue grow more and tourists get to know Hue better."
In order to implement her initial idea, she found and read documents about growing a lotus, how to grow a lotus, as well as the difficulties and diseases of the lotus in growing.
In addition, she also had meetings with longtime lotus farmers, lotus craftsmen in Hue to learn and combine breeding, farming and care.
In the early days, she had to go down into the mud to grow a lotus, to collect water, to soak in the sun, to process raw materials through machines, lost capital …, despite the difficulties, she was still not discouraged. , continue to carry out lotus cultivation.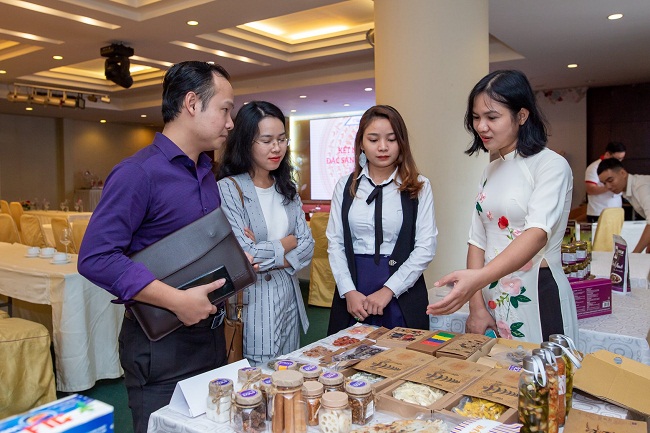 The young director aims to expand the market and export her products abroad
After a period of experimental planting and drawing experience, she gradually successfully planted the typical white lotus of the shade type. Ms. Huang shared: "The white lotus seems to be suitable only for a nurse in Hue. "The white lotus has a low yield compared to the pink lotus, but in turn has a high color, aroma and nutritional content."
Passionate about the lotus, she asked the Board of Directors of the Hue Monument Preservation Center to plant lotuses inside the mausoleum, in the ditch from the middle of the Naha Do Do door to the Da Vien Bridge, and at the same time rent lakes to more people to open. wide area of ​​lotus cultivation.
She said that cleaning the lake and cleaning the lake surface requires the greatest efforts, it takes 6 months to dig, to bring clean water to the lake, to eliminate all pollution. This phase initially encountered many obstacles and capital was spent relatively large.
"There are times when I have difficulties, too much work. "I admit that I also had time to quit this difficult job, but my husband understood his wife's passion, he sacrificed his work for the development of Lotus Hue," said the former biotechnology bachelor. take
With a strong love for the lotus, she and her husband did a tremendous job of beautifying the tourist landscape of the city and making products of high economic value.
To make lotus tea, Ms. Huyen met with many experts, read many palace books, and tried many recipes. The lotus is grown and marinated directly on the lake, which brings a sweet taste, delicate aroma of fresh and quality camellia buds. The tea is meticulously marinated with lotus pestle, kept hidden in the petals and leaves.
Ms. Huyen currently has about 10 acres of lotus cultivation and in addition to lotus tea, she also produces other products such as: fresh lotus seeds, dried lotus seeds, dry lotus tea, lotus leaf tea, painting lotus, lotus tea, ….
She also created to incorporate color materials, Hue culture motifs into the motifs and packaging design.
In addition, it also sells specialties in colored specialties, such as areka candies, soy candies, sesame seeds, sesame seeds, pressed cakes, green bean cake mass, ginger jam, turmeric, seeds of lotus, tea bar. .. With a special pastry shop, she did not take the goods through intermediaries, but took them to the place of production to sign a contract.
She shared, at the moment, brought different products to market with the right criteria and spirit when starting a business, revenues reached billions of dong per year. In addition to the Hue market, some of its product lines have entered the airport sales system, and some school cafeterias in the city. The city of Ho Chi Minh City exported through a small quota.
In order to take her products further, she failed to dance creatively day and night, incorporating colored materials and Hue culture motifs into the motifs and packaging design. Accordingly, she applied images of the village of Xin Hue to the packaging of typical products. From the colors of the village of Sin, she sketches more images of Hue's landscapes on the product packaging.
She said that in addition to enjoying Hue's unique products, she wanted to tell visitors cultural stories, especially about Hue's special white lotus. She also wished to bring Hue lotus products to all parts of the country and export them to foreign countries in the future.
Source: http: //danviet.vn/khoi-nghiep-voi-dac-san-que-huong-8x-hue-co-doanh-thu-ca-ty-dong-nam-502020251 …Source: http://danviet.vn/khoi-nghiep-voi-dac-san-que-huong-8x-hue-co-doanh-thu-ca-ty-dong-nam-50202025112071597.htm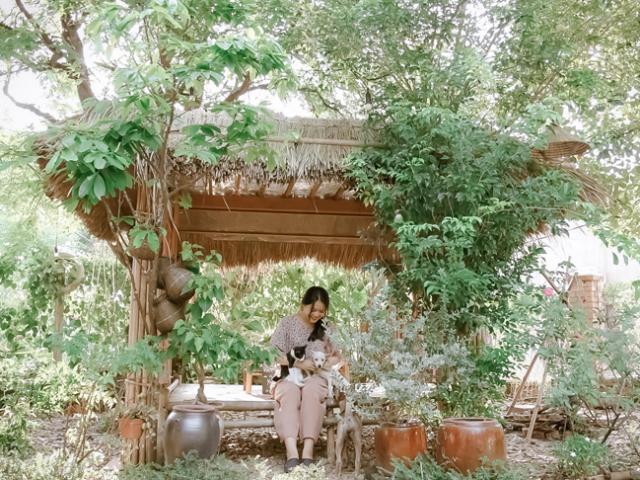 The Lavin Home confetti house is hidden on the slope of Le Ngo Kat, Tui Xuan, Tua Tien Hue. The house incubated the aroma on paper, …
Source link