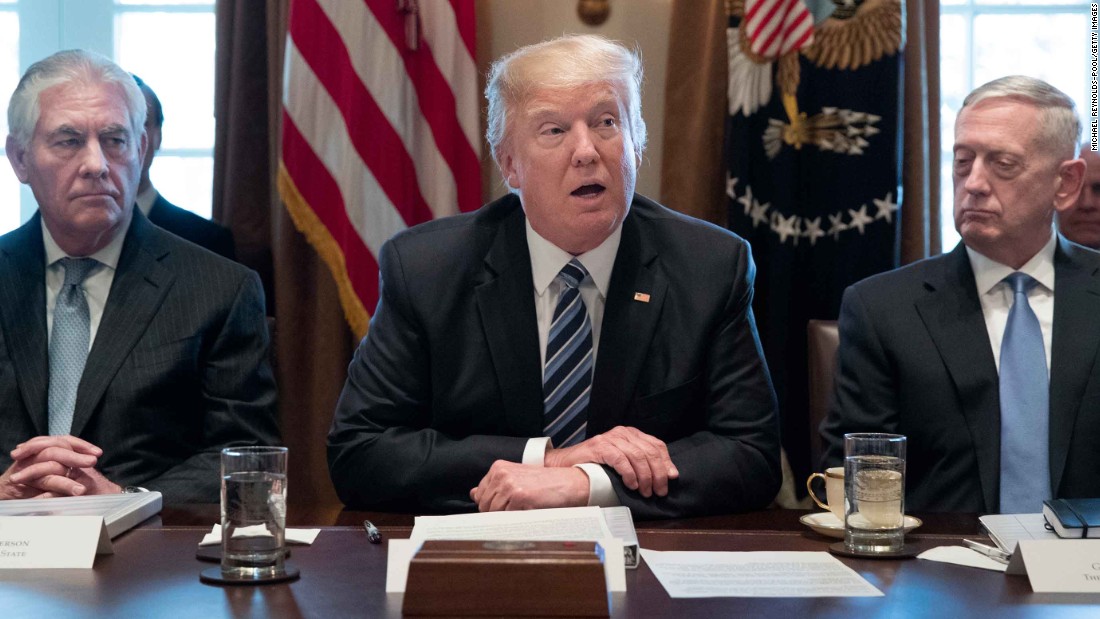 "Kelly and Tillerson confided in me that when they opposed the President, they weren't being obedient, they were trying to save the country," writes Haley in "With All Due Respect," which is out on Tuesday. (The Washington Post obtained an early copy.)
In the wake of that revelation, much has been done – by Haley – of the fact that she has opposed those entreaties. "It should have been, tell the President what your differences are and quit if you don't like what he's doing," Haley told CBS over the weekend. "To undermine a President is really a very dangerous thing. And it goes against the Constitution and it goes against what the American people want. It was offensive."
But Haley's focus – and what she did or didn't do – misses the point, which is this: Two of the top Cabinet officials within the Trump administration were concerned enough about the behavior of the President of the United States that they were actively reaching out to other influential members of the Cabinet to actively work around him.
That's a VERY big deal. Especially when you consider how Tillerson and Mattis came into their jobs.
The former was the head of Exxon, a massive, multinational company. Trump touted Tillerson as the crown jewel of his Cabinet – a hugely successful and accomplished businessman that only this President could recruit to work for the government.
The latter was a hugely accomplished general who, among other things, ran the United States Central Command and served as NATO's Supreme Allied Commander before signing on as Trump's Defense secretary.
It was these resumes that drew Trump to tell them. Of all his Cabinet officials, he bragged about these two most in the early days of his White House. Trump regularly referred to Mattis as a "general's general" and falsely claimed that he had invented the "Mad Dog" moniker by which Mattis is known. Of Tillerson, Trump said: "He's a world-class player. He's in charge of an oil company that's pretty much double its nearest competitor size."
Neither of these men were "never Trumpers." Both were Trump's first pick for these hugely important jobs – perhaps the two most powerful Cabinet gigs – and, at least in the early days of Trump's presidency, were considered primetime players. These were the people who, along with Trump, were going to shape the future of the country and the world.
Neither Tillerson nor Mattis can be accurately described as so-called "deep state" actors either. Both men were new to this level of government. They were the farthest thing embedded within the vast government bureaucracy. And not to sound like a broken record, but Trump appointed both of them!
So consider what it means that within a relatively short period of time, not only did both men identify major concerns with the President, but were concerned that they were reaching out to others within the administration to try to recruit them to a protect-the- country-at-all-costs mission.
You can absolutely ask – as Haley has done – why Tillerson and Mattis didn't just resign rather than trying to run a persecution campaign within the White House to sideline the President. (My guess would be that they would be worried what might happen if they left.)
But what, to me, is the most important part of the story that both of these hugely accomplished Cabinet officials, who were hand-picked for their roles by the President and who, presumably, came into the administration favorably inclined to him, so quickly and clearly assessed that the man they were working for was an active threat to the country.
And such a danger that they were in the process of actively recruiting people within the administration to help them keep the President from doing anything that would endanger the country.
Think about that. It's terrifying.
Source link