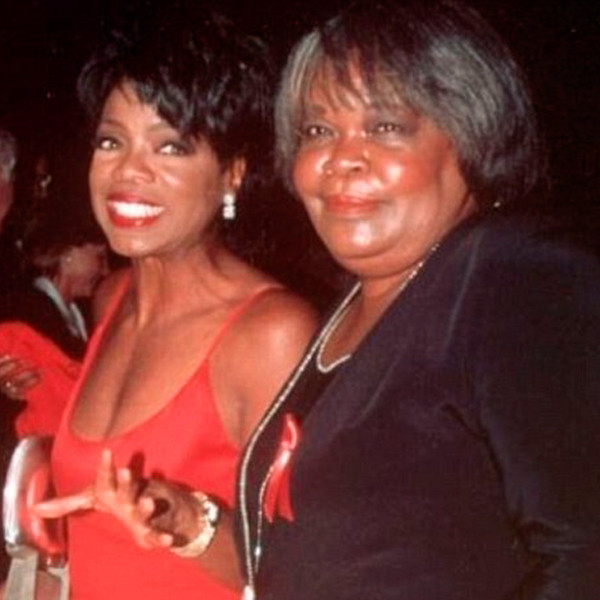 Oprah Winfrey's mother, Vernita Lee, died on Thanksgiving, E! News confirms. She was 83.
The television titan was not with Lee at the time of her passing, as she was celebrating the holiday in Santa Barbara, Calif., With girls from the school she opened in South Africa in 2007. As of Monday, Winfrey has not commented on Lee's death nor updated her social media.
A family spokesperson told E! News Monday Lee is set to rest at a private funeral. Memorial donations can be made to Feeding America in her name, the spokesperson added.
In addition to Winfrey, Lee is survived by the daughter Patricia Amanda Faye Lee; grandchildren Andre Brown, Alisha Hayes, Chrishaunda Lee Perez and Aquarius Lofton and; and great-grandchildren Donovan Hayes, Trinity Hayes, Chai Theresa Perez and Jaxon Praise Perez. She was predeceased by her children, Jeffrey Lee (1960-1989) and Patricia Lee Lloyd (1959-2003).
Lee was born May 2, 1935 and worked as a housekeeper throughout her life.
By her own admission, Winfrey's relationship with Lee was always fraught. Raised by her grandmother in Mississippi for the first years of her life, Winfrey was later sent to live with Lee in Wisconsin. She was then sent to Tennessee to live with her father before she was returned to Lee without explanation-something Winfrey talked about often on her eponymous talk show. While Lee was physically present, Winfrey said she was not emotionally available. "I grew up with an understanding that there was this God-all-knowing, all-powerful-who loved me. The wonder of that, the magical mystery of that, is what carried me when I was separated from my grandmother and sent to I do not know anyone, "Winfrey recalled on OWN in 2015, adding that she did not" really even know my mother "at the time, let alone what life with her was like.
"I remember the first night entering the house and telling me that I would not be able to sleep with my mother, and I would not be able to sleep inside the house. But there was a little foyer-porch before you actually I got inside the house; I was put out to sleep there, "she continued. "I later realized it was because of the color of my skin, my mother was boarding with this very light-skinned black woman who could have passed for white. I could immediately tell when I walked in the room that she did not like me , and it was because of the color of my skin. "
"I remember praying on my knees the first night I was removed from my grandmother," Winfrey remembered. Miraculously, "I do not remember ever shedding a tear about it because I knew that God was my father, Jesus was my brother and they were with me."
As she recalled in a 2011 episode of Oprah's Lifeclass, life with Lee did not improve.
"I remember being taken to a detention home, when my mother was going to put me out of the house at the age of 14, waiting to be processed … and recognizing in that moment that I was abused since I was 9 years old old, "said Winfrey, who was beaten and raped as a child. "Looking around at the detention home at all of these girls who were placed there for being 'bad girls', I remember having a moment thinking,' Now I'm officially a bad girl; I'm now for the rest of my life going to be called a bad girl because I'm going to be put in this place. '"Winfrey thought to herself," I really do not belong here and I do not even know how this happened to me. "
And then … Winfrey's prayers were answered.
"A woman comes out and tells me and my mother," I'm sorry, Ms. Lee, but there's not enough room on our dock for your daughter. You'll have to come back in two weeks, "" Winfrey recalled . The teen-who was secretly pregnant at the time-was then sent to live with her father. "That was my saving grace. And so, from that moment forward, I felt like I was somehow saved-that someone up there, out there, recognized that I was not a bad girl. And now here I was going to have another chance. " After Winfrey gave birth and her son died in infancy, "My father said to me," This is your second chance. This is your chance to capture this moment and make something of your life. " And I took that chance and understood myself – even though I did not have the words to articulate it – 'Now I know better, so I can do better.' "
As Winfrey came into her own, friends like Maya Angelou and Gayle King became surrogate mothers. She also made peace with Lee's failings, telling Bishop T.D. Jakes in a 2013 episode of Lifeclass, "You have to meet people where they are and love them at the level that they can receive it. You have in your mind what mother should be and what you wanted your mother to be – and in many cases your Mothers and your fathers can not be what your ideal is. "
In 2011, Winfrey revealed Lee secretly gave birth to another daughter-and gave her up for adoption-in 1963. "I was 9 years old at the time of [her adoption], she said. "I had no idea my mother was even pregnant." As she said at her daytime talk show, the news "shook me to my core." But, to her half-sister's credit, "She never once thought to go to the press; she never once thought to sell this story. "Winfrey, whose other two siblings had died, said the discovery of a half-sister left her speechless." For the most part, my life was an open book, and on the show, I think I've seen about everything, "she told viewers." I thought nothing could surprise me anymore-but let me tell you, I was wrong. "