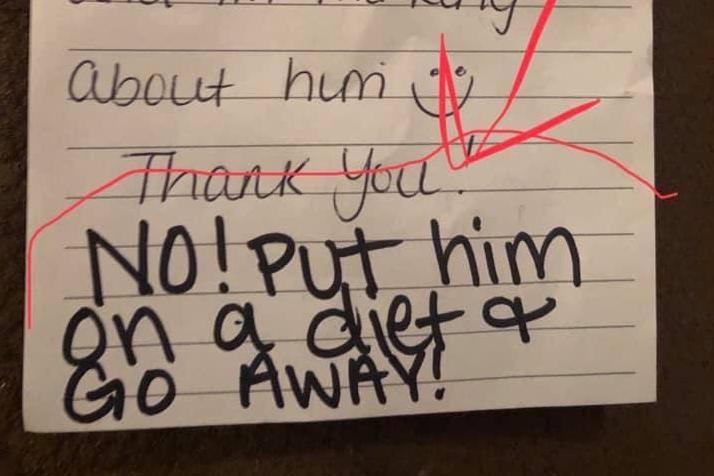 [ad_1]
A daycare worker has been fired after writing a note to a mother telling her to put her five-year-old son on a diet.
Francesca Esdon, of Kingwood, Texas, recently started introducing her son Killer to healthy food, so she added a note to his lunch, asking staff to tell him he was loved.
However, according to Ms. Easdon, she received the remark to discover that a school employee had written: "No! Put it on a diet and go away! "
Download the new Premium Dependent application
Sharing the whole story, not just the headlines
Ms Esdon recalled the Facebook incident, where she explained that Killer was "extremely hoodwinked", so she changed her diet and discussed the changes with her school, the Daily Horse Ranking Center in Kingwood.
"For the record, I feel that Killer is absolutely perfect as he is, I'm just helping him make healthier choices," she said before writing that she was in "absolute shock" about what happened.
She wrote: "I sent this note to Killer's lunch box thinking it would make him smile during lunch, but instead I got it in return from one of the teachers!"
"It took me a minute to register, what I just saw and I was just repeating and just standing there for a minute," Ms Easson recalls of the CTRC. Then he got to school.
"I was convinced that it was being investigated and acted on, but no remorse," Ms Esdon said, before adding that the teacher who wrote the note eventually "admitted and was fired".
Despite identifying the employee, Eadon said daycare did not take any further action – forcing her to remove Killer from the school.
"Јас сум згрозена што верувам во овие луѓе да се грижат за моето дете и тоа е она што го добивам за возврат", напиша таа.
Директор во училиштето изјави за КТРК дека жалат за инцидентот и потврдија дека вработениот бил прекинат.
[ad_2]
Source link