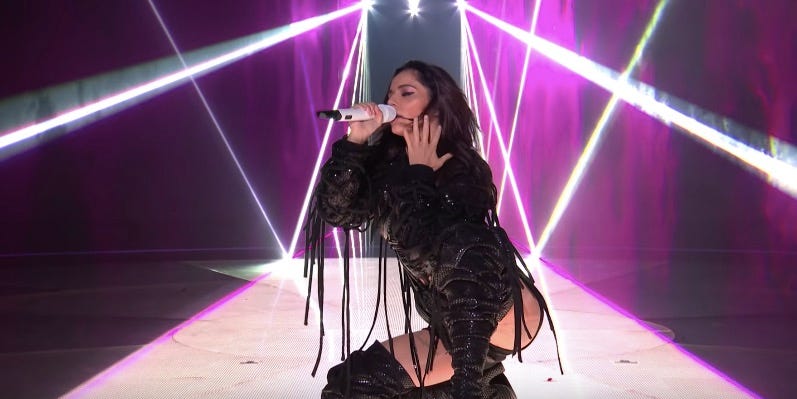 Our girl Cheryl returns with the new single "Love Made Me Do It", taking it to the stage on Sunday evening X factor for her first appearance since the birth of Bear's son.
But some viewers were a bit surprised by the specific part of her routine, which consisted in the singer licking his hand during the lyrics "Ink on my skin, all the places where I was".
Advertisement – continue reading below
One X factor the fan took Twitter to write, "Did anyone else say that the X Cheryl Cole performance factor is inconvenient and unsuitable for viewing? Orrrr …? ", While different added"Licking my hands really pulled me away from dinner. #Cheryl #TheXFactor"
Other added"Can I see that this is true, Cheryl crawls around the stage and then licks?"
However, other fans were more impressed with her performance someone writing, "@CherylOfficial was amazing in X Factor, I really like this new song, which I can definitely relate to, I always bump into these f *** [sic]", and another addition"I just watched the @CherylOfficial X Factor performance and really thought it was great."
Advertisement – continue reading below
The performance comes from the back X factor insider says Sun on Friday [16 November] They were afraid that this performance would be too agitated. "Cheryl wants this performance to be remembered and will be," they explain.
"She's been in rehearsal for a few days, and her routine will see her twelve hot men dancing around on the ground." At one point there were fears that male dancers could show their burns, but now they seem to be more covered.
"No one told Cheryl what to do, but they were watching the creative team closely, so routine is appropriate for the family audience."
That's what it was about.