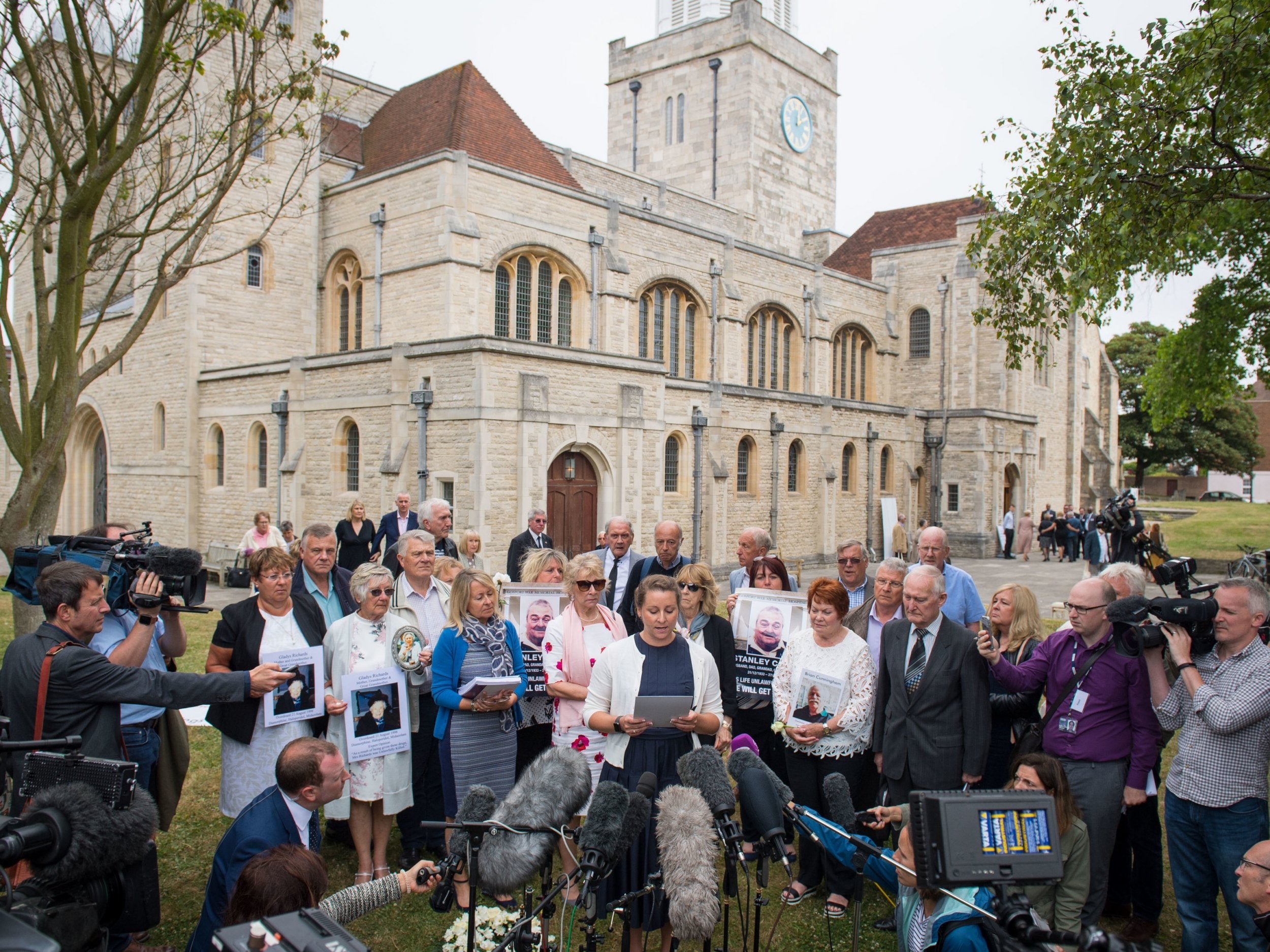 The government has not yet met families whose loved ones were among as many as 650 patients found dead with opioid lethal opiates at the Grosport Memorial Hospital.
In June, Secret Health Secretary Jeremy Hunt told Commons that he would meet as many families as possible before the government responded to the frightening findings of the Independent Panel on Gosport.
But Independent learned the only contact in the past five months was a letter sent this week by Hunt's successor, Matt Hancock, which some families have not yet received, as cited by the next steps by the MP's government on Wednesday.
"I am absolutely shocked that we have not been told yet [about the response], it just goes to show how disturbing it is, "said Bridget Reeves, whose grandfather Elsie Devin was 88 when she died in Gosport on this date in November 1999.
"I wrote to Teresa May, Norman Lamb, no one gave us a meeting. We can not understand it, it's like all people continue their lives and families are not communicated at all."
Ms. Reeves did not receive a letter, although Gillian McKenzie, the first person to go to police for the death of her mother, Gladys Richards, said she arrived on Tuesday.
"Nobody seems to know what's going on," she told Independent.
Shortly before becoming Secretary of the Interior, Mr. Hunt told Commons: "My department will provide support to families from today, because the work of the panel is now locked, and I intend to meet many families as I can before to give our detailed answer in the autumn. "
Families demanded that criminal charges be brought on the eve of a review, chaired by former Liverpool bishop Rev James Jones.
In particular, they want former doctor Dr. Jane Burton to face a criminal investigation after the report showed it was mainly responsible for the "institutionalized culture of shortening life" that prevailed in the departments.
"I swear, as long as the blood does not leak from my body, I can not give up on this," said Ms. Rivers, who is a spokeswoman for the group and organizes a protest on Saturday.
In his speech Wednesday, Mr. Hancock paid tribute to their struggle for the truth, but focused on change to prevent patient safety problems in the future.
The government has already introduced new safeguards for informants and has promised a new role as a medical researcher to ensure any deaths where families are considered.
Mr Hancock also pledged an overview of the oversight of hospital care in hospitals and new legislation to force the confidence to publish an annual report on how attention is paid to staff concerns.
However, according to a report from a report that concluded that 456 patients died from rewriting in Gosport, along with "probably at least 200 other people" who could not be confirmed, he said it was a matter for the police.
"[Police] they must be allowed to complete that process and follow the evidence so that justice can be done, "he told lawmakers.
"The process is ongoing consideration of all the evidence to raise the question of what and whether charges should be taken that will continue in the new year. Then the police will make a statement."
The review found serious mistakes with three separate Hampshire-led police investigations, written by family members who first raised concerns in the 1990s as "troublemakers."
The forces "retreated" from the ongoing investigation, now led by police assistants at Kent and Essex, chief police commander Nick Downing. After the evaluation period, the forces will decide whether further revision is needed or criminal charges should be filed.
Families have already planned a protest outside Downing Street on Saturday against the silence and inaction of police and ministers.
Ms. Reeves urged the public to withdraw from the campaign and said they were afraid that the report was another "paper exercise" that would be halted before families see justice.
Matt Hancock said in a statement: "The changes we made from Gossip means staff can speak with greater confidence, failures have been identified earlier and responded more quickly.
"The reforms we plan to do will mean greater transparency, more stringent drug control and a full and thorough investigation into any hospital death. Together, this means that the warning signs will be observed earlier and examined at that time, and not 25 years later. "
The Department of Health and Social Care addressed a comment on when to meet families.
Source link