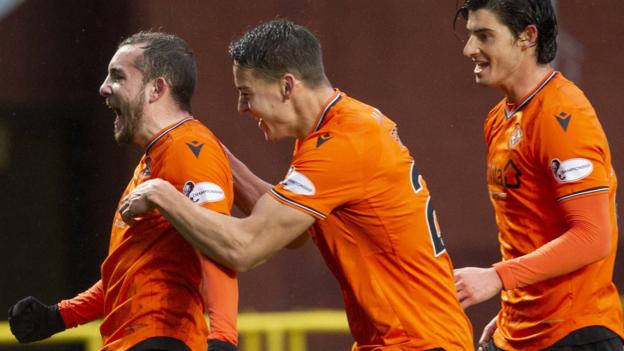 Dundee United took control of the Scottish Championship, clearing a nine-point lead at the summit after a landslide victory over the Queen of the South.
With Lawrence Falkland absent from international duty, Paul McMullan and Nicky Clark stepped up in the first half to set Robbie Nilsson's side on course for a fifth consecutive victory.
Sam Stanton added a magnificent third after the break as United scored nine points at Air United, with Dundee three more backs and Inverness Caledonia Trist another.
The outcome was rarely in doubt as the league leaders deliberately set off.
Stanton and Clark fired in front of Queens center Lee Kilday, who was to be replaced and, as visitors adjusted, McMullan calmly turned Luis Apere's cut.
Queens' attacks were rare – though Connor Murray was trying not to get offside – and United doubled their lead shortly before the break when Clark slipped into McMullan's pass.
Four minutes into the second half, the match ended when Stanton fired off the crossbar before breaking through on the goalkeeper with ease.
McMullen nearly made four, but United were delighted to settle for the win, which continues its commitment to the championship title and promotion back to the top flight.
Dundee United head coach Robbie Nilsson: "I was really pleased, especially with the performance in the first part. I thought we started with a lot of energy and created a lot of chances.
"Winter is when you win titles – December, January and February when the basics are not great, training can be tough. It is windy and you only need to keep up with the points. "
South Queen's manager Alan Johnson: "I think we made it pretty easy with the goals we lost – not with the general game because there wasn't much between the teams.
"Goals change games and they were really bad from our point of view. We gave the three goals, but other than that, I don't think they created that much. "