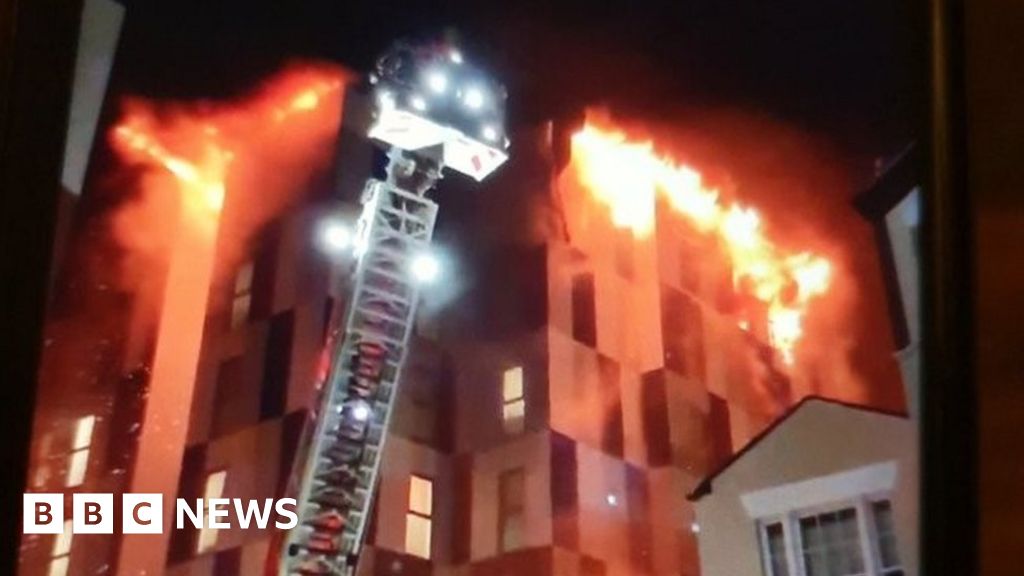 [ad_1]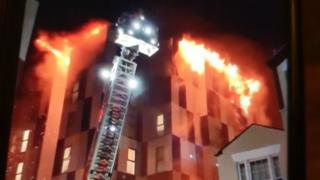 A large fire broke out in the university student housing block.
Many students were evacuated from the Bradshawtite building in Bolton and police urged people to flee the area.
One witness said the blaze "climbed" the six-storey building and "broke out".
The Greater Manchester Fire and Rescue Service said 25 fire engines were on the scene around 8:30 pm by mail. It is not known if he was injured.
Bolton University student Shannon Parker, who lives in the building, said she was in her room when the blaze started.
"I heard the fire alarm went off, but it continued to go off, so I thought at first it was an exercise until one of my downstairs yelled through the hallway that it was a real fire," the 22-year-old said.
"So, I left the apartment as soon as possible and saw that it was one of the apartments below mine and we got out of the fire."
She said she had been moved to a nearby hotel or other student building.
Videos posted on social networks show the remains of the building and firefighters battling the flames coming out of the upper floor windows.
One student tweeted that he had to leave his job and added: "But the main thing is that I'm out and I'm safe."
Witness Ace Leo, 35, said the blaze "was constantly increasing, climbing to the right and because the wind was blowing so hard".
"We could see it develop from the outside, and then it got outside," he added.
"A lot of students came out very quickly, some were very shaken and the rest were on phones calling for help.
"The fire got worse and worse, to the extent that it could be seen through the beams, it was just a bare frame."
A spokesman for the fire department said there were two airplanes used to respond to the fire.
"Local residents are required to keep windows and doors closed and avoid the area where possible," they said.
Greater Manchester police said there were a number of road closures.
[ad_2]
Source link