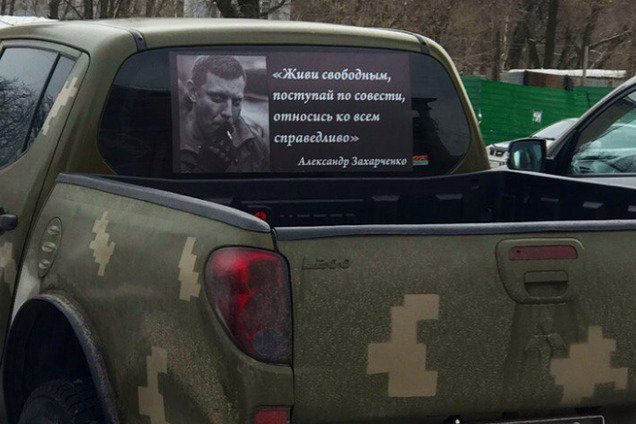 In the occupied Donetsk, a camouflaged car was spotted, which included a photo of the hatred leader of "DPR" Alexander Zakharchenko, killed in 2018.
The corresponding image was posted on Twitter by blogger Necro Mercer. "Zaharomobil", – he signed.
On the rear window of the car, besides the photo, a quotation from a member of the supposedly murdered terrorist was published. "To live freely, act according to your conscience, do everything honestly," says the inscription.
Zaharomobil
Twitter Necro Mancer
The users of this idea inspired the comparison of Zakharchenko with Russian singer Stas Mihaylov and American actor Jason Statem.
"As for the obvious bananas, he could perform on the stage of Mihajlovski instead," Now Statham knows how to know who is above his offer, "" Wash your hands before eating, wash your teeth before you lie down " "Do not you? "- written in the comments.
At the same time, some residents of Donetsk noticed that it was not the first time they saw a car on the streets of the city.
Zaharomobil # roa pic.twitter.com/q3wGgMThx5

– Necro Mancer (@ 666_mancer) January 25, 2019
As reported by OBLIGATOR, Zaharchenko died in the center of the occupied Donetsk as a result of a strong explosion.
In the video showing the murder, inconsistency was found indicating possible scenes.
Subscribe to our Telegram. We only send "last minute" news!