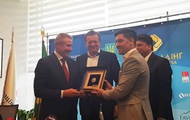 The famous Ukrainian jumper in the water decided to complete his career.
In Kiev, a press conference was held on the stellar Ukrainian jumper in the water of Ilya Kvasha, who announced the end of his sporting career.
What is pleasant and unusual for Ukrainian sports is that the Minister of Youth and Sports Igor Zhdanov, the President of the National Olympic Committee of Ukraine Sergey Bubka and the President of the Federation of Water Bouncing Igor Lisov attended the press conference that speaks about the importance of Ilya Quash for the Ukrainian sport.
"It's very difficult to make such decisions, but, unfortunately, life dictates our own rules. By coincidence, I have to finish my sports career." Believe me, I would like to continue to celebrate Ukraine, my federation of the international arena. to bring another medal from the Olympics, all the strengths and emotions were directed at the Tokyo Games, but that was the situation, so I have to announce that I am finishing my sports career.
You know, it was more than 20 bright years from my life. And this time I was supported by the closest and dearest people – my track suit Tatiana Marianko, the Federation represented by Igor Lisov, NOC, together with Sergei Nazarovich Bubka, with whom we passed three olympics, the Ministry.
Although I'm finishing my career, but the sport will remain in my life. Now, in particular, I have already started my activity as a mentor, working with amateurs. We run diving the amateur leagues. We are expanding our horizons in order to carry our sport to the masses. For more people know about this sport. I will try to continue to make every effort to exploit the Ukrainian sport ", – said Ilija Kvasha at a press conference.
With the words of support and desires for success, Sergei Bubka addressed:
"For every athlete, ending a career is a challenge, because you have to start from scratch, to realize yourself in a new field. I remember when I made this choice – it was very difficult, there were many thoughts, doubts, but knowing your character, honesty and openness, striving for continuous development, I am convinced that you, Elijah, will succeed in a new role, "said Sergei Nazarovich, handing the athlete a memorial sign" For loyalty to the Olympians "by the Olympic family of Ukraine.
"I am very grateful to Ilya for the contribution that contributed to the development and popularization of diving in Ukraine, I respect him very much, I really wanted to participate in his future destiny and I am very glad that he remained in our sport. He gives his experience to others, "Federation President Igor Lisov said, who himself did not remain empty that day. Minister of Youth and Sports, Igor Zhdanov, submitted to the State Order of Merit of first degree.
Vitaly Volochko, iSport.ua
Source link