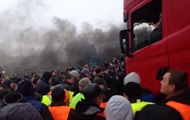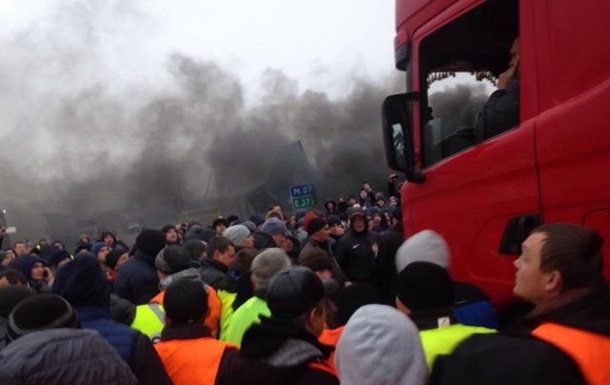 Photo: Volyn news
"Euroblairs" lighted the tires at the Yagodin checkpoint
The protesters were thrown into the car by burning tires. The driver shouted from the cabin, "I'll cut you all!"
On the border with Poland at the Yagodin checkpoint in the Volyn region, drivers of heavy-duty cars broke through a cordon of "Euroblyars" that blocked the road. This is reported by the Volyn news on Monday, November 26.
It is noted that "Euroblyers" lit tires, but soon agreed to skip trucks – three per hour on each side.
"One of the long-distance drivers decided not to wait for his turn on the fare and went through the crowd, almost without arriving at people.This was extremely angry with the protesters who began to stop the car and throw all sorts of things including burning tires.The driver shouted from the cabin, "I'll cut you all!" "- says in the message.
As a result, the driver who went off the line broke through the blockade, followed by five more trucks.
Police special forces also intervened in the situation. The crowd started a fight. The law enforcement officers extinguished the tires.
Recall that on November 25, owners of cars with foreign registration began to block passage points on the western border of the border. For yesterday, more than 200 "Eurobles" were not allowed to Ukraine. On Monday, the action continued.
Also, on November 26, it became known that truck drivers for several hours closed the road to participants of the protest action "Euroblyachers" near the checkpoint in Rav-Russkaya.
News from Telegram. Sign up for our channel https://t.me/korrespondentnet
Source link