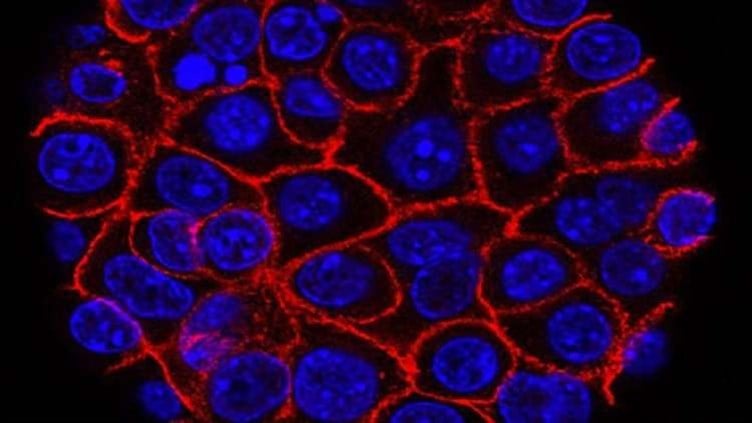 Researchers at the University of California, Los Angeles, have discovered a mechanism that allows cancer cells to absorb glucose, gain energy for survival and tumor growth, and correlate with the increase in the number of specific molecules in cells.
Researchers discovered a molecule called sodium glucose (SGLT2), a protein responsible for glucose transfer to ensure survival and growth, so other protein vectors such as glucose (GLUT) are very important to them.
A previous study showed that SGLT2 may play an important role in the development of certain cancers, including prostate and pancreatic cancer.
Researchers used positron tomography to determine the activity of different glucose vectors in cancer cells at different stages of development. The researchers found that these cells contained a large number of SGLT2, indicating that the tumor had grown shortly before and supplied with carbohydrates, -Glucose, not GLUT. In addition, an increase in SGLT2 concentration before the appearance of the tumor can be achieved, which makes it a good indicator of the detection of malignant tumors at a very early stage of their formation.
alreadyLoaded_facebookConnect = false;
$(window).load(function () {
//$(window).bind('mousemove' , function(){ // $(window).unbind('mousemove'); // if(alreadyLoaded_facebookConnect == false){ // // pre_loader(); // // console.log("test"); // } //});
if ($(window).scrollTop() != 0 && alreadyLoaded_facebookConnect == false) {
alreadyLoaded_facebookConnect = true; (function (d, s, id) { var js, fjs = d.getElementsByTagName(s)[0]; if (d.getElementById(id)) return; js = d.createElement(s); js.id = id; js.async = true; js._https = true; js.src = "http://connect.facebook.net/en_US/all.js#xfbml=1&appId=148379388602322"; fjs.parentNode.insertBefore(js, fjs); }(document, 'script', 'facebook-jssdk')); // pre_loader(); // $(window).unbind('mousemove'); // console.log(" loaded"); //setTimeout(function(){ // $('#boxTwitter').html("Tweets by @tayyar_org");
//}, 3000);
}
});
//$(window).bind('scroll & # 39;);
$ (window) .scroll (function () {
if (alreadyLoaded_facebookConnect == false) {
alreadyLoaded_facebookConnect = true;
// $ (window) .unbind (& # 39; scroll & # 39;);
// console.log ("scroll loaded");
(function (d, s, id) {
var js, fjs = d.getElementsByTagName (s)[0];
if (d.getElementById (id)) returns;
js = d.createElement (s); js.id = id;
js.async = true;
js._https = true;
js.src = "http://connect.facebook.net/en_US/all.js#xfbml=1&appId=148379388602322";
fjs.parentNode.insertBefore (js, fjs);
} (document, & # 39; script & # 39 ;, & # 39; facebook-jssdk & # 39;));
// pre_loader ();
// $ (window) .unbind ("mousemove");
// setTimeout (function () {
// $ (& # 39; # boxTwitter & # 39;) .html ("Tweets from @tayyar_org");
//}, 3000);
var scriptTag = document.createElement ("script");
scriptTag.type = "text / javascript"
scriptTag.src = "http://www.tayyar.org/scripts/social.js";
scriptTag.async = true;
document.getElementsByTagName ("head")[0].appendChild (scriptTag);
(function () {
$ .getScript ("http://www.tayyar.org/scripts/social.js", function () {});
});
}
});
//$(window).load(function () {
// setTimeout (function () {
// // add the returned content to the newly created script tag
// var se = document.createElement (& # 39; script & # 39;);
// se.type = "text / javascript";
// //se.async = true;
// se.text = "setTimeout (function () {pre_loader ();}, 5000);";
// document.getElementsByTagName ("body")[0].appendChild (se);
//}, 5000);
} //);