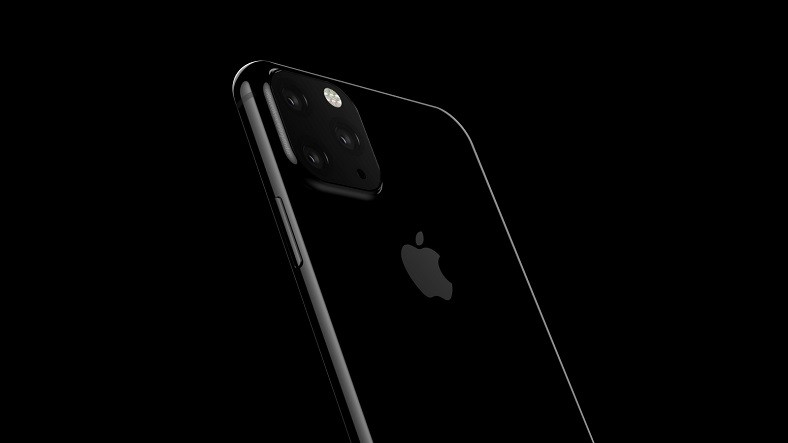 Nearly four months have passed since Apple's first-generation iPhone was printed. Steve Hammerstower shares a new 360-degree video on Apple's next generation, supporting the design of previous rumors.
The pictures show that the new iPhone will have a very familiar front panel. The new generation of iPhone will be available with a wide OLED screen and a cross-section as before.
iPhone XI will have a familiar look
In recent months, many rumors and news that Apple's next flagship was expected to have a smaller amount. However, according to these images, Apple, almost the same design of the front panel in the third year will look re-used.
According to the claim, a slight reduction in the size of the incision, the frames will be dilution. We are not sure if there are any changes, because the video clearly shows that the changes are very minimal and almost do not differ.
The iPhone XI will have a 5.8-inch display like iPhone X and XS. All features are expected to be the same as the iPhone XI iPhone XI Max, only 6.5 inches screen size will be different.
Rear camera with three sensors
The iPhone XI will be available with an interesting camera design. There will be two on the left side of the three sensors to be placed in the upper left corner of the rear panel, the main camera and the telephoto sensor. Both are expected to have a resolution of 12 megapixels.
The right-hand sensor will be a super-wide angle like the Galaxy S10, the LG V40 ThinQ and the Huawei P30 Pro. It is also expected to have a resolution of 12 megapixels.
According to the pictures, the device will have a lightning connector
The iPhone XI seems to have a lightning connector, not a USB-C port. According to previous rumors, the device is expected to have a USB-C connector.
In addition, the device will have a battery capacity of 3,189 mAh and 3,322 mAh. This means that the device will be visibly thicker, but according to the information provided, the thickness of the new phone will increase by 0.1 mm.
It seems that the new generation of iPhone's main motive for a quiet key is changing. It appears that the power off button on the new device is rounded and rounded from the side frame rather than horizontally.
$ (Function () {
// Facebook window.fbAsyncInit = function () { fb.init ({ Application: & # 39; 1037724072951294 & # 39 ;, xfbml: true, version: & # 39; v2.5 & # 39; }); };
(function (d, s, id) { var js, fjs = d.getElementsByTagName (s)[0]; if (d.getElementById (id)) {return;} js = d.createElement (s); js.id = id; js.src = "http://connect.facebook.net/en_US/sdk.js"; fjs.parentNode.insertBefore (js, fjs); } (document, & # 39; script & # 39 ;, facebook-jssdk & # 39;));
$ ("Body"). Ten ({ click: function () { // Facebook save ajax button If fb.xfbml.p (); } }, & # 39; .book-save & # 39;);
// share come if ($ (? content-sticky?) length> 0) { if ($ (window) .width ()> = 768) { $ (window) .on (& nbsp; & nbsp; & num;) function () { have scrollTop = $ (this) .scrollTop (); $ (& # 39; article & # 39;). each (function () { if (scrollTop> = ($ (this) .find (& # 39;. content-body & # 39;) offset (). top-76)) { $ (It) .find ("Content is adhesive.") AddClass ("sticky."); (($ (this) .find (& # 39;. content-body & # 39;) height () - ($ .find (& # 39;. content-sticky & # 39;). height () + 92))) {{ $ (It) .find ("Content is stuck.") RemoveClass ("sticky."); $ (this) .find (& # 39;. content-sticky & # 39;). css (& quot; bottom & # 39; & quot;: 0px & gt; & apos; top & # 39; & quot; auto & # 39;); } other { $ (It) .find ("Content is sticky"). AddClass ("sticky"). CSS ({ & # 39 ;: & # 39; starting & # 39 ;, & Top & # 39 ;: & # 39; 76px & # 39; }); } } other { css (& quot; bottom & # 39; auto & # 39; & # 39; top & # 39; & apos; & apos; & lt; 39 & gt; $ (this) .find (& # 39; } }); }); } }
// Share a click $ ("Body"). Ten ({ click: function () { var $ this = $ (this), dataShareType = $ this.attr (& # 39; data-share-type & # 39;), dataType = $ this.attr (& # 39; data-type & # 39;), dataId = $ this.attr (& # 39; data-id & # 39;), dataPostUrl = $ this.attr (& # 39; data-post-url & # 39;), dataTitle = $ this.attr (& # 39; data-title & # 39;), dataSef = $ this.attr (& # 39; data-sef & # 39;);
switch (dataShareType) { Facebook case: fb.u on ({ method: "sharing", href: dataSef, }, function (answer) { if (answer &&! response.error_message) { updatehit (); } });
broke;
Twitter case shareWindow (& # 39; https: //twitter.com/intent/tweet? via = webtekno & text = & # 39; + encodeURIComponent (dataTitle) + & # 39;% E2% 96% B6 & )); updatehit (); broke;
Case "Glus": shareWindow (& # 39; https: //plus.google.com/share? url = & # 39; + encodeURIComponent (dataSef)); updatehit (); broke;
case "mail": window.location.href = & # 39; mailto:? subject = & # 39; + encodeURIComponent (dataTitle) + & # 39; & body = & # 39; + encodeURIComponent (dataSef); // updatehit (); broke;
case "whatsapp": window.location.href = & # 39; whatsapp: / / send? text = & # 39; + encodeURIComponent (dataTitle) + & # 39;% E2% 96% B6 & # 39; + encodeURIComponent (dataSef); updatehit (); broke; }
function shareWindow (url) { window.open (url, "_blank", "toolbar = yes, scrollbars = yes, resizable = Yes, peak = 500, left = 500, width = 400, height = 400"); }
updateHit () { $ .Ajax ({ type: "POST", url: dataPostUrl, data: {contentId: dataId, contentType: dataType, shareType: dataShareType}, success: function (data) {
if ($ (? video-exhibition & # 39; length> 0) { var $ container = $ (& nbsp; video exhibition & # 39;); } else if ($ (& # 39; article[data-id="' + dataId + '"]& # 39;). length> 0) { var $ container = $ (& # 39; article[data-id="' + dataId + '"]& # 39;); } else if ($ (& # 39;. wt-share-item[data-id="' + dataId + '"]& # 39;). length> 0) { var $ container = $ (& # 39;. wt-share-item[data-id="' + dataId + '"]& # 39;); } other { $ container = zero; }
// var $ container = dataType == & # 39; video & # 39;? $ (& # 39; video-exhibition & # 39;): $ (& lt;[data-id="' + dataId + '"]& # 39;);
if ($ container! = zero && $ container.length> 0) { var $ badged = $ container.find (& # 39;. wt-share-badge - & # 39; + dataShareType);
Find $ headerCount = $ (& # 39;. content-header & # 39;). Find (& gt; wt-share-count & # 39;), $ containerCount = $ container.find (& # 39;. wt-share-count & # 39;), value = parseInt ($ containerCount.html ()) + 1;
$ container.data ("sharing", value); //$containercount.html(valu A);
if ($ headerCount.length> 0) { //$headercount.html(valu A); }
if ($ badged.length> 0 && (dataShareType == & # 39; facebook & # 39; || dataShareType == & # 39; twitter & # 39;)) { if ($ badged.hasClass ('s-visible')) {{ //$badged.html(dat A); } other { //$badged.addclass('is-visible').html(dat A); } } }
} }); } } }, & # 39; .wt-share-button & # 39;) });
Source link