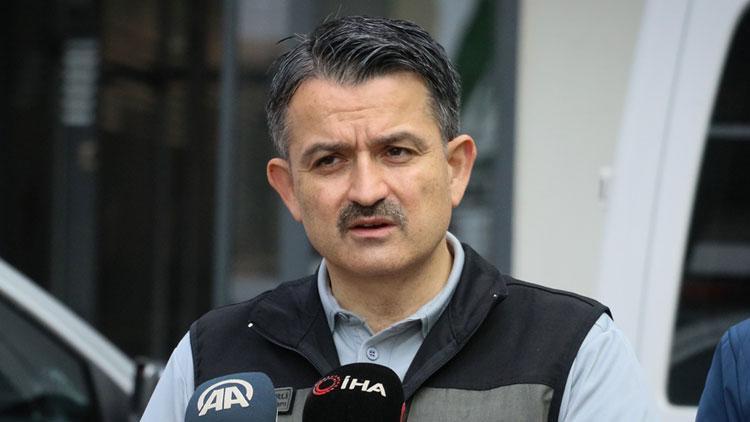 Bekir Pakdemirli, Minister of Agriculture and Forestry, made a statement in the forest fire zone in Hatay's Iskenderun district.
The statements of Minister Pakdemirli, who gave information to the members of the press, are the following:
"With our first response, there was intense fighting. We used all the technological possibilities. Our greatest treasure is of course our human resources and our valuable forest organization, but I would like to remind you again of the machines and equipment we used, 166 sprinklers. , 15 dispensers, 700 workers and 3 separately.Last night we used company planes.
The fire in Hatay was brought under control.
The burned areas will be reforested after the cleaning work is completed.
The good news is that we have no casualties, but as we always say, not only are trees burning in the woods. In forests, wildlife situations can occur that cannot be remedied or can be remedied for a very long time.
There are 5 houses and 1 mosque in the area of ​​Akarca, 2 houses and a pen in the district of Sarseki, 3 houses and 1 pen in the area of ​​Azganli.
class = "cf">
The fire was controlled after 22 hours of intensive work.
IS IT POSTING TERROR?
Two people who had a can of gasoline and said that their vehicle had broken down, were detained, but were released after questioning by the prosecution. The two suspects in the fire that broke out yesterday in Hatay Yayladag were also identified and detained by the district gendarmerie command. "Investigations into these individuals are ongoing."
After 22 hours of hard work, # ReallyWe took control of the forest fire in Turkey.

Our heroes continue their cooling efforts.

– Dr. Bekir Pakdemirli (@bekirpakdemirli) October 28, 2020