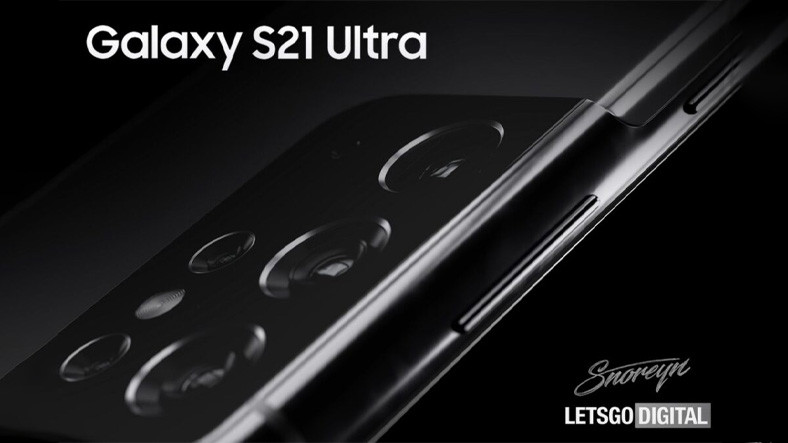 The concept design for the Galaxy S21 Ultra flagship camera, which Samsung will present next month, has been prepared. In the prepared conceptual design, the obtained information about the device is taken into account.
The leader of the next generation that the technology giant based in South Korea Samsung will present in January 2021 In the Galaxy S21 series There are a total of three models: Galaxy S21, Galaxy S21 + and Galaxy S21 Ultra.
Of course, when it comes to Samsung's most notable series, the Galaxy S, according to him, information from industry sources. For example, one of these leaked pieces of information is the Galaxy S21 Ultra 5 rear cameras was what he would have had. Concept designers have rolled up their sleeves in this regard.
Samsung Galaxy S21 Ultra 5 camera concept design
Designer useuzepe Spinelli, also known as Snoreyn, has prepared a concept design with 5 rear cameras for the Galaxy S21 Ultra, which will be presented in January. In this concept design realized in partnership with LetsGoDigital and Snoreyn 3 large, 2 small There are a total of 5 rear cameras.
In the prepared conceptual design, it can be seen that the camera module is longer than the Galaxy S20 Ultra model. Also in the design prepared by Snoreyn, same as in the rendering image of the Galaxy S21 As it turned out, the camera module is located at the top left of the phone.
RELATED NEWS
A new member of the Samsung Galaxy F family with Exynos 9825 appears in Geekbench
Samsung Galaxy S21 UltraIt is stated that there may be a 108 MP main camera, an ultra-wide angle sensor, 2 telephoto lenses and a LiDAR sensor on the back. Of course, we will see how accurate all this information is when the official announcement is made. In addition, the video for the whole concept design, which we are currently only seeing on the camera, will be released tomorrow by LetsGoDigital.
Source:
https://www.concept-phones.com/samsung/samsung-galaxy-s21-ultra-gets-a-brand-new-penta-camera-design-teaser/
$(function(){
//facebook window.fbAsyncInit = function() { FB.init({ appId : '1037724072951294', xfbml : true, version : 'v2.5' }); };
(function(d, s, id){ var js, fjs = d.getElementsByTagName(s)[0]; if (d.getElementById(id)) {return;} js = d.createElement(s); js.id = id; js.src = "https://connect.facebook.net/tr_TR/sdk.js"; fjs.parentNode.insertBefore(js, fjs); }(document, 'script', 'facebook-jssdk'));
$('body').on({ click: function() { // facebook save button ajax FB.XFBML.parse(); } }, '.facebook-save');
// share scroll if ($('.content-sticky').length > 0) { if ($(window).width() >= 768) { $(window).on('scroll', function () { var scrollTop = $(this).scrollTop(); $('article').each(function () { if (scrollTop >= ($(this).find('.content-body').offset().top - 76)) { $(this).find('.content-sticky').addClass('sticky'); if (scrollTop >= ($(this).find('.content-body').offset().top + $(this).find('.content-body').height() - ($(this).find('.content-sticky').height() + 92))) { $(this).find('.content-sticky').removeClass('sticky'); $(this).find('.content-sticky').css({'bottom': '0px', 'top': 'auto'}); } else { $(this).find('.content-sticky').addClass('sticky').css({ 'bottom': 'initial', 'top': '76px' }); } } else { $(this).find('.content-sticky').removeClass('sticky').css({'bottom': 'auto', 'top': '0'}); } }); }); } }
// share click $('body').on({ click: function (){ var $this = $(this), dataShareType = $this.attr('data-share-type'), dataType = $this.attr('data-type'), dataId = $this.attr('data-id'), dataPostUrl = $this.attr('data-post-url'), dataTitle = $this.attr('data-title'), dataSef = $this.attr('data-sef');
switch(dataShareType) { case 'facebook': FB.ui({ method: 'share', href: dataSef, }, function(response){ if (response && !response.error_message) { updateHit(); } });
break;
case 'twitter': shareWindow('https://twitter.com/intent/tweet?via=webtekno&text="+encodeURIComponent(dataTitle) + " %E2%96%B6 ' + encodeURIComponent(dataSef)); updateHit(); break;
case 'gplus': shareWindow('https://plus.google.com/share?url=" + encodeURIComponent(dataSef)); updateHit(); break;
case "mail': window.location.href="https://news.google.com/__i/rss/rd/articles/mailto:?subject=" + encodeURIComponent(dataTitle) +'&body='+ encodeURIComponent(dataSef); //updateHit(); break;
case 'whatsapp': window.location.href="whatsapp://send?text=" + encodeURIComponent(dataTitle) +' %E2%96%B6 '+ encodeURIComponent(dataSef); updateHit(); break; }
function shareWindow (url) { window.open(url, "_blank", "toolbar=yes, scrollbars=yes, resizable=yes, top=500, left=500, width=400, height=400"); }
function updateHit () { $.ajax({ type: "POST", url: dataPostUrl, data: {contentId: dataId, contentType: dataType, shareType: dataShareType}, success: function(data) {
if ($('.video-showcase').length > 0) { var $container = $('.video-showcase'); } else if ($('article[data-id="' + dataId + '"]').length > 0) { var $container = $('article[data-id="' + dataId + '"]'); } else if ($('.wt-share-item[data-id="' + dataId + '"]').length > 0) { var $container = $('.wt-share-item[data-id="' + dataId + '"]'); } else { $container = null; }
//var $container = dataType == 'video' ? $('.video-showcase') : $('article[data-id="' + dataId + '"]');
if ( $container != null && $container.length > 0 ) { var $badged = $container.find('.wt-share-badge-' + dataShareType);
var $headerCount = $('.content-header').find('.wt-share-count'), $containerCount = $container.find('.wt-share-count'), value = parseInt($containerCount.html()) + 1;
$container.data('share', value); //$containerCount.html(value);
if ($headerCount.length > 0) { //$headerCount.html(value); }
if ( $badged.length > 0 && (dataShareType == 'facebook' || dataShareType == 'twitter')) { if ($badged.hasClass('is-visible')) { //$badged.html(data); } else { //$badged.addClass('is-visible').html(data); } } }
} }); } } }, '.wt-share-button') });