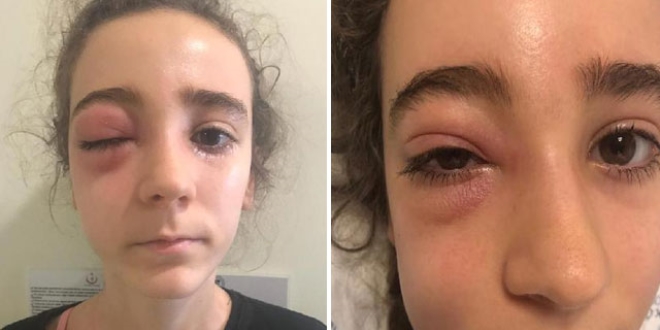 Dr. Sadi Konuk Training and Research Hospital Otorhinolaryngology specialist Hasan Em Kocak, a little girl with her own discharge to the nose, high fever and red eyes, explaining that they brought "we did in the eye, focusing on an abscess called microbial accumulation. we have immediate surgery. We got inside the nose and completely cleared the sinus region after cleaning the infection in the eye, so that we can see and improve the infection.
"THE LORD OF TREATMENT AND LIGHTING OF THE PRAYER CAN MAKE LIFE IN A TREASURE IN TREATMENT"
The occurrence of infection in the eye is rare, he said. Kocak, 5% of the appearance of sinusitis as a result of an abscess in the eyes, he said. Dr Kocak said:
"Sinusitis that develops as a result of infection of the upper respiratory tract and as a result of complication in the eye form an abscess we call a periorbital abscess in such cases. The incidence of infection in the eye of the eyeballs is about 5 per cent, and it is very rare that people who suffer from eye inflammation should be consulted immediately with a doctor. Taking medicine is not a type that can be treated. If you lose, loss of vision in the eye can be permanent.
NEW NEW
Aybun Aygun lost his eyes in his eyes and was very frightened, saying he was feeling very well now, he said. Serap Aygin, mother of 3 children, "runny nose and fever", but the nose was clogged because it did not flow First we applied in an emergency room. We brought it here because it is a hospital for training and research. We have fully recovered from the efforts of our doctors. We thank our doctors. "