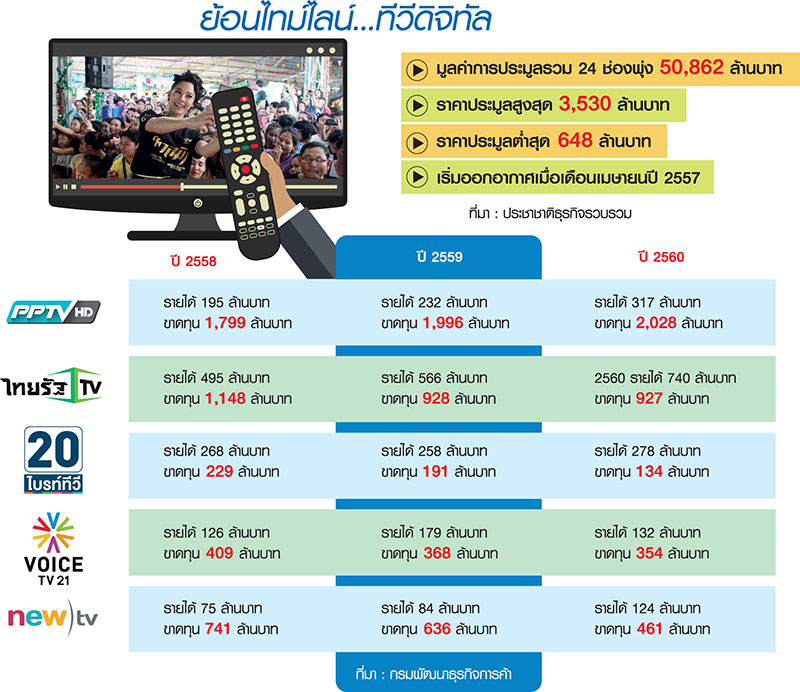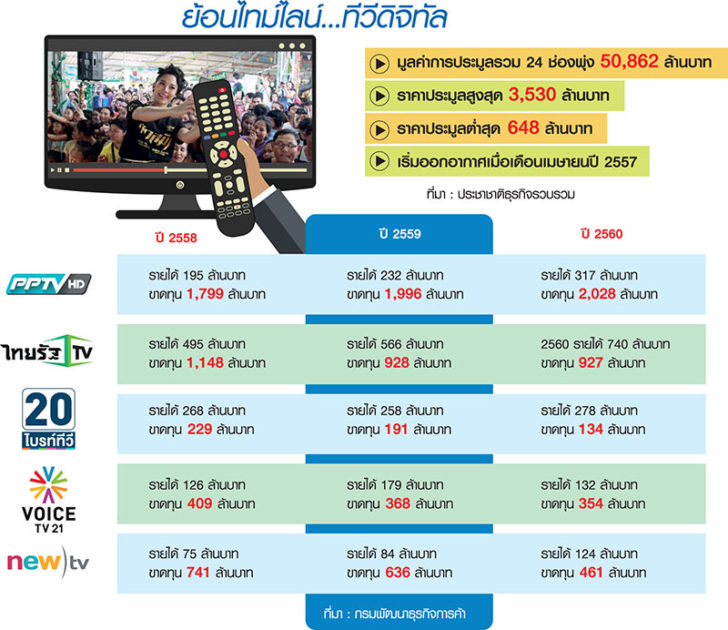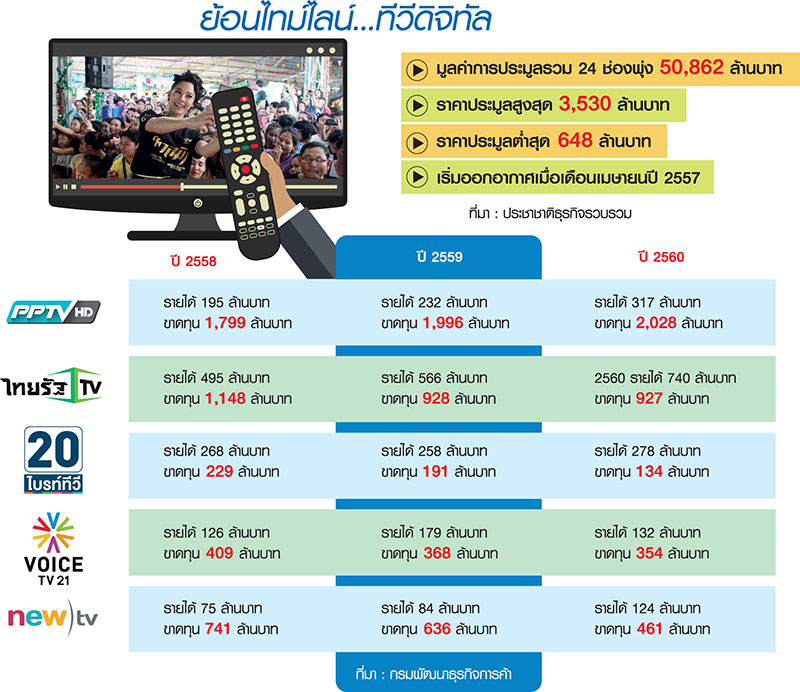 Waiting After the head of the National Peace Council (NCPO) issued a statement on 4/2562 regarding measures to solve the problem of television operations and telecommunications. By opening all 22 digital TV channels back
The latest progress Takon Tantasit, Secretary General of the Broadcasting Committee Television Business and the National Telecommunication Commission (NBTC) explained about the measures to solve the problem of television operations Digital TV that should return the license May submit the application from April 11 to May 10, but must pay the fourth license fee before the end of the broadcast from October 1, 2020 onwards. Initially it is expected that there will be a channel for returning 4-5 channels
As for the channel for continuing the business, there is no need to pay for the remaining 2 installments (fifth installment and 6 installments) worth 3,215.2 million baht (17 channels). Work Point and Spring News The NBTC will recover the aggregate amount of 986.6 million Bahts and pay the rental fee (MUX) during the license period. The remaining 9 years and 6 months amount to 18,775.8 million Baht.
Although it is an attractive offer But most entrepreneurs still hesitate to go or stop Because you are still waiting for finer details, the NBC will issue again after May 10, which NBT is still the most open. If the measures issued after May 10, this is not a pleasure The channels submitted for the refund can also be withdrawn.
"Chakrit Direwattanachai", Head of Corporate Affairs, BEC World Public Company Limited, Channel 33 HD Channel 28 executive director SD and the Canal 13 family, said he is currently unable to provide an answer. It will return it or not return the channel Because we have to wait for a meeting of the executive board to decide
Like "Khemathat Pholdech", the president of MCOT Public Company Limited and as the president of the Association of Radio and Television Professionals, said MCOT had to wait for a meeting of the executive board before giving the answer is whether to return the channel or not. Which Must Be Evaluated In the long run, during the return of channels and broadcasts, how much money will be spent on the content? Worth?
"The content of the staff is the main cost of digital television, responsible for 85-90%, while the license network pays 10-15% of the total cost." If the field needs to continue, then must it assess whether the content values ​​and the staff are valuable? Who each channel is still awaiting the conditions of the NBTS. "
"Khemtat" said that after NBTC unlocked the channel The situation in the industry is relaxed. However, if measuring the popularity of the audience (rating) is not developed Media agencies still use channel statements that only have 10 ratings. Due to the same advertising spending Otherwise, digital TV is still in the same situation as low income but high costs Due to the high fixed costs of content and staff that must be invested each year, an average of over 1,000 million baht a year
Digital TV news sources have analyzed that group that will return most of the channels will be small channels that will continue to lose. Including children Because of the relatively small business opportunity In the past, this group had ratings at the end of the schedule. Which is only concentrated in the top 10 ratings, so if you want to continue, you have to adjust the stationary position. Or find a new revenue-generating model
At the same time, it is possible for all 22 digital TV channels to move forward. Because they do not have to pay fees for license fees and rental fees Equal to the price of this part will disappear And only the cost of content production Staff who are current costs In the past, digital television has been constantly adapting. The two breakdowns of time for home buying, hiring, and sale of products Including to attract new partners to strengthen the army by the end of 2016, such as Wattanapakdee Company Limited, ThaiBev Group, to buy 47.62% shares or an equivalent of 850 million bangs from Amarin Printing and Publishing Public Company Limited The owner of TV Amarin or Proranphon Co., which acquired 50% of the shares of "One Company Co.", owner of "Kanal 31" and Adelphos Co., Ltd. with "Ta Pan Panot Sirivadhanabhakdi "is a major shareholder Gains capital increase from the GMM 25 channel t called Digital TV, and then adjust to periodically breathe
However, if we return to 2014, when digital television began broadcasting, it was found that Prolonged Losses Awakening only one year, Fan Tip Kuchai or Tim TV Basen, owner of Loka and Thai TV, withdrew with a loss of 1,900 million boats.
As for the 22 survivors, they fell into a state of pain but were not dead. According to data from the Business Development Department, the loss of digital television continued from 2014
Expelled from Bangkok Media and Broadcasting Co., Ltd. (PPTV) with revenues of only 317 million Baht, but losing 2,028 million Baht in 2017, vice versa by 2016, earning only 232 million baht, but a loss of 1,996 Millions Baht in 2015 , with a revenue of 195 million Baht, a loss of 1,799 million Baht and a 55m Baht revenue in 2014, a loss of 1,102m Baht
Like the Thairath television on behalf of Triple V Broadcasting Company Limited in 2017, the total revenue was 740 million Baht, a loss of 927 million Baht in 2016, a revenue of 566 million Baht, a loss of 928 million Baht in 2015, a revenue of 495 millions. Baht loss of 1,148 million Baht and revenues from 2014 from 217 million Baht, loss of 894 million Baht, Bright TV Company Limited (Bright TV) in 2017 has a revenue of 278 million Baht, a loss of 134 million Baht in 2016, revenue 258 million Baht, a loss of 191 million Baht 2015 income of 268 million Bahts Capital 229 million baht to 435 million Baht in 2557 lost revenue of 39 million baht.
While in 2017, the total income was 132 million Baht, a loss of 354 million Baht in 2016, a revenue of 179 million Baht, a loss of 368 million Baht in 2015, a 126m Baht revenue, a loss of 409m Baht and a revenue of 117m Bahti, a loss of 310 million Baht and DN Broadcasting Company Limited (New TV)
Year 2017 Total revenue 124 million baht Loss 461 million baht Year 2016 Revenues 84 million baht Loss 636 million baht
In 2015, the revenue was 75 million Baht, a loss of 741 million Baht, and revenues in 2014 amounted to 14 million Bahts, a loss of 425 million baht.
The profit trend declined to 2018 with an income of 10,375.7 million Bahts, a loss of 330m Baht in 2017, a revenue of 11,035m Baht, a profit of 61m Baht.
Year 2016, a revenue of 12,534 million Baht, a profit of 1,218 million Baht and 2015 revenues of 15,981 million Baht, a profit of 1,764 million Baht
In conditions of fierce competition and changes that are happening there are still channels that drift. Make Money Clear Starting from Channel 7 on the free TV market based on the drama area after the news is firmly set. Although the total profit is reduced Who has total income
Year 2016, in the amount of 5.825 million Baht, the profit of 1,567 million Baht, has declined since 2015 with a profit of 2.723 million Baht from 2014 with a profit of 5.510 million Baht. Mono 29 Trend of revenue from TV business has steadily increased And this year it announced an increase in the price of 50% of the Premier Times advertisements, as well as
Workpoint Television, which is likely to increase revenue from the television business, in 2016 TV revenues amounted to 2,078 million Baht. In 2016, it increased to 2,391 million Baht, and in 2017 it amounted to 3,478 million Baht. 2,968 million boats
When NBTC pushed the end by reducing the way for digital TV to return to the channel. Considering another important milestone it This digital TV game will hurt, but it will end. With the return of the channels and the making of debts or struggle And turning the model to find a new income to call the money and the remaining broadcasting period for 9 years and 6 months
Each game is still awaiting the NBTC to wait for the NBTC to assess whether it is worthwhile or not worth it.