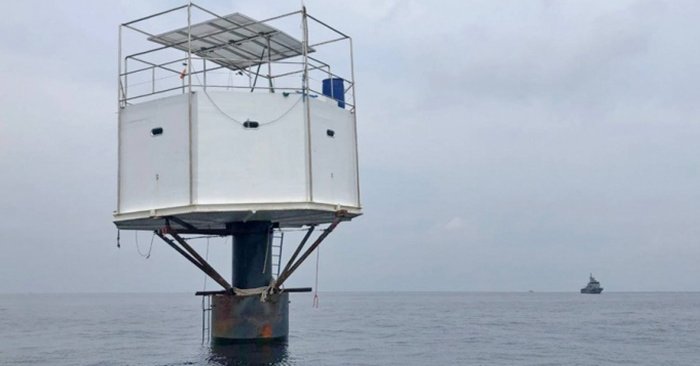 The navy region is preparing to move the Floating House back to Phuket during this week. Ready to prepare for legal proceedings
Admiral Citipuren Masquesem, commander of the Maritime Region, Region 3, as the director of Sorn Chon Ket 3, together with Mr. Court Rutruanam, Nong Kai, Deputy Governor of Phuket and related agencies in Sonsol. 3 press conference at the maritime headquarters, Region 3
Admiral Citipuren said foreigners came to build artificial buildings on the southeast side of Racha Yai Island. He investigated and informed the proceedings at the Wichita police station and discussed the issue Know that progress is in the process of litigation
"There is a notification of the proceedings in section 119, because there is evidence of the information it published in social media. It invites people to come to live in that area." "What is a continuous zone?" We have laws in practice that are not far from our territory. sovereign interference The impact of the stability of our country is an allegation reported to the Wichita Police Station "
We use the mechanism of Sornchol District 3 to maintain sovereignty and national interests by sea. In detecting actions likely to cause damage to sovereignty and national interests at sea, we have taken steps to check and supplement in accordance with the law. Then use the appropriate laws to follow international principles The artificial building is currently discussing how to move it to the center of the litigation. Which movement will be performed as soon as possible when ready
Admiral Citipuren said he was preparing now. I think he is trying to move as quickly as possible Must talk with the investigating officer to collect as a medium Which artificial structures are considered to affect navigation Fishing life Products ships entry Phuket port The whole construction of artificial facilities must be approved by the state. Expect that the movement is not difficult. Because he can move away We can go back. We have prepared the ship and the equipment and we will try to finish this week.
For the proceedings on this issue, the prosecution is informed and the police will issue an arrest warrant, as there is sufficient evidence to commit an offense in the Kingdom. The offense under Article 139 of the Immigration Bureau suspends the use of visas and blacklists, which made both persons unable to enter Thailand for life.
>> Fleet dreams 2, spouses build floating houses I hope to set up my territory in the international sea.
Source link