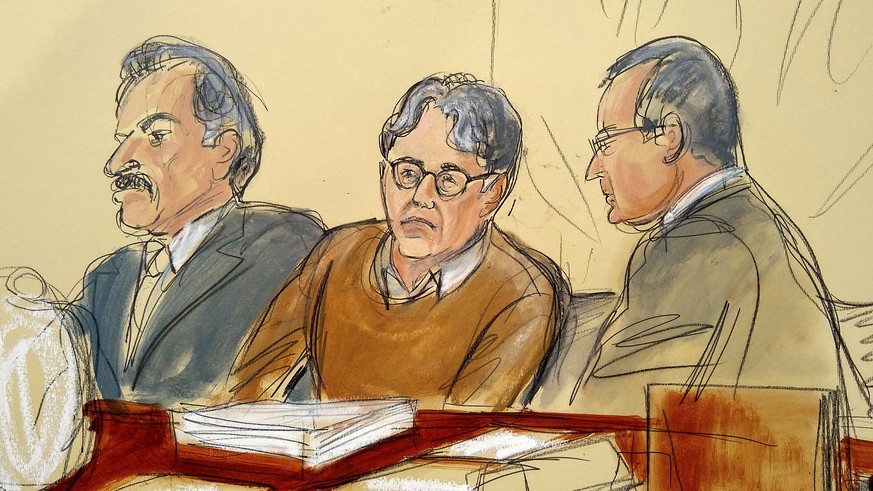 The main defendant, Keith Ranier. Picture: keystone
"Like a Horror Story": 120 years in prison for the founder of the bizarre "sex cult"
The founder of the bizarre cult sex in York York will have to spend the rest of his life behind bars.
A Brooklyn neighborhood court on Tuesday (local time) sentenced 60-year-old Keith Ranier to 120 years in prison after he was convicted of sex trafficking, sexual exploitation and fraud in June 2019. In addition, Judge Nicolas Garaufis ordered a fine of $ 1.75 million (about 1.59 million Swiss francs). The prosecution had previously called for Ranier, the defense, to be sentenced to life in prison for 15 years.
The 120-year sentence shows "the scale of the heinous crimes," said prosecutor Seth DuCharm. "Ranières controls the regime over women he has physically harmed and it's emotionally like a horror story," said William Sweeney, the FBI's deputy chief in New York. "The sexual exploitation, abuse, loneliness and mind control experienced by the victims under his leadership is unthinkable. Today, the judge gave him 120 years to consider whether the torture he inflicted on people for more than a decade and the despair he inflicted on their families were worth the end. »
Prior to the announcement, 15 victims had been in court for hours for Ranieri's crime and suffering – including the daughter of actress Katherine Oxenberg. "You are a sex criminal and you raped me," India Oxenberg told Ranieri in court, according to US media reports. "My beautiful daughter … so brave," wrote mother Katherine Oxenberg via Twitter. "My heart is breaking. Another woman recounted how Ranier raped her as a minor.
There is no mercy
The 60-year-old did not show remorse during the procedure and recently on several occasions unsuccessfully requested a new procedure. When sentenced, he continued to plead not guilty and accused some of the women of lying, but also said he was "very sorry" that he had caused so much pain and anger. Numerous Ranieri supporters gathered in front of the court.
In the late 1990s, Ranier founded Nxivm, based near Albany, New York, which was officially sold as a self-help group but was unofficially a "sex cult." The women are said to have been sexually abused there, and even marked with Ranieri's initials. According to media reports, about 18,000 people attended the organization's expensive "self-optimization courses".
In early October, millionaire heiress Claire Bronfman was sentenced to 81 months in prison as an assistant to Ranier. She is said to have backed Nexvim with her funds from the former Seagram ghost company and her social status and intimidated opponents. Bronfman's lawyer announced that they would challenge the verdict. Four other Ranieri aides have pleaded guilty and are currently awaiting sentencing – including German-born actress Alison Mack, who rose to fame with the TV series Smallville, among others. (sda / dpa)
Europol most wanted sexual offense
"It's not sexual abuse, it's rape."
You may be interested in:
Subscribe to our newsletter
Source link