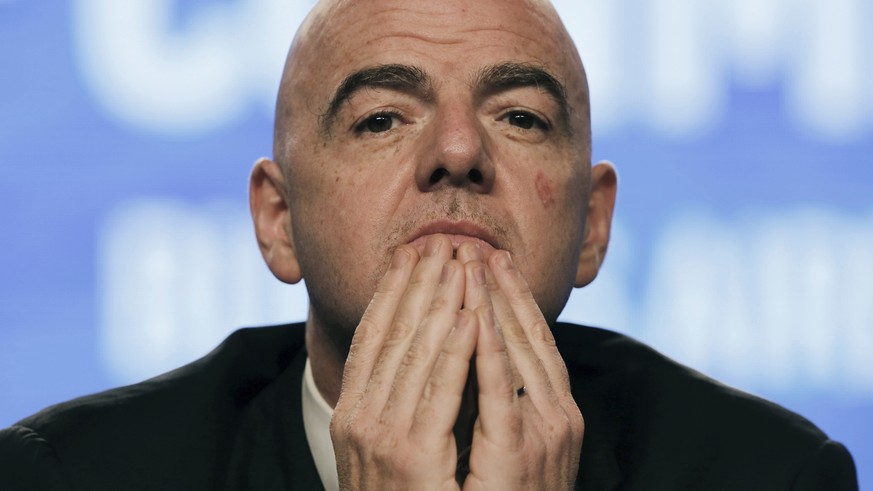 President of FIFA Gianni Infantino: What is he going to do? Photo: AP
Infantino plans to sell FIFA and become the head of the new company
It's a thick post! FIFA President Gianni Infantino is planning a radical change of the World Football Association. Documents leaked to the German media revealed his plans.
This is a report that will shake the world of football. "Süddeutsche Zeitung" quotes from documents that would only be available to her and would have the appropriate explosive power. Therefore, FIFA President Gianni Infantino secretly intends to sell all the important rights of the FIFA consortium with connections to Saudi Arabia. He will become his boss himself.
The offer of undercover investors who want to inject $ 25 billion has been discussed for months. Apparently, the money will be used to finance the world league for national teams, and the World Cup in the club will be expanded to 24 teams. Infantino called on the FIFA Board to conclude the contract, but it failed. Who are the investors, Valais is constantly hidden.
FIFA – empty shell?
As the Süddeutsche Zeitung now reports, money for much more than the two contests should flow. According to the secret declaration of intent, FIFA plans to sell almost all rights. The newspaper, which evaluated the documents along with the television broadcaster WDR, counts on: digital and archival rights, films and films, satellite and network broadcasting, merchandising and rights to the game, every production in high definition and 3D format, computer games. Everything "Virtual and everyone another format that is still being developed around the world. "
And: The rights to future football world championships are included. The verdict of the newspaper reads: "If the plan developed at the end of March was to be implemented, the financial consortium would have a say in the future on global football marketing – FIFA would be left as an empty shell."
With the logo against Qatar 2022
Home lawyers are waiting for implementation
Potential FIFA partners are two British investment companies. Both are associated with Saudi Arabia. This suggests the suspicion that investors are not only football marketing, but that geopolitical motifs are behind the proposal.
FIFA told SZ and WDR that the document is outdated "and only one of many hundreds" circulating in the World Association. On the other hand, according to the newspaper, a long-time lawyer and his deputy made a destructive analysis and were warned in the note before the plans were implemented. In the meantime, both lawyers left FIFA. (RAM)
Something is only in Japan
Video: watson / nfr
Entry tickets to all finals of the World Cup
Sign up for our newsletter
Sign up for our newsletter
Source link