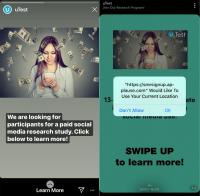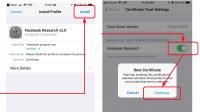 TechCrunch – Facebook entered into a new personal data scandal, as TechCruch found it unlawfully suggested that juvenile users install the spyware application Facebook Research for phones with iOS and Android and pay them up to $ 20 a month for use. As soon as Apple learned that Facebook used its Enterprise Development Certificate, it suspended Facebook's certificates and disabled Facebook Research. It's still on Android.
The story starts already in 2014, when Facebook bought it for 120 million dollars. This made the VPN (Virtual Private Network) application, which helped users to monitor and minimize the amount of downloaded data. Facebook, as the owner of this application, received information about Internet users' habits. For example, Facebook learned that people are increasingly using WhatsApp and later bought it for $ 19 billion. Since then, WhatsApp has tripled the number of users, so the decision really pays off on Facebook.
Over time, Onawa has become an extremely useful source of information, which told Facebook what is worth copying, what functionality to implement, etc. This year the Onawa application is upset when information is spread, that in reality it is primarily a spy for users. Apple changed the terms for using the applications in June, and in August asked for the removal of the application.
But Facebook did not surrender. Onava has disappeared, and Facebook Research has done the same, and it's mostly the same code. It turned out that Facebook has been distributing Facebook Research since 2016. It used the BetaBound, uTest, and Applause platforms, also known as the Atlas Project. But Facebook did not use the TestFlight platform, which is the official beta-tested platform of Apple. Instead of advertising on Instagram and Snapchat, young people aged 13 to 17 were asked to participate in a paid social networking study. He offered them up to $ 20 a month to install the application (in the form of cards e-gift), but also for any accompanying friend (referral). In a small print, it was said that it was about collecting all the information (content of messages, browsing history). After the installation, users had to install appropriate developer certificates and add Facebook Research among trusted applications with root access. This is contrary to the rules, as Apple explicitly allows companies to use this only for internal tests with their employees.
The Facebook survey uses the same disk as Ita. The whole traffic (VPN only) is redirected to vpn-sjc1.v.facebook-program.com, which also calls Onava. The application also automatically updates without user interaction and uses the certificates of June 27, 2018 – when Apple has already said that such use of Onava is prohibited. Facebook made no mistake to continue to use Facebook Research in the same way. Facebook claims that these are different projects, but that the same people are working on them. The analysis further showed that applications are almost identical, since both use the same terms and even the tags.
Facebook discourages complaints, like many other companies, to invite people to participate in research programs to find out where they can improve. In this way, they wanted to gather information on how people use their mobile phones. They add that they do not share data with third parties and that people can no longer cooperate.
Source link