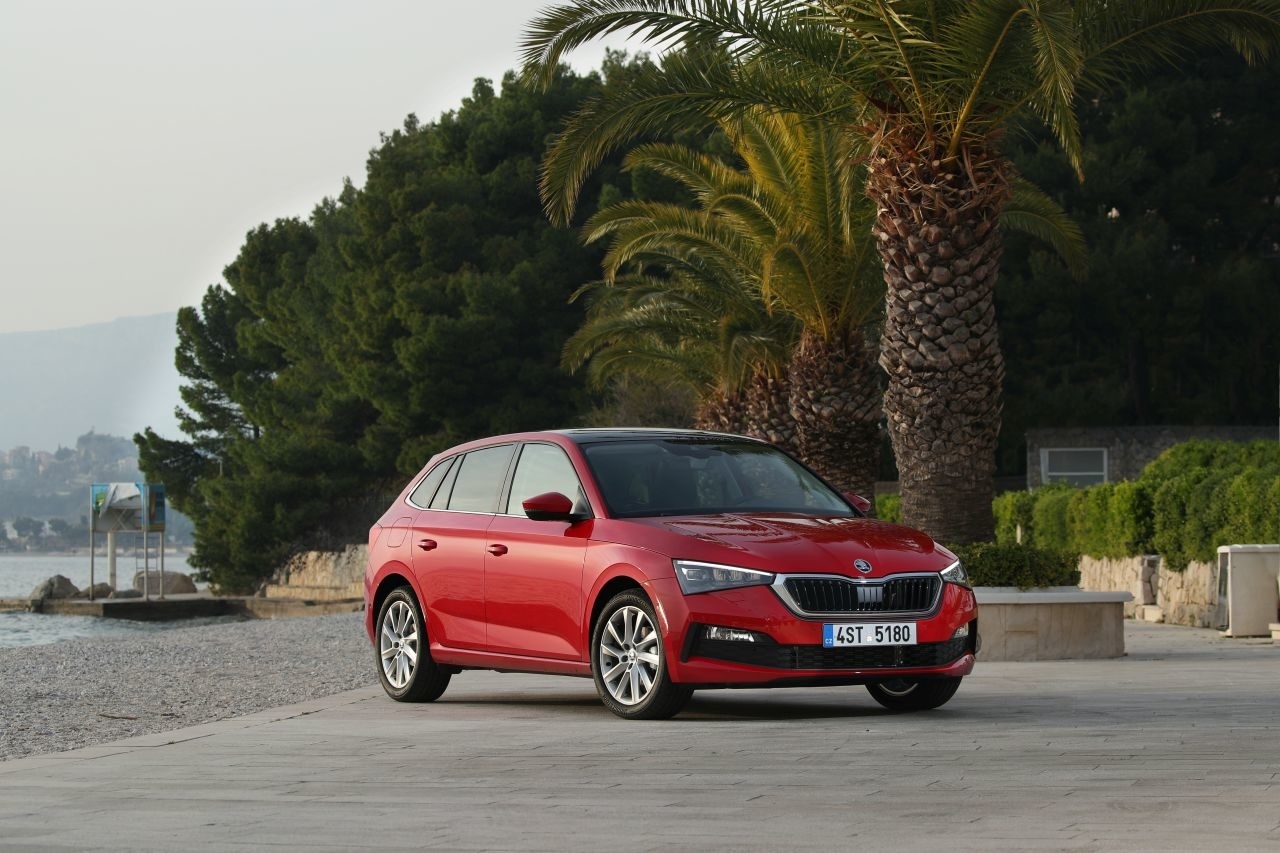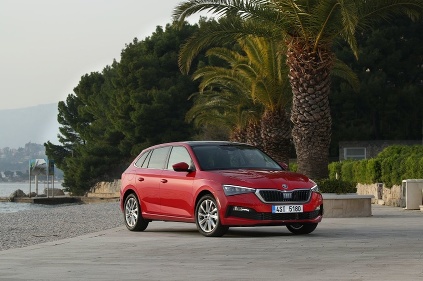 A brand new model of the Škoda brand also comes to Slovak retailers.
For the first time Škoda introduces a new vehicle design and interior design in the Škoda Scala model. The new model of the Czech brand also made a big step in technical terms. The name Skala (lat. Ladder, stairs) suits him. In Škoda, Scala has made several positions in the vehicle development area. The new shapes, the dynamic design features and the sharp cutting line give the car an authentic look. As the first car produced in Skoda in Europe, Škoda Scala has the Škoda logo on the back door instead of the logo.
The new Škoda Scala can drive one of the three versions of the 1.0-liter or 1.5-liter internal combustion engine. Directly injected TSI liters give 70 kW (95 hp) or 85 kW (115 hp), while the four-cylinder 1.5-liter TSI reaches 110 kW (150 hp). All have particle filters. The 1.6-liter TDI turbocharger with 85 kW (115 hp) is available from diesel engines. From 85 kW (including), the engines can be combined with a six-speed manual gearbox or a seven-turn DSG.
Also available configurator, where customers can store a new Scala model of their liking. There are also many interesting packages available at reduced prices.
The price of the Škoda Scala with a 1.0 TSI 70 kW (95 hp) with Active is priced at 13,490 euros. A number of useful assistants are already available as standard, such as front-wheel drive assistance (including emergency braking) and Sandbox, Easy Lane Assist, Lighting Light (Light Sensor) or Emergency Call and CareConnect for 1 year. Active features manual air conditioner with pollen filter, central locking with remote control, radio welding with 6.5 "color touch screen, front electric windows, exterior mirrors and door handles, no lock, LED lights, ISOFIX on front passenger seat, extended 5 year warranty / 100,000 km and life mobility guarantee.
The AMBITION midrange range adds Bluetooth, armrest, 2x USB front and 2x rear, dual zone automatic climate control with humidity sensor and combined filter, multifunctional leather steering wheel, parking sensors, cruise control, front seat heating, SmartLink, another four speakers, an umbrella and many more. Škoda Scala at AMBITION starts at € 14,990. Thus, the client will receive significantly more equipment for 1,500 euros.
In addition, the highest STYLE equipment of 18,030 Euro has a light and rain sensor, alarm, keyless entry and lock, heated leather multifunction steering wheel, ambient interior lighting, front and rear headlights with LED headlamps, rear dynamic indicators direction, radio BOLERO 8 "display, front and rear parking sensors, cell phone box with wireless charging and more.
New technologies and greater security
The modern look of the Škoda Scala is also complemented by the latest digital technologies in the vehicle. Flexible configurable virtual cockpit available on demand, has a 10.25 "display. It's the largest screen in the class of compact vehicles, offering 5 basic looks.
With the new generation of Škoda Connect's mobile online services, passengers can use the mobile phone to lock and unlock a vehicle, update the infotainment software, or manage maps. No need to visit car dealerships. Škoda Scala is the first Škoda model to be equipped with an internet connection. The built-in eSIM card provides a fast LTE connection. No other SIM card or shared smart connection is required. By default, this eSIM card will support emergency functions and proactive services.
Full LED headlamps and full LED headlamps are available on request. As the first Škoda model, Scala has dynamic rear lights. Under the rear bumper there is an additional electric towing device. Shuts off after pressing the button in the luggage compartment. Scala has typical Škoda features, for example. an umbrella area in the driver's door (including an umbrella) or a scraper for ice in the fuel tank door, as well as an electrically operated fifth door on request.
One of the help systems available in the Skoda Scala in the extended version, Side Assist is available on request. This warns the driver of the vehicle behind him with the intention of overtaking him or the blind spot. Compared with the Spot detection system, which has a radius of 20m, Side Assist has a range of up to 50m and can effectively warn about the dangers of highways or highways. The page traffic system also includes back traffic signalization. Adaptive cruise control (ACC), available on request, can also be used for long journeys by motorways up to 210 km / h. Tape assistance and front-facing assistance are included as standard.
Choose from action packages
For Scala consumers, Skoda has also prepared a number of attractive packages with substantial discounts to help you even better configure your new car. For example, the Active Plus package includes Bluetooth, armrest or 2x USB front and 2x USB rear for Active. The Ambition Plus package is complemented by a light and rain sensor, a keyless lock and lock, a heated leather steering wheel, ambient light in white or a decorative frame on the Silver Haptic control panel. Also worth mentioning is the package ambition package. Ambition features sports seats, sports sports multifunction steering wheel, pedal covers, black ceiling, popular glass door glass, spoiler, full LED headlamps with dynamic direction light, 17 "Propus Aero, tinted B-pillar glasses and adaptive chassis .
For those who enjoy even more comfort and cutting edge assistants, the Style Plus is available, offering not only adaptive cruise control with a speed limiter up to 210 km / h, side assistance assistance and rear traffic, but also a parking camera.
The Comfort Comfort package is enhanced with the AMUNDSEN 9.2 "navigation system with 1 year online service and Virtual Cabin-LCD panel with adjustable display data compared to the style plus package.
The Sport Style package is designed for those who want a sporty look. It offers sports seats and sports sports multifunctional radio and telephone controller (for DSG gearbox with gearbox), adaptive chassis (LOW chassis with optional rigid dampers with two modes for Normal and Sport). steel, black ceiling and ambient interior lighting. The sporty outer appearance is enhanced by the extended 5-door glass and the spoiler, complemented by the 18 "Vega Aero black alloy wheels. The rear seat passengers will surely appreciate the sunset with a higher tone of the B-pillar.
Complete price list also contains a list of action packages. More detailed information about the new Skoda Scala model will be provided by authorized Škoda dealers in Slovakia.