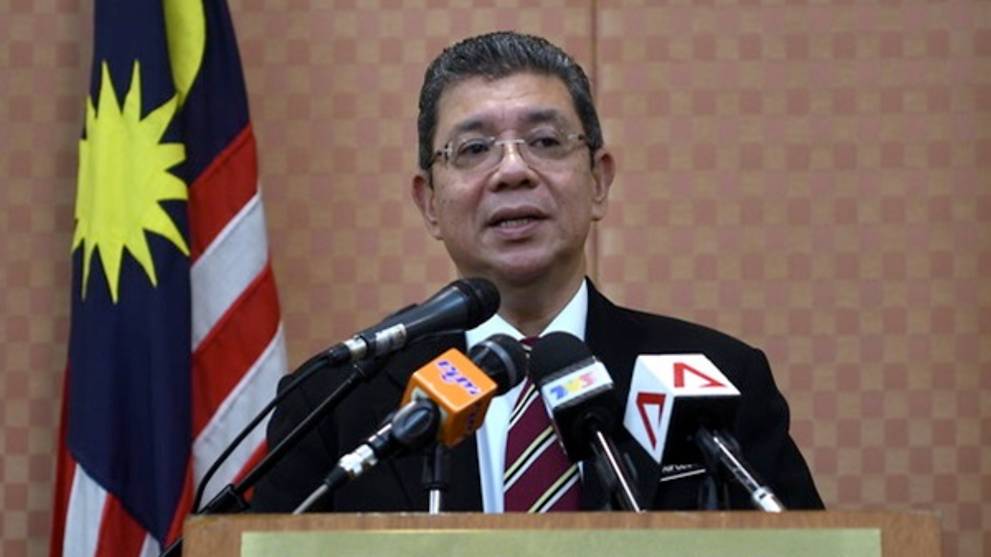 KULA LUMPUR: Malaysia will seek international arbitration if Singapore does not negotiate a Water Treaty since 1962, Foreign Minister Saifuddin Abdullah said on Tuesday (March 12th).
During the parliamentary debate, Mr Saifuddin also turned to his colleague, Dr. Vivian Balakrissan, for which he said it was "reckless" statement on March 1, which criticizes Malaysia for its attempts to negotiate for the contract.
Saifudin told parliament: "If they (Singapore) no longer want to negotiate, then we will bring them to international arbitration."
"And when we get to that level, I hope that the deputies here will give us support to do so."
He said that prior to Putrajaya to escalate this issue, one should first ensure that the state of Johor has enough water supply. "We need to work on zero dependence on water from Singapore," he said.
READ: Johor says he plans to stop relying on Singapore for treated water
The 1962 water treaty, which expires in 2061, entitles Singapore to extract up to 250 million gallons a day (mgd) of water from the River Johor.
Singapore pays 3 sal per thousand gallons of raw water and sells processed water back to Johor in 50 sen for a thousand gallons, part of the cost of treating water.
Meanwhile, Johor is entitled to a daily supply of treated water up to 2 percent or 5 mgd of water delivered in Singapore. However, in practice, Singapore, at his request, delivers 16 mgd treated water to Johor.
Malaysia previously admitted that it had decided not to seek an overview of the 1987 agreement, as it benefited from the price arrangement.
READ OUT: Singapore and Malaysia – Water

On Feb. 28, Prime Minister Mahathir Mohamad urged the government and people of "Jokhor" to speak about what he described as a "morally wrong" water deal with Singapore, a "rich" nation.
A day later, Dr Balakrishnan told parliament that Dr. Mahathir's comments were "red herring" and "strong, emotional words" that were supposed to wake up public opinion.
"The 1962 water treaty is not about who is richer or poorer," said Dr. Balakrishnan. "It's about the fundamental principle of respecting the sanctity of the treaties."
Dr Balakrishnan noted that when Singapore was thrown out of the Federation of Malaysia in 1965, it took precautionary measures to ensure that Water for a 1962 agreement was guaranteed by the two governments.
"Any breach of the Water Treaty of 1962 will compromise the division agreement, and this separation agreement is the basis of our existence as an independent sovereign state.
"Therefore, Malaysia and Singapore must fully respect the terms of the Water Treaty of 1962, including the price of water provided for there," he said.
"Our longstanding position is that neither Malaysia nor Singapore can unilaterally alter the terms of this agreement between our two countries."
SINGAPORE MINISTRY OF FOREIGN MINISTERS "SPEECH LITTERS": SAIFULDIN
On Tuesday, Mr Saifuddin accused Dr Balakrishnan of making negligent remarks.
He said: "We celebrate the agreement, so you say that we can see 25 years after signing the contract."
"Clause 14 of the agreement states that the (contract) will be subject to review after the expiration of 25 years from the date on which it is signed, and not to 25 years.
"That's why I do not understand what English uses the Singapore Foreign Minister to interpret it in such a way," he said.
READ: Bursa's chapter on Johor for the Singaporeans: Ask your government to review water prices

He claims that Dr. Balakrishan also insinuated that Malaysia has management problems. "It's a malicious charge, it's banging under the belt," he said.
Sayfudin said Malaysia has subsidized $ 2.4 billion ($ 587 million) for selling raw water in Singapore since the 1960s. This is translated to 42 million RM per year or around RM100,000 per day in subsidies, he said, without clarifying how the numbers are calculated.
Dr Balakrishnan, in his parliamentary speech on March 1, said Singapore had spent more than $ 1 billion on water projects at Johor.
Johor owns the Lingzhiu dam, but Singapore, he said, paid more than $ 300 million for its construction and operating costs, as well as compensation for land used for Linggi Tank, the potential loss of timber harvest revenue and one-time lease payments of that land for the remaining mandate of the Water Treaty of 1962.
Source link