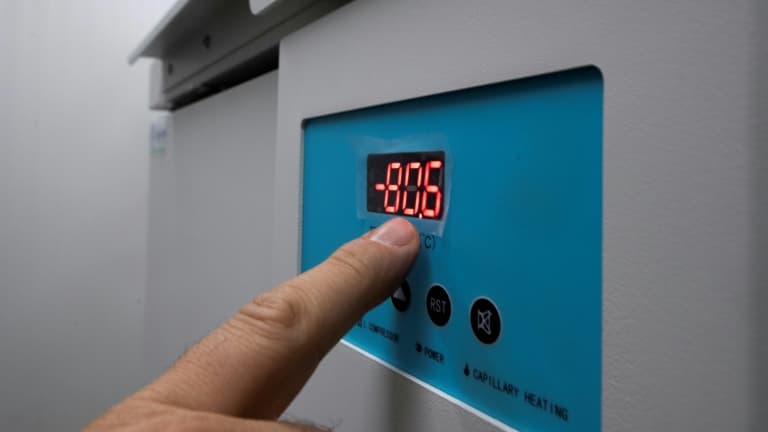 The University Hospital of Lille and the Aras, Calais and Valenciennes hospitals are among the seven hospitals selected by ARS-Ot-France to receive doses of the Pfizer / BioNtech vaccine in the region.
The Pfizer / BioNtech vaccine is the first to be distributed in France as part of the Covid-19 vaccination campaign, Prime Minister Anne Castex announced on Thursday. Seven hospitals in Of-de-France have been selected to receive vaccine doses in the region, four of them in the North and Pas-de-Calais, the Regional Health Agency (ARS) said in a press release.
They will be both "storage points" and "starting points for delivery" of the vaccine, which requires storage at -80 ° C, the public institution said. The University Hospital of Lille will be equipped with a "super freezer" capable of storing 300,000 doses. As for the hospitals in Aras, Calais and Valenciennes, they will be equipped with freezers to receive 100,000 doses.
"ARS is working with these hospitals on the technical, logistical, prerequisite for human resources and beyond engineering that will enable the deployment of the vaccination system," the statement said.
Regional Advisory Committee on Vaccination
The LFS and the Prefect of Otf-France will also set up a regional vaccination advisory committee next week to "share expertise" and "facilitate consultations on the deployment strategy in the region. "
It will be composed especially of representatives of users, cities and local authorities, as well as infectious disease specialists, pharmacists and representatives of the French health insurance and public health.
Residents of nursing homes and professionals in these institutions, ie. about one million people will be the first to be vaccinated in January. The campaign will then be expanded in February for vulnerable people, made fragile according to their age or pathology, and then in the spring for the entire population.
Clement Butin BFMTV reporter
Source link