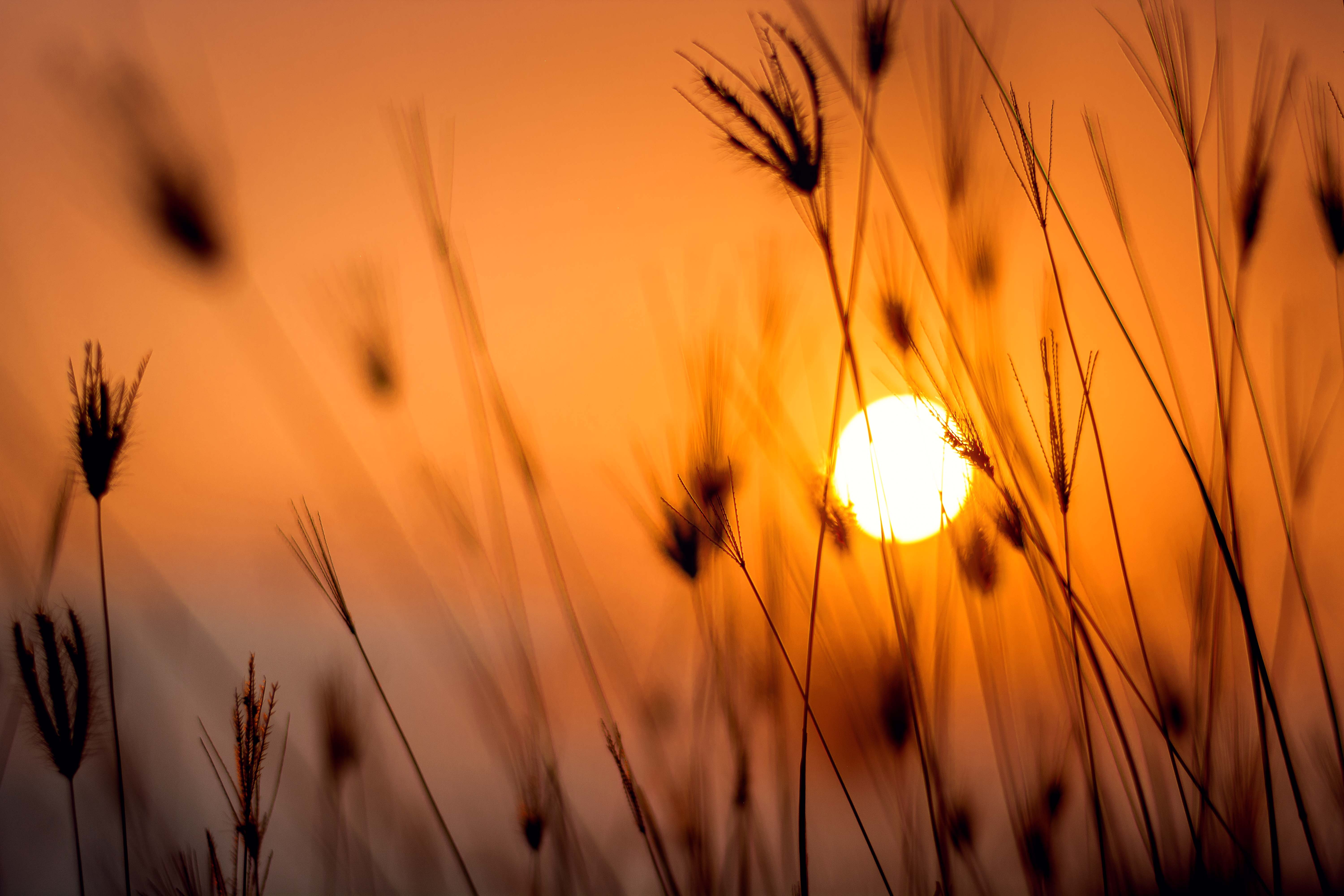 Arabian weather – weather forecast and temperatures in the Arab world on Monday 12-8-2019:
Weather in Bilad al-Ham and Egypt:
Gradual rise in temperatures over the next few days
Another slight rise in temperatures in Bilad al-Ham on Monday, the climate is between normal summer to relatively warm in most temperate regions in the early thirties in Amman, Jerusalem and Beirut.

.

The climate in Damascus is getting worse and the temperature will exceed 40 ° C in the coming days

.

The gradual rise in temperatures will continue in the coming days, and the weather will become relatively warm in most areas.

.

Continues high humidity in parts of the Palestinian coast and over the Syrian coast, in particular, increasing the feeling of warmth

.

Warm weather continues in most areas of Egypt, with temperatures in the capital Cairo at around 39-40 degrees Celsius, while the weather remains mild on the north coast and Alexandria, where temperatures range between 29-30 degrees Celsius.

.
Weather in the Gulf States:
Iraq's clear rise in temperatures and moderate northwest wind speeds across much of the Arabian Peninsula
The weather is expected to continue dry and hot to very hot in large parts of Iraq, Kuwait, Saudi Arabia, Qatar, Bahrain, the UAE and Oman

.

Iraq has seen clear rise in temperatures and near 50 degrees Celsius in Baghdad mid-week
Occasionally a moderate northwest wind will blow and may cause dust and dust in some exposed areas

.

Thunderstorms in Yemen and southwestern Saudi Arabia are expected to regenerate in the afternoon and evening

.
Weather in Maghreb countries:
The heat wave continues Monday in Tunisia

..

Low temperatures began Tuesday with the possibility of thunderstorms in the Algerian mountains
Large parts of Tunisia and Algeria (especially the interior) continue to be hit by a heat wave.

.

Temperatures begin to drop sharply on Tuesday as the heat wave from the northern regions of Algeria and Tunisia gradually cools.

.

Conditions are favorable for breeding local thunderstorms over restricted parts of the Atlas and Saharan Highlands of Algeria on Monday, with the intensity increasing on Tuesday,
Their temperatures on Tuesday are accompanied by north coast wind activity and the possibility of heavy rainfall

.

The weather remains moderate on the shores of the Kingdom of Morocco overlooking the Atlantic and Mediterranean Sea, and conditions are favorable for propagating thunderstorm clouds in the afternoon and evening at Atlas

.

In most coastal areas of Libya, the climate remains normal

.

Strong thunderstorms are expected in Sudan, including the capital Khartoum, with flood warnings and rising water levels

.
Weather around the world:
Scandinavian rains are expected to continue, with heavy rains in both Sweden and Norway

.

Iceland is expected to continue to be hit by extremely cold air mass this time of year, with much closer winter climate with rainfall and snowfall in the mountainous areas.

.

Extensive and strong atmospheric instability affecting parts of France, Switzerland, Austria, northern Italy, southern Germany, and later the Czech Republic and Poland.

.

Showers continue to rain in western Britain and Ireland

.

Heavy thunderstorms in Bangladesh, Myanmar, Bhutan, far west India, southern Pakistan and parts of Cambodia

.

Strong thunderstorms in parts of North and South Korea, as well as parts of north-east China, as a result of the continued impact of typhoon debris

.

Hurricane Krosa is expected to continue moving towards Japan's southern coast, which is expected to affect it in the second half of this week.

.

Strong thunderstorms are expected in North and South Dakota to Nebraska and Iowa, with potential hurricane repression

.
A: No
Weather conditions and expected temperatures in the Arab world on Monday 12-8-2019: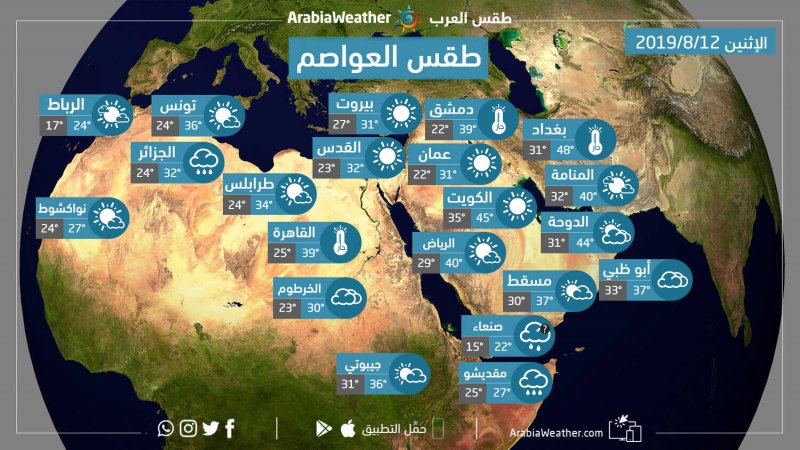 Today's Time in Amman – Jordan:
Clear time.
The maximum temperature in Amman: 31 °
The minimum temperature in Oman is: 22 °
Present-day Jerusalem – Palestine:
Clear time.
Maximum temperature in Jerusalem: 32 °
Minimum temperature in Jerusalem: 23 °
Today's time in Riyadh – Saudi Arabia:
The weather is often clear.
The maximum temperature in Riyadh is: 40 °
The minimum temperature in Riyadh is: 29 °
Nowadays in Beirut – Lebanon:
Clear time.
The maximum temperature in Beirut: 31 °
The minimum temperature in Beirut is: 27 °
Today's Damascus – Syria:
Warm weather.
The maximum temperature in Damascus is: 39 °
The minimum temperature in Damascus is: 22 °
Present-day Baghdad – Iraq:
Warm weather.
The maximum temperature in Baghdad: 48 °
The minimum temperature in Baghdad is 31 °
Nowadays in Kuwait City – Kuwait:
Clear time.
Maximum temperature in Kuwait City: 45 °
The minimum temperature in Kuwait City is: 35 °
Today's Manama – Bahrain:
Scattered clouds.
Highest temperature in Manama: 40 °
The minimum temperature in Manama is: 32 °
Today's Time in Abu Dhabi – UAE:
Cloudy weather.
Highest temperature in Manama: 37 °
The minimum temperature in Manama is: 33 °
Today's Doha-Qatar Time:
The weather is often cloudy.
Maximum temperature in Doha: 44 °
The minimum temperature in Doha is: 31 °
Nowadays in Muscat – Oman:
Partly cloudy weather.
Maximum temperature in Muscat: 37 °
The minimum temperature in Muscat is: 30 °
Today's Time in Sana'a – Yemen:
Chance of rain.
Maximum temperature in Sana'a: 22 °
Minimum temperature in Sana'a: 15 °
Today's Cairo – Egypt:
Clear time.
Maximum temperature in Cairo: 39 °
Minimum temperature in Cairo: 25 °
Today's Time in Mogadishu – Somalia:
Rain showers.
The maximum temperature in Mogadishu is: 27 °
The minimum temperature in Mogadishu is: 25 °
Today's Time in Ibibuti – Ibibuti:
Partly cloudy weather.
Ibibuti temperature: 36 °
Ibibuti Temperature: 31 °
Current Time in Khartoum – Sudan:
Cloudy weather.
Maximum temperature in Khartoum: 30 °
The minimum temperature in Khartoum is: 23 °
Today's Tripoli – Libya:
The weather is often clear.
Maximum temperature in Tripoli: 34 °
The minimum temperature in Tripoli is: 24 °
Current Time in Tunisia – Tunisia:
The weather is often clear.
The maximum temperature in Tunisia is: 36 °
The minimum temperature in Tunisia is: 24 °
Nowadays in Algeria – Algeria:
Showers
Maximum temperature in Algeria: 32 °
The minimum temperature in Algeria is: 24 °
Today's time in Rabat – Morocco:
Scattered clouds.
The maximum temperature in Rabat is: 24 °
The minimum temperature in Rabat is: 17 °
Today's time in Noacht – Mauritania:
The weather is often clear.
Maximum temperature in Noacht: 27 °
The minimum temperature in Noacht is: 24 °
See the weather at your location during the week through the Arab Weather app