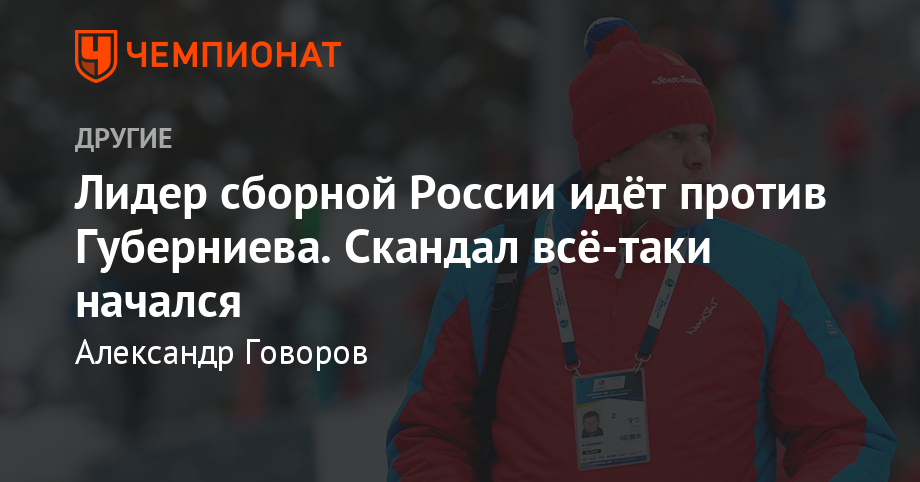 The main characters of the Russian ski races do not want Dmitry Gubernyev to comment on the world championship. But they get worse.
At the end of February in Austria, the World Skiing Championships will be held, in which the Russian team can perform in triumph. There are all prerequisites for this. And the voice of Russian biathlon Dmitry Guberniev will be sent to comment on the big tournament in Seefeld.
However, this situation was not to satisfy some important people from the world on our skis. And not for anyone, but for the world champion and winner of the Tour de Ski, Sergei Ustyugov, as well as the president of the Russian Ski Federation, Elena Vyalbe. Why does he so much like Guberniov and try to protect the ski race from its influence?
"I've ruined biathletes. It's all over." Guberniev does not want to be silent
The citizens of Russia on their taxes contain a ski team. Can Whelbe or anyone prevent people from seeing their heroes? This is nonsense!
As Ustayev in "Instagram"
Oh, those who want on social networks. Technology makes it easy for journalists to work. Now it's not necessary to run for athletes with a microphone in their hands and look for hot news. Athletes will do everything for you with a click on the phone. No sooner did the Russian sport depart from Denis Glushakov, as one of the best skiers of the new generation Sergei Ustyugova likes.
Although the semantic load it was no longer like it. Ustyugov liked the comment on Instagram, in which one of the skier's subscribers proposed to replace Guberniev in the broadcasts with world championships. In particular, the candidacy of Andrew Romanov, who also, incidentally, works for a TV match, was proposed.
"My dear, you are one and a half man, and behind me is the earth! I will comment! We will see you in Seefeld," immediately answered Guberniev. And he was.
Guberniev responded to the requests not to comment on the World Cup in cross-country skiing
"In biathlon we dig in underwear. We will not have this."
In general, some commentators and ski scouts have already come. Although it is indirect. Last autumn, Ustyugov gave an interview in which he stated the following.
"They opened biathlon so much that they dug even in underwear, I think this will not happen with our president Elena Valerevna Vjalba, she will not allow that. She is an athlete alone, has gone through a lot and will not let that happen."
It is clear in what direction there was a hint for underwear. Guberniev quickly responded quickly to this statement, suggesting that it was the banal envy of the skiers on the popularity of biathlon. Vjalbe also has difficult relations with the commentator, she has repeatedly said she does not want to allow Guberniev near the internal affairs of the Russian skis.
What is the real Guberniev
His presentation of the material may be beloved or unloved, but it is stupid to deny that, with Guberniev, biathlon has reached another level of popularity. Of course, all this happened in connection with the bright victories of our athletes, but Dmitry's merits are also significant. And his phrase that "you and a half people, and behind me earth" may sound rough, but in fact something is true. Comments on sports sites do not give a complete picture of public opinion. Full of people who adore Guberniev, but simply do not lead an active life on the Internet.
And one more moment. With such secrecy, the Russian team in ski racing has harmed itself. Popularity and interviews are part of the athlete's work, and here we need to learn from foreigners who, with any results, are willing to say a few words about what happened and what is not. They "sell" themselves and their sport, but now without this love you can not win.
"I do not like journalists, but it's a shame that skins do not show up on TV," says the words of the leader of the Russian women's team, Natalia Nepriyaeva. You do not feel any contradictions? Of course, skis will not be displayed on federal channels if athletes make such statements.
Guberniev in his column of "Champion" said that many skiers write him directly and ask him to tell them about them as biathletes. It turns out that they write directly, and not in open sources because they are afraid of the federation's anger? In the end, Dmitry was perhaps the main threat to the integrity of the Russian team.
But if this is true, do not hesitate, Guberniev will be the first to leave the profession and give the opportunity to our skiers to win gold medals.
Source link