The third quarter of the year was marked by major declines on the national stock market. PSI-20 plunged 3.19% in what was the sharpest quarterly decline since late last year, a period marked by a sell-off in world markets. To find a third quarter with a higher decline, we have to go back to 2015, when the main southern index lost more than 9% between July and September.
And the highest level of the quarter was GDP, which fell very close to 30%. The period was marked by the presentation of the results of the first half, which raised concerns about the future, as prospects indicate that the margins are deteriorating again.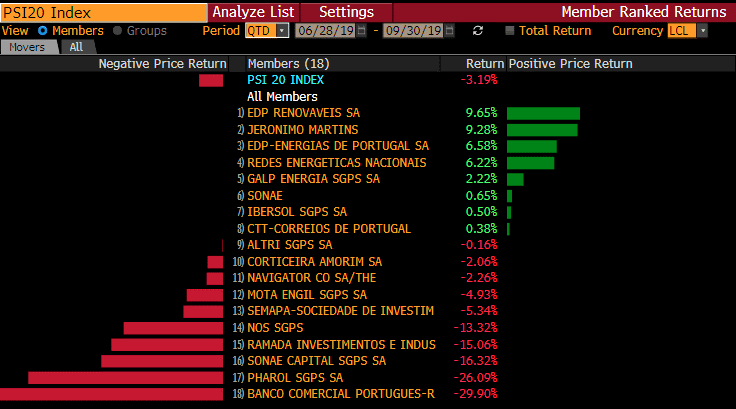 Contributing to the fall of the BCP were concerns about the Polish subsidiary, as a result of the potential impact of converting Swiss franc mortgage loans into zlotys.
Meanwhile, Millennium Bank President Joao Bruce Jorge rejected the scenario that the Polish bank would have to make an emergency provision to cover losses on Swiss franc loans that were awarded to its clients as a result of a court ruling. European Union justice – which helped the BKP alleviate the fall, rose 1.17% in the last session of the month.
Already on Friday, the bank's securities led by Miguel Maia rose sharply after the central bank of Poland ensured that the banking system was ready for a ruling by the European Court of Lending.
Sharp lows also closed Sharol, losing 26% in the accumulated quarter. Much of this fall was registered in August, a month marked by the presentation of the accounts of the Brazilian Oi, where Farrol holds a position of about 5%. The Brazilian operator reported a drop in revenue and a worsening loss in the second quarter.
On the opposite side was EDP Renovaswiss, which rose by more than 9.5%, and Oerimino Martins, who appreciated more than 9%, in a month marked by several analysis notes for the owner of Pingo Doce and Bidronka.
Thus, the national stock market reversed the trend in the rest of Europe, where the indices closed the third quarter with valuations. The Stoxx600, the index of the first 600 European stocks, ended up about 2%, ending three consecutive quarters of earnings, something that has not happened since early 2017.