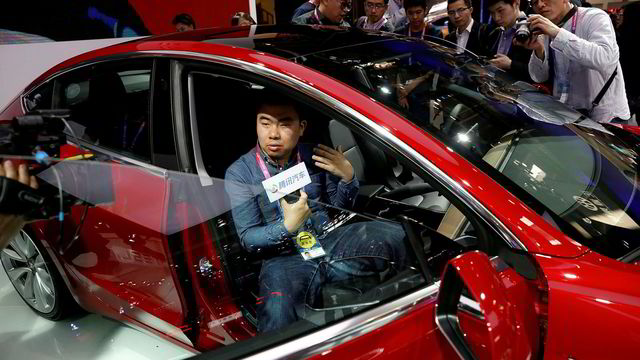 Singapore's mini-state, with six million inhabitants, is one of the richest in the world and the most technologically advanced in the world. A well-developed transport system needs to be improved and further improved. The goal is to take a maximum of 45 minutes to move to any place in the country.
For many years, Tesla's founder, Elon Musk, wants to gain a foothold in Singapore, which is used as a laboratory for testing new technology. It requires special treatment with lower car taxes when importing Tesla models.
undesirable
Tesla wants to test the technology without drivers on the modern road network. About 10 other carmakers are running new technology, including Volvo.
In a number of Twitter messages earlier this year, Musk criticized Singapore when asked why Tesla is not in a city state.
"The authorities were not welcome," Musk wrote.
Tesla models imported into the city are charged the same fees as diesel and petrol cars, reports The Straits Times.
Musk went on to say that Singapore is a country capable of dealing with solar energy and the use of advanced batteries – if there is political will.
– What Elon Musk wants to create is a way of life. We're not interested in that. We want real solutions that tackle climate problems, "Environment Minister Masagos Zulkifli told Bloomberg.
The most expensive cars in the world
In the interview, Zulkifli says Singapore is a country where all cars can be electric, but limited land is made difficult. The challenge is to accommodate charging stations and prevent road chaos. The goal is mass transport systems that are environmentally friendly to move the population.
Since the 1980s, Singapore has restricted the use of cars. Each month, licenses are sold at auction that allow you to buy and own a car for ten years. In May, the Small Car Authorization Certificate (COE) cost NOK 290,000.
In addition, there are other fees, which mean that the price of a Volkswagen Golf costs over one million dollars – the most expensive in the world and three times more expensive than in Norway.
– Just finding parking is already a problem. It is now up to you to decide who will have access to the charging stations. We have no solution at this time, he says.
Singapore's environment minister believes hydrogen technology will be an environmentally friendly alternative to Tesla's batteries. It concerns carbon waste from mining operations needed to produce car batteries and the environmental costs of recycling old batteries.
Mankind's greatest challenge
It's been 200 years since the British arrived in Singapore and made the tropical, low entry lane one of the most important free trade ports in the world. In a speech earlier this week, Prime Minister Lee Hsien Long warned of how the country would be affected by climate change.
He said it would cost Singapore over NOK 600 billion to protect the country from rising sea levels, higher temperatures and more heavy rainfall.
"Climate change may seem abstract and far-fetched to many of us, but it's one of the biggest challenges facing mankind. We already notice that. The temperature is higher, there is more intense rainfall and this is likely to deteriorate over the next few decades, Prime Minister Lee said.(Terms)Copyright Dagens Næringsliv AS and / or our suppliers. We would like to share our cases using a link that links directly to our pages. Copying or any other use of all or part of the Content may only be done with the express written permission or as permitted by law. For additional terms, see here.
Source link