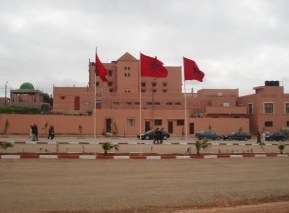 The sixth edition of the "Solidaire Village", organized in the margins of the World Meeting of Sufisms, which takes place on 17-20 November in Madagh (Berkane Province), is a place of meetings and expertise for development. social and solidarity economy (ESS) in the eastern region.
Under the patronage of HM King Mohammed VI, this event, inaugurated on Sunday, is initiated by the Al Moultaq Foundation (Meeting) and the Franco-Moroccan Contractors Association (AFMC) in cooperation with the Eastern region under the theme "Economy in the service of territory: the vector of human capital in development continental ". Multilateral space, the Solidarity Village became over the years an intersection of important meetings for all entities of social entrepreneurship and solidarity – explained the organizer. And add that Village Solidaire, the strong sixth edition, strives to create all the conditions necessary for the development of an ethical economy at the service of the inhabitants of the Orient region.
Therefore, cooperatives, associations, researchers and consultants meet at Madagh to offer project leaders a set of services and advice that will help them to develop their activities, said the Al Moultaq Foundation official, stating that this year's edition focuses specifically on the concept of human capital and its importance for the development of social and solidarity entrepreneurship.
Indeed, human capital combines all skills and qualifications, as well as experience accumulated by the individual, they note, taking into account that "too often neglected, this concept of human capital is of great importance in creating and managing a project in social and solidarity entrepreneurship."
Basically, Village Solidaire is treated in terms of expertise (hard skills) and soft skills to provide funds and keys to understand these concepts to different participants.
During a conference devoted to this subject, a panel of five experts will discuss the importance of human capital and its contribution to economic development. This development is reflected both on the territory and on the continental level.
Structures invited to the Solidarity Village will also have the opportunity to become acquainted with the set of tools and practices through various workshops and coaching sessions conducted by experts from Europe and Africa.
Designing, production and marketing of local products, brand protection in Moroccan law, the importance of digital for social enterprises, sales and communication techniques and marketing strategy are all aspects that will be discussed, in addition to experience exchange, workshops to create synergies between various entities in the region .
This sixth edition of the Solidarity Village is also distinguished by the participation of two African delegations who want to use their knowledge and know-how in the field of human capital.
Source link