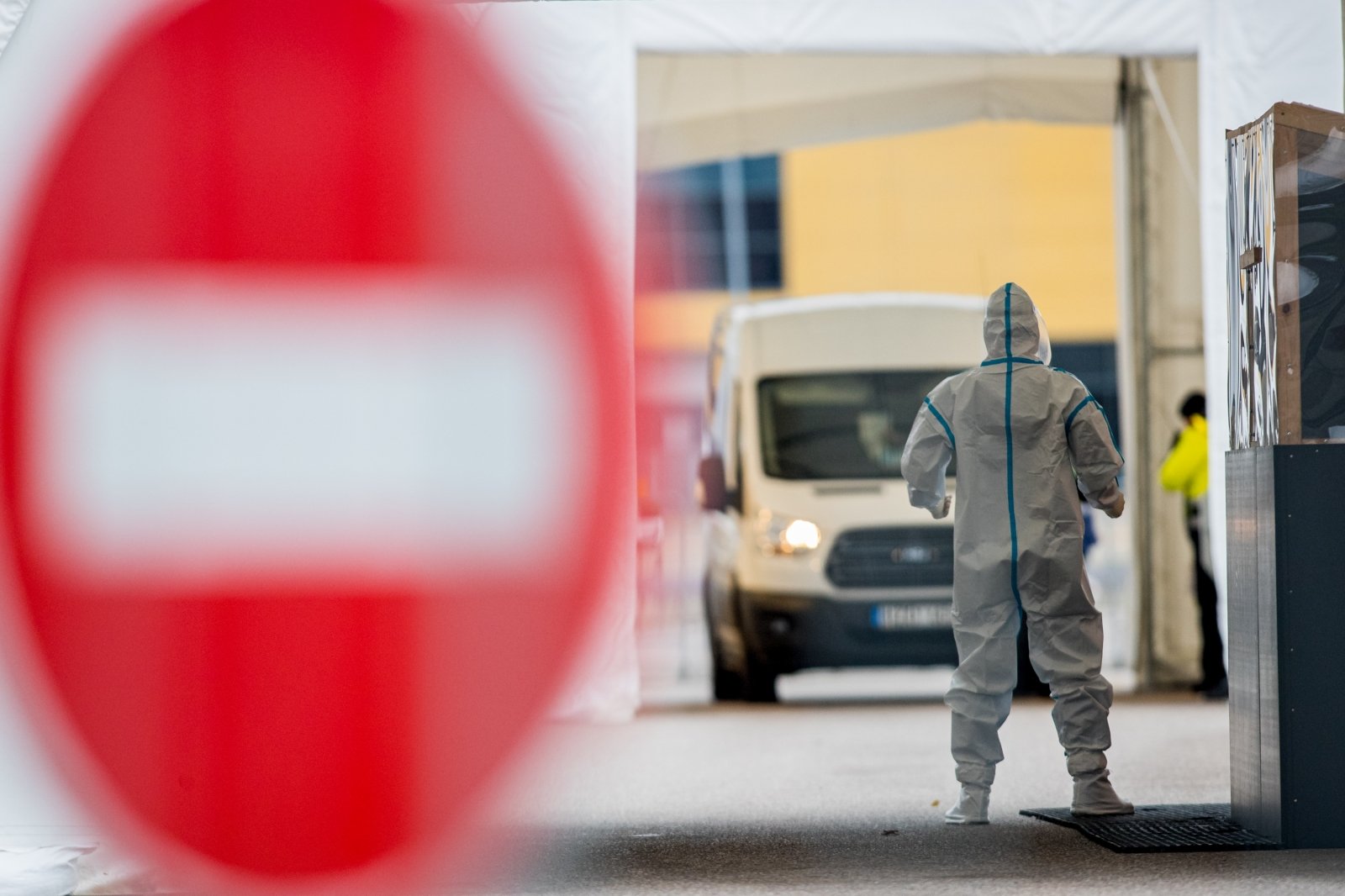 In the last day, 2289 new cases of KOVID-19 were confirmed in Lithuania, 23 people died from coronavirus, statistics Lithuania announced on Wednesday.
19 others died of other causes.
Since the beginning of the pandemic, CODID-19 has infected 51,000 people in the country. 655 people, 38 thousand. 755 – still sick, 12 thousand. 282 – recovered.
A total of 432 people died from coronavirus in Lithuania, and 186 people from other causes.
During the last day to examine 12 thousand. 697 samples suspected of coronavirus, the total number of samples tested since the beginning of the pandemic is 1 million. 197 thousand 419.
The statistics department became the main source of data for KOVID-19 on Wednesday.
2289 new cases of coronavirus were confirmed last day
The National Center for Public Health (NVCC) informs that 2289 cases of coronavirus infection (KOVID-19) were confirmed last day in Lithuania. 606 of them were registered in Vilnius, 559 in Kaunas, 267 in Klaipeda, 231 in Gauliai, 145 in Panevshi and 142 in Mariampoli. Another 87 cases have been reported in Alytus, 83 in Tel Aviv, 76 in Taurago and 71 in Utena counties. 22 cases have not yet been assigned to any region of the country due to lack of information. The regions to which these cases should be assigned will become clear after the epidemiological research.
Of the 2,289 positive test results obtained the previous day, 845 entered the system late at night and overnight. During the working hours of NVSC, 1444 positive test results were obtained, of which 944 were diagnosed epidemiologically, and the rest are performed today.
Cases when the circumstances of infection of persons are not clear, ie. Epidemiological studies revealed that the persons did not go abroad, did not communicate with confirmed cases of KOVID-19, 289 persons were registered.
Epidemics were recorded in epidemics the previous day
On Tuesday, outbreaks of coronavirus were reported in the treatment and maintenance department of Zirvintos Hospital, Wilkpedi Hospital, Ukmergi Hospital, as well as LSMU Kaunas Hospital, Raseiniai, Kadainiai, Shakiriai Hospital, and .
Twenty-three cases of coronavirus infection, confirmed yesterday, have been linked to an epidemic at the Blinstrubishka social care home in the Raseiniai district. Individuals are residents of this institution.
Another 9 cases of infection, confirmed yesterday, according to epidemiologists, are related to the epidemic in the care home of the Caritas Klaipeda region of the Diocese of Telcia. A total of 47 cases of infection have now been identified in connection with this epidemic, of which 33 are departments and 14 workers.
In addition, cases of KOVID-19 related to epidemics at the Vilius Gajgalaitis care home in the Klaipada area, Palanga Nursing Home, Eichicki Personal Health Care Center in областаalčininkai District, st. Mariampoli. Maria Nursing Home, Kvadarna Nursing Home, Hospital for Support and Treatment of Hospitals for Support in Varnai District, st. Clara Hospital Support and Care.
Also Tuesday, outbreaks of infection were reported at the Pravievnicki Correctional Facility in Kaunas.
Yesterday, cases related to epidemics were registered in educational institutions: Klaipeda Kindergarten – Varpelis, Klaipeda Stasis Shimkus Conservatory, Klaipeda Vidanas High School, Klaipeda Kindergarten, Nicka Kindergarten pro-gymnasium Panevjes "Viliti", high school Kelma, high school Užventis Šatrija Ragana, primary school Utena Aktakalnis.
New epidemics were registered yesterday in the Yasiulikus Home for Social Welfare in the Ukmergi district, the Department of Pediatric Rehabilitation of the Children's Hospital, Drushnikakai "Sauluti", Nauhoy Akmeni Hospital. A new epidemic was also reported at Kazli Rida Hospital, where a total of 9 cases of infection were confirmed, 6 of which were in the support and care unit.
In addition, on Tuesday, an epidemic of infection was recorded in the social care home in the Community Center of Gramancia in Pagramantis, Tauragi district – 14 cases of KOVID-19 were confirmed, of which 10 were residents and 4 employees.
A new epidemic has also been reported on the Kibartai road post on Kaunas territorial customs.
According to currently available data, 215 cases of family outbreaks were registered in Lithuania last day.
There are 23 more coronavirus deaths in Lithuania
NVSC reports that information was received yesterday from medical institutions about 23 deaths from coronavirus, people had concomitant diseases. Currently, the infection has claimed 432 lives.
Seven deaths have been reported in Klaipeda County. Individuals belonged to the age groups of 60-69, 70-79, 80-89 and 90-99.
5 deaths were registered in Šiauliai County. Individuals belonged to the age groups 60-69, 70-79 and 80-89.
3 deaths were registered in Utena County. Individuals belonged to the age groups 50-59, 70-79 and 80-89.
Two deaths were reported in Vilnius County. Individuals belonged to the age group of 60-69 years.
2 deaths were registered in Mariampoli district. Individuals belonged to the age groups 70-79 and 90-99.
Two deaths were reported in Telzai County. Individuals belonged to the age groups 70-79 and 80-89.
One death was registered in Kaunas County yesterday. The person belonged to the age group 80-89 years.
Also, 1 death was registered in Panevjes county last day. The person belonged to the age group of 70-79 years.
In addition, 19 deaths were registered yesterday (8 in Vilnius, 5 in Tel Aviv, 3 in Kaunas and Klaipeda counties) when those infected with the coronavirus died of other causes.
For their part, public health professionals are urging people to take all measures to prevent the spread of coronavirus infection – hand hygiene, coughing, sneezing etiquette, wearing personal protective equipment, physical distance and more.
The government will decide whether to continue quarantining until mid-December
The outgoing government will decide on Wednesday whether to continue quarantining the country until mid-December, allowing museums to open and go on excursions.
The quarantine amendments prepared by the Ministry of Health envisage its extension until December 17.
The project proposes that visits to museums and galleries be allowed for groups of up to five people (excluding families), provided that an area of ​​10 square meters per visitor is provided and that a distance of at least two meters is maintained between individuals or groups.
Allowing trips of up to five people or one family will also be considered, provided that all other rules set out in the Emergency Operations Manual are met.
With the introduction of the second universal quarantine in early November, all cultural institutions, including museums, were closed and excursions were banned. Museum officials have appealed to the government to allow them to operate because they can provide security when visiting the exhibits.
The Cabinet of Ministers is also proposing to revise the criteria for supporting the affected business from coronavirus and quarantine pandemic restrictions.
They envisage a change in the methodology for comparing last year's economic activity and this year's turnover, taking into account whether it has been reduced by 30 per cent, and envisage government approval in approving the list of restricted activities by the ministers concerned. Activities that are indirectly limited and "recognized as such by the Government" will also be included.
Acting Minister of Health Aurelius Veriga has previously mentioned that if the situation does not change or worsens, the Cabinet of Ministers may consider restrictions on the working hours of supermarkets and shops, and the whole educational process must be carried out remotely. These proposals are not yet available in the draft submitted on Wednesday.
According to data from Tuesday, the incidence of coronavirus in Lithuania reaches 804 cases per 100 thousand. population, 1,169 new cases of KOVID-19 were confirmed per day, and 17 people died from coronavirus. In total, 49.4 thousand people have been infected with the coronavirus since the beginning of the pandemic. more than 400 people died.
During quarantine, masks must be worn in public places, all events are prohibited, except for high-level sports competitions without spectators, restaurants, cafes, bars, nightclubs, gambling and other entertainment venues, health centers that provide recreational services are prohibited.
Restrictions also apply to health care, outlets, educational institutions, public transport and other areas.