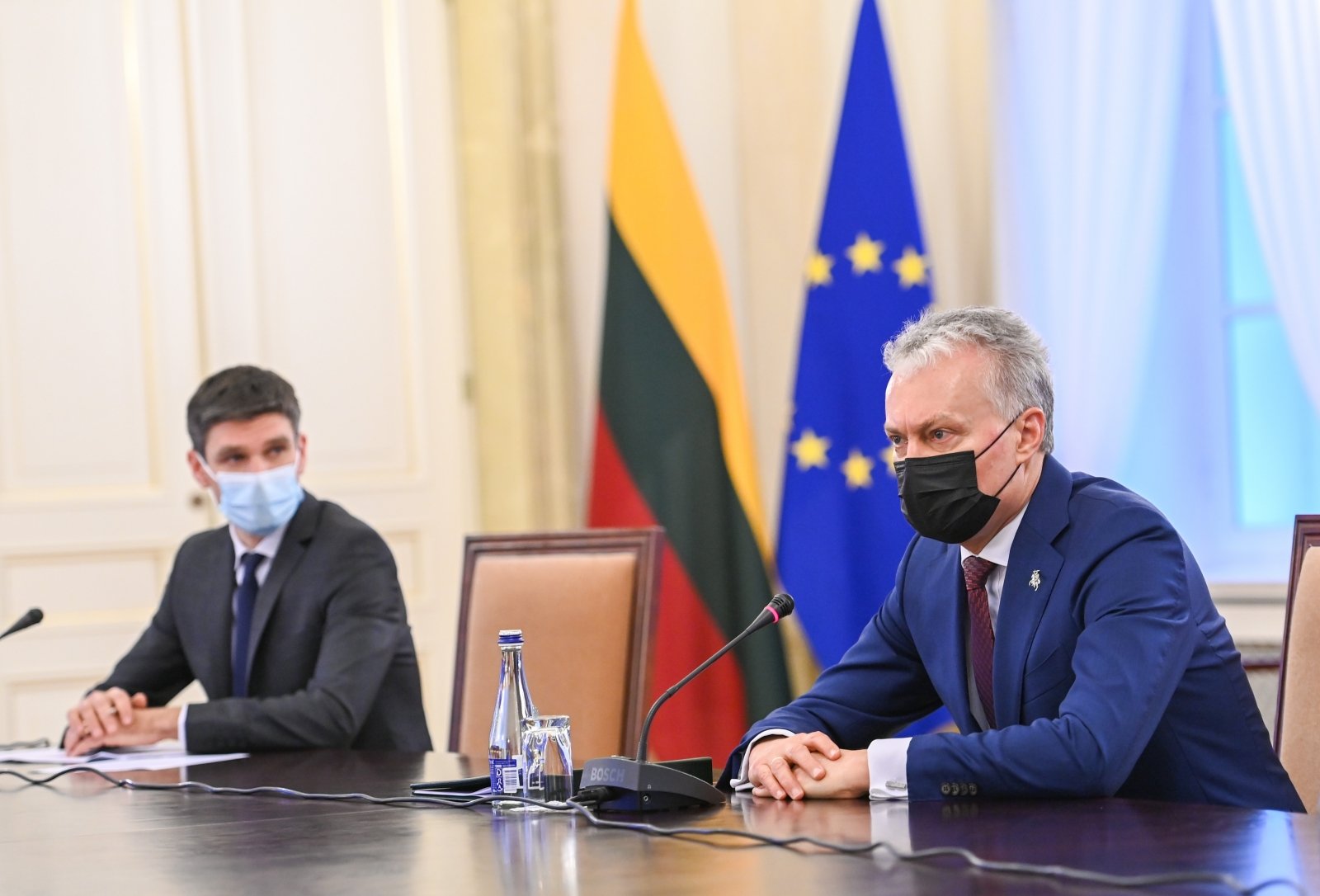 "The escalation is aimed at reducing meetings between people (…) the restrictions are aimed at outlets, educational places, jobs and family communication," the adviser told reporters on Sunday.
"The president believes that these proposals must be implemented immediately," he added.
The head of state discussed the situation with members of the Council of Health Experts on Sunday. The meeting was also attended by Prime Minister-designate Ingrida Shimoniti, Health Minister-designate Arinas Dalkis, Deputy Health Minister Cristina Garouliene and caretaker Prime Minister Saulius Skvernelis' adviser on health issues, Jonas Kairis.
S. Crippa said outgoing Prime Minister Saulius Skvernelis and Health Minister Aurelius Vergi were also invited to the meeting, but did not attend.
According to the presidential adviser, the issue of introducing a state of emergency was also discussed at the meeting, but it is not yet planned to be proposed.
"A state of emergency is needed to be able to introduce a curfew that will restrict any movement at certain times of the day. "This proposal has been discussed, it is not specifically proposed at the moment, but if the situation worsens, no one is protected that there is a need to take similar strict measures," he said. Dirty.
According to him, the intention is to limit education as much as possible, as well as to intensify trade in grocery stores.
"As far as education is concerned, it is proposed to limit it as much as possible (…) There is a concrete proposal to particularly limit the sale of non-food products on weekends, starting on Friday night," the adviser to the head of state said.
Mindaugas Stankanas, a professor at the Lithuanian University of Health Sciences, said the quarantine effect was being felt, but tougher measures were needed as case growth remained.
"If it had not been introduced, we would have seen different numbers, we can see that we are missing very little to change that situation," M. told reporters. Stankanjas.
According to him, one of the recommendations is to limit meetings as much as possible.
"One of the recommendations is to limit household meetings as much as possible, which means there should be no communication with friends or other families," the doctor said.
He also recommends wearing face masks at home if at least one family member suffers from coronavirus, among other things, recommending hourly ventilation of the premises.
According to M. Stankanjas, the introduction of a curfew has been considered, but we hope that it will be avoided.
"We still hope we can avoid that," he said. Stankenas.
It is not allowed to publish, quote or otherwise reproduce the information of the BNS news agency in the mass media and on the websites without the written consent of UAB "BNS".