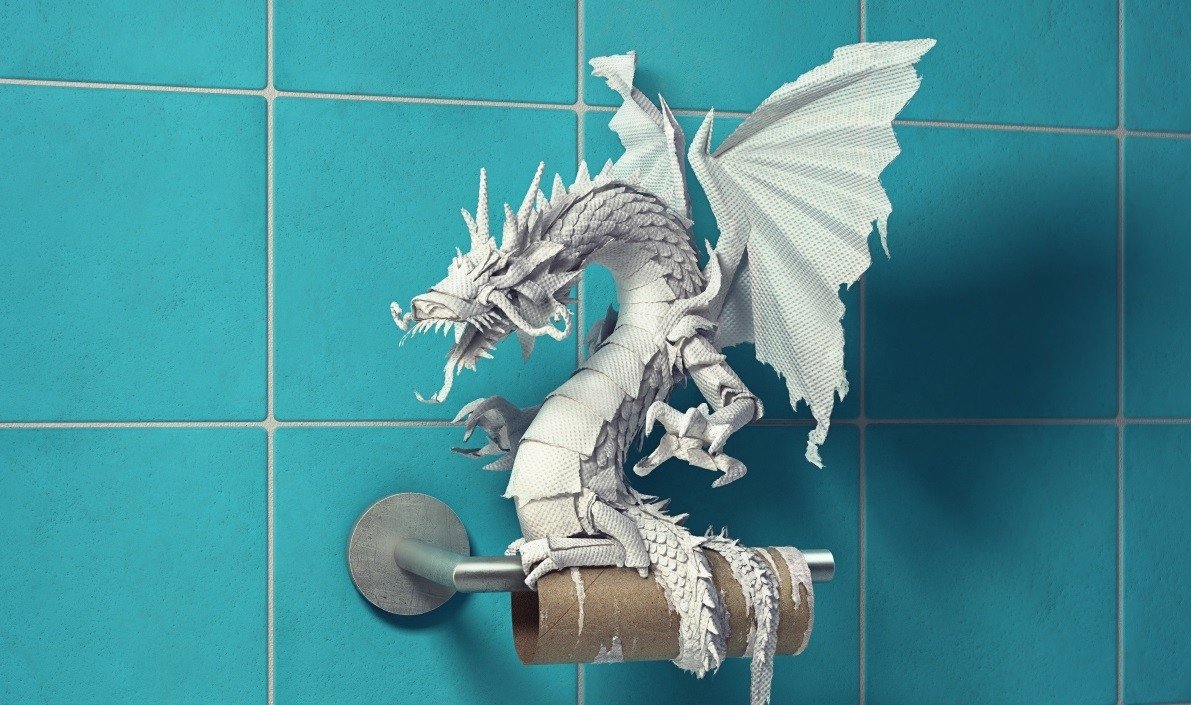 Adell Taivas Ogilvy was awarded for the promotion of Tele2 Prepaid "Pildyk", which offers unlimited access to the Internet at night and on weekends. The Godspeed Branding Award was designed to design the book "Book of Gastronomy: How the Future of the King of England Ate Peacock in Vilnius" commissioned by the Lithuanian Institute of Culture.
"We've played this idea based on the intuition that many people tend to wear a telephone and surf the internet on the toilet, if you run out of a gigabyte, you need to change the navigation to something else. It also gave birth to the idea that a person with boredom starts to break up origami from toilet paper "- said Dominykas Žilėnas, creative director of the agency Adell Taivas Ogilvy, behind the scenes.
It's true that the dragon shown in the ad is not really made of toilet paper. This task was entrusted to three-dimensional graphic designers who created a dragon that has been focused for the last two weeks. The ad was placed in the Epica illustration category, where it was successfully evaluated, informs the media.
Dominyka Jonušienė, head of the "Pildyk" brand, also enjoys the success of the prize. The Epica competition is characterized by the fact that candidates value independent journalists who are not associated with advertising agencies, but are at the forefront of all novelties and are well versed in trends and what is interesting for the world. As a trademark, it is proof for us that we are working in the right direction. "
The evaluating competitors are an independent jury
The Epica Award, an international award for over 30 years, is combined with such prestigious events as "Cannes Lions" or "Clio". The difference between other Epica contests is that committee members are not marketing and marketing experts, but media representatives work and write on these topics.
"It is a great success and honor to participate in this competition and win it, I am happy that I can invest in creative projects that require more effort than usual – consumers and industry reward them with good value," said D. Žilėnas.
Long-term results of cooperation
This is not the first competition in which Tele2 Telecom and Adell Tavak Ogilvy triumph. The fourth anniversary of the Tele2 4G music project was the first in the Baltic States, which won the Gold Medal at the Ciclope Creative Arts Festival in Berlin, as well as the ADC Award for USA and D & AD pencil for design and advertising craftsmanship at the London Oscars. In addition to the crew, Tele2 Flying House won the prestigious Clio award, entered the short list of Cannes Lions and brought the Grand Prix statuette at the Golden Drum.
---