For a long time now, the Microsoft 365 business package has had no serious competitors in the market. During the global pandemic, with offices relocating home, effective document management and teamwork became critical. Therefore, the search for "cloud" alternatives began, easily accessible from anywhere. This niche was successfully filled by the technology giant Google, which introduced a business solution – Workspace.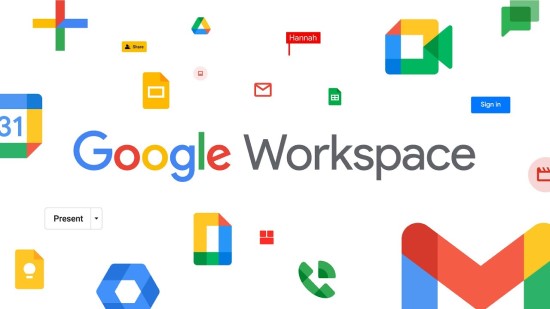 For your attention – Arnoldas Lukosius, an expert from Tele2 Innovation Office, compared the software packages "Google Edge Space" and "Microsoft 365" and highlighted their most important advantages.
What is a Google Workplace?

The most popular e-mail was originally created. Google later introduced cloud-based document, sheet, and slide tools. These tools have become direct competitors to Microsoft 365 application packages – Word, Excel, PowerPoint.
These Google gadgets were previously known as the G Suite, but were released in October as the Google Workspace.
Changes in the brand, icons and design of the user interface are not just cosmetic. The gadget package, which includes tools for Docs, Sheets, Meet, Gmail and Calendar, is better integrated with each other. This means that users will have to jump from one application to another – many work steps can be done in one place.
For example, when chatting in Gmail, you can simply create a new document document right here. And with collective editing, you can significantly speed up the process by turning on the video chat feature. Google says such opportunities will fundamentally change the way the office works, further speeding up processes and facilitating tasks that require teamwork.
Why is Google Workspace so convenient?

The problem with G Suite was that these services were quite scattered (when they were bundled with Microsoft 365 programs). Greater integration means, above all, that each of the Google Workspace products includes other elements of its tools.
For example, you can paste a small version of Google Slides into the Document you create to avoid jumping from one browser tab to another.
So the biggest plus that Google Workspace has is integration.
The seriousness of Google's plans to conquer the business market is confirmed by the fact that now the focus will be on desktop solutions.
Gmail outperforms most competitors. The market share of Documents and Sheets is also growing steadily as consumers appreciate the opportunity to get rid of email. email attachments and do not worry about unexpectedly missing or lost documents.
Google e-mail Microsoft e-mail tools

Professional life without e. Email is just unthinkable.
Following the upgrade of Google Workspace, the Gmail platform is even better integrated with other Google services. It has a convenient, intuitive email browser, which makes it a favorite with users who appreciate "purity" and simplicity.
Microsoft Outlook also has its advantages. It is a more powerful tool that offers more internal memory, detailed structuring of the mailbox itself, allowing for better personalization of outgoing messages.
The choice should be determined by a fundamental question. Which is more important to you: flexibility and speed or power and accuracy? In the first case, it is worth choosing Gmail, in the second – Microsoft Outlook.
Google and Microsoft Document Management Tools

The COVID-19 pandemic was a great opportunity to see how important smart communication and collaboration solutions are in modern business.
Video chat, cloud, correspondence and information sharing tools – all offered by Google and Microsoft. First, the cloud has Google Drive and Microsoft has OneDrive. Both solutions offer the ability to host all documents in the cloud, collaborate, edit documents in real time and not worry about getting lost somewhere.
Google has a meeting to communicate with team members, and Microsoft has teams. The two systems work very similarly – they allow you to interact with video, correspond, share screens.
You will get more of these products if you use them with the others included in the kit.
Who to choose?

Google Workspace would probably be a more flexible payment and collaboration option. In addition, it does not need to be installed, and the programs have a particularly intuitive control.
Microsoft 365, on the other hand, while a little less intuitive and flexible, gives users a complete application ecosystem. This means that you will not need additional third-party tools.
Source link