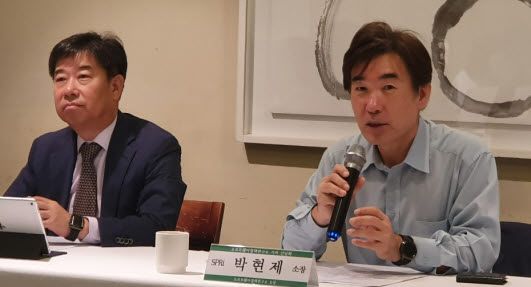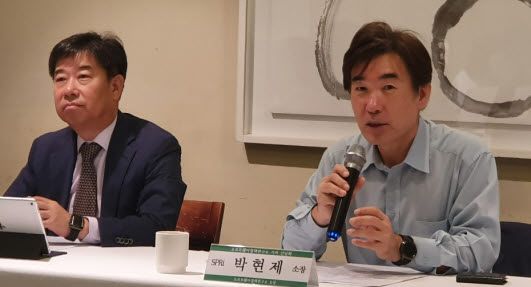 Park Hyun-je, head of the Software Policy Research Institute, will hold a press conference in Gangwamun near Seoul on October 26, saying: "We will be reborn as AI policy research institute." "
The SW Policy Research Institute (SPRi, Spree) is a public sector in the SW, created in March 2014. Park took over as third director on June 24. Park graduated from Seoul National University with a degree in Computer Science. Since then, he has worked for 20 years in companies such as Solbit Media (1991 ~ 1997), Managing Director of Durunet (1997 ~ 2001) and CEO of Onet System Korea (2001 ~ 2011). In 2013, he also spent five years in the public sector, including prime ministers and general managers (2013 ~ 2016).
Park has announced the 4 strategies and 8 key research areas for the Social Policy Research Institute to become an intelligence policy research institute. The four strategies are: ▲ Alternative strengthening of AI policy research ▲ Proposal of national digital transformation policy measures ying Study of SW convergence and industrial activation policy лоба Global collaboration and sharing of research results Eight major research areas include policy AI, industrial innovation, corporate system, future new technology strategy, AI and SW security, AI and SW statistics, data analysis and trends and intelligent content.
As part of this, the Institute for Development Policy develops and publishes "intelligence indices" from industry and institution to analyze the level of digital transformation and impact. In addition, the SW Competitiveness Index, created for the first time this year, will be more sophisticated and sophisticated. Create a SW statistics portal, develop new AI based statistics and create an AI portal.
In particular, in the era of AI economics, we will present national innovation plans for each sector, including labor, welfare, education and jobs, and nurture AI talent and secure technologies for next generation AI. In addition, it seeks solutions to the dysfunction and social conflicts caused by digital transformation. The research report also works in English.
To strengthen the AI ​​research, the organization was recently reorganized into eight research teams and one support team, and an AI policy research team was formed.
Mr Park said: "We are moving into the economy of AI, at the center of AI, the essence of the Fourth Industrial Revolution." "It's important to influence time."
Park added: "The key to innovation growth depends on how fast we can achieve SW convergence," he added.
In the past, Spray has played an important role in establishing the main social policy policies of the Ministry of Transition and Monetary Policy, such as compulsory education for primary and secondary school, university-oriented SW and industry promotion SW.
In the future, not only AI research but also SW workforce, companies and methods to improve technology capacity, in line with the digital transformation of the public and industrial sectors, SW public procurement into system service procurement, freelance improvement services. work environment and sharing economy We will also focus on developing work policies.
In addition, we will develop new SW industries, such as real content and blockchain, and develop SW security management standards and scoring system.
Improve communication with corporate sites. To this end, various forums such as AI, Convergence, AR and PR Leadership Forums will be operated and a new SW convergence conference will be held.
Park said: "We will be activating the SW and offline network of the Open Community SW and will strengthen the role of the policy center." "Make it a springboard to become a global AI research institute that communicates not only in Korea but also in Korea. the international community. "
Related articles
Park Hyun-jei, Director, SW Policy Research Institute
The Software Policy Institute (SPRi, Spree) creates indicators for national intelligence. To measure the level of intelligence by industry. Again by choice and concentration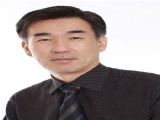 Policy Research Institute for SW, Institute for Integration and Harmonization
"We will leapfrog as an institution with the most expertise in bringing artificial intelligence (AI) and software (SW) closer."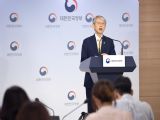 The mobile driver license comes early next year. Regulatory sand box, temporary permit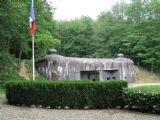 Europe's 'tax levy' margins could stop Google attack
On the other hand, at the event, Spray, Park, Lim Chun-sung, Director of Research and Coordination, Eun-Jii, Director of Research and Corporate and Institutional Innovation Team,
Joey, Mu-Ye, Statistics Team Leader, SW, Team Analysis and Trend Team, Gong-il.
Source link