▲ The purpose of the development of urban watercourse management technology (photography from the city of Seoul)
Metropolitan Seoul will co-operate with the Korean Water Management Corporation (K-water) at the Ministry of Environment to prevent a sudden flood in the city caused by "localized heavy rain."
SEAL, Jan. 21 (Yonhap) – The city government in Seoul and Korea's leading corporation (KOTRA) have signed a joint agreement on flood management technology at the city at 11:30 am on March 21.
The main content of the contract is: △ Development of high-precision rainfall from radar monitoring and practical application of technology development, △ Mutual cooperation to build a smart flood management system in Seoul, △ Collaborative research and technical support for disaster response related to water.
"Smart City Flood Management Technology" is a new concept technology that combines advanced precipitation monitoring technology based on high-precision hydrological radar and a waste water and flood management system, a water supply facility in the city. The high-precision hydrological radar has a smaller range than the conventional large radar, but allows for precise observation. In particular, localized heavy rain can be predicted from 3 hours to 6 hours.
Metropolitan City in Seoul explained: "Through this project, localized heavy rain can be predicted, in advance to analyze the flooded surface and connect to the sewerage and the inlet pump in that area and to quickly discharge the rainwater.
Seoul and Korea's leading corporation will launch a pilot operation next year so that a smart city flood management system can be directly applied to flood the vulnerable management of the Seoul area with practical use of precision precipitation technology with high accuracy in the research phase.
Metropolitan Seoul plans to contribute to protecting the lives and property of citizens from damaging floods through this agreement.
The government of the Seoul Metropolis is developing its own pre-prediction system for monitoring rainfalls and road movements outside Seoul by meteorological agencies and data on the measurement of civilian rains and radar installed in the West Sea and the metropolitan area of ​​Seoul.
Park Von-soon, the mayor, said: "Urban flood management problems will become more important due to changes in the intensity of the floods due to climate change." Building a smart flood management system in Seoul will give more confidence to Seoul's citizens. "" We will improve the accuracy of the flood forecasting system and will strengthen the ability to prevent disasters through continuous collaboration and technology development. "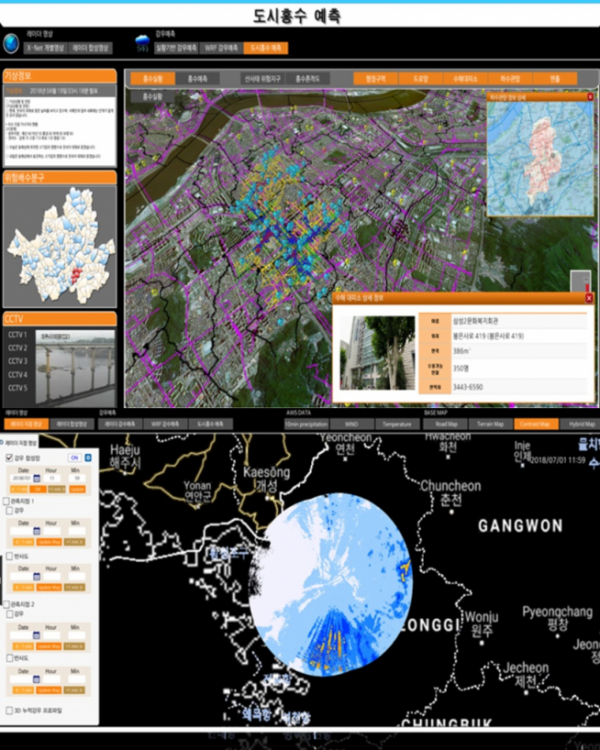 ▲ High precision precipitation monitoring system in the Central Metropolitan Area (Photo by Seoul Metropolitan City)