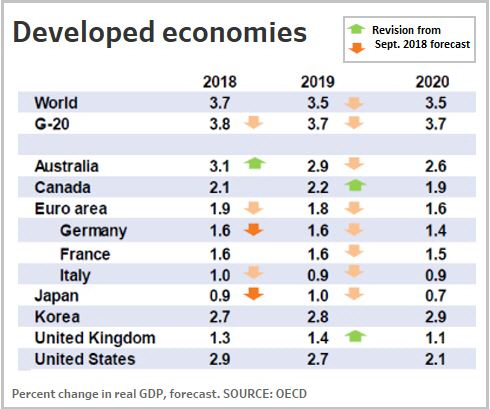 [이데일리 방성훈 기자] World economic growth is expected to slow 3.7 percent this year to 3.5 percent next year. It is an analysis that the trade war between the US and China and the increase in the base rate will slow the growth rate. There is concern that developing and developing countries will be affected.
The Organization for Economic Co-operation and Development (OECD) reduced the forecast for global economic growth for the next year to 3.5 percent, which is by 0.2 percentage points from 3.7 percent in September.
It is an analysis that the trade war between the United States and China, the negotiations between Britain and the European Union (BSA), and the increase in the national interest rate caused by the Federal Reserve of the United States (Fed) will increase uncertainty.
Lawrence, a senior economist at the OECD, said: "We turned to a long-term (entertaining) trend. Though no heavy landing is expected, many risk factors are scattered."
The OECD warned that expanding trade wars could reduce the global gross domestic product (GDP) by 0.8 percent by 2021. In addition, the gradual increase in the US rate has exacerbated capital outflows from emerging economies such as Brazil, Russia, Turkey and South Africa, worrying that economic growth in these countries will deteriorate.
According to the region, the world's largest economy is expected to grow by 2.9 percent this year and 2.7 percent next year on the back of tax cuts policy. In 2020, when the stimulus effect disappears and customs duties are reflected in corporate costs, it is expected to drop to 2.1%. This is the same as the previous forecast.
China is expected to grow by 6.6 percent this year and 6.3 percent next year, due to government efforts to control the impact of US tariffs and up to 20 percent by 2020 to 6 percent, the lowest level in 30 years. The Eurozone was slightly lower than the September forecast. This year is expected to be 2 percent, 1.8 percent next year, and 1.6 percent in 2020.
The Korean economic growth rate stood at 2.7 percent this year, 2.8 percent in 2019 and 2.9 percent in 2020.
Source link