NH Nonghyup Life has launched an insurance product that guarantees the cost of targeted anticancer drug treatment and the low cost of cancer treatment.



NH Nonghyup Life announced on the 6th that it would announce the "New NH Cancer Insurance" which supports the cost of targeted anticancer drug treatment up to KRW 50 million.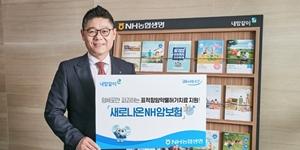 ▲ NH Nonghyup Life announced on the 6th that it will launch the "New NH Cancer Insurance", which supports up to 50 million won for targeted anticancer treatment.
This product supports targeted cancer agents, licensed treatment agents that select only cancer cells and prevent growth and spread. Small-scale cancers, such as thyroid cancer and prostate cancer, which are classified as minor cancers under the main contract, are also covered by an additional special contract.



Милиони 10 million for thyroid cancer 6 6 million for prostate cancer милиони 3 million for other skin cancers, colon cancer, spot cancer, borderline tumors (limited to one at a time each)



In addition, the full amount of insurance premiums already paid in the main contract is reimbursed, as well as insurance premiums for the diagnosis of general cancer diagnosis. In case of non-renewal of the main contract, even if diagnosed with two major diseases (cerebral encephalopathy, acute myocardial infarction), you can choose a special contract that returns the total amount of insurance premiums in the main contract during the payment period.



It is also a feature that if you sign up for a special treatment to re-diagnose cancer coverage (recovery, no), you can relieve the burden when the cancer recurs. Two years after being diagnosed with cancer, additional insurance is paid to re-diagnose the cancer. However, prostate cancer, other skin cancers, thyroid cancer, and colon cancer are excluded from the surcharge. If the cancer is not cured, you can continue to receive a cancer diagnosis every two years until it is cured.



The age of the membership is at least 15 and at most 75 years. The subscription limit is up to 30,000 won in units of 10,000 won based on the main contract. [비즈니스포스트 김남형 기자]
Source link