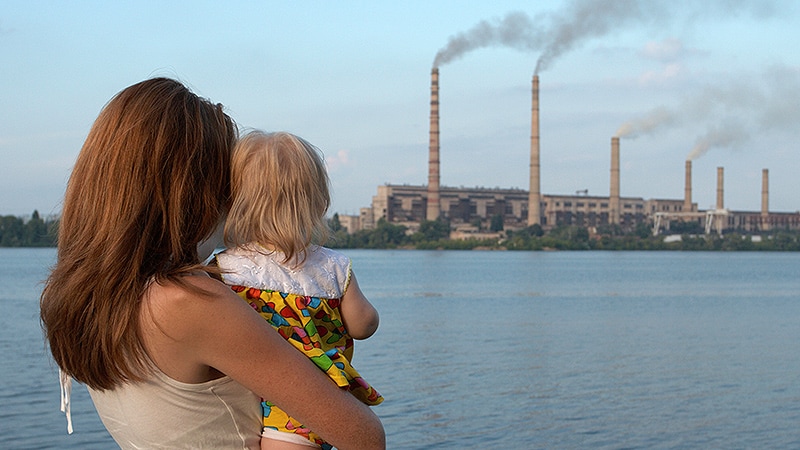 Exposure to air pollution is linked to increased emergency department (ED) visits for psychiatric symptoms in children, new research suggests.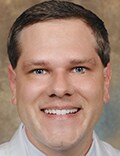 Investigators at the University of Cincinnati in Ohio found short-term exposure to particulate matter was associated with ED visits for psychiatric crises including anxiety and suicidality soon afterward.
"This study is the first to show an association between daily outdoor air pollution levels and increased symptoms of psychiatric disorders, such as anxiety and suicidality in children," lead investigator Cole Brokamp, ​​PhD, said in a statement.
Investigators also found living in areas deprived in terms of socioeconomic factors strengthened the association between air pollution exposure and pediatric ED visits for suicidality and anxiety disorders.
"The results suggest clinicians may want to consider more traditional risk factors when looking for symptomatic worsening in younger patients," study coauthor Jeffrey R. Strawn, MD, a child and adolescent psychiatrist and associate professor of psychiatry and pediatrics, University of Cincinnati, told Medscape Medical News.
"It's not uncommon for us to talk about environmental changes, for example, moves, changes in the family, and school stressors, but I think we might expand that into real environmental considerations that may potentiate or worsen symptoms."
The study was published online September 25 in Environmental Health Perspectives.
External Factors
Outdoor air pollution includes a complex mixture of particles, gases, trace metals, and other toxic compounds. Small particulate matter with an aerodynamic diameter of less than 2.5 micrograms (μg) (PM2.5) is of particular health relevance because it can induce inflammation and oxidative stress, the authors note.
It is well known that air pollution adversely affects respiratory, cardiovascular, perinatal, and other health outcomes. At a global level, air pollution is estimated to be responsible for 3.3 million deaths per year.
Previous research has also shown that air pollution is associated with exacerbations of mental illness in adults, but its impact on children's mental health has not been studied.
Many psychiatric disorders have a "relapsing or remitting" course, with periods of higher and lower symptom severity, said Strawn. This new study was a way to better understand "what external factors could potentially drive symptomatic worsening," he said.
The study examined ED visits to Cincinnati Children's Hospital Medical Center (CCHMC), a 629-bed pediatric academic health center that sees 81% of all ED visits among 0- to 14-year-olds and 47% of all ED visits among 15- to 18-year-olds within Hamilton County.
In this increasingly large county, there is a great deal of variability in terms of socioeconomic conditions and levels of pollution. Some areas are very rural and others are densely populated, the investigators note.
The analysis included ED visits for psychiatric care between January 1, 2011, and December 31, 2015. Researchers extracted data on psychiatric diagnoses from electronic health records.
Over the 5 years, there were 13,176 psychiatric ED encounters that met study inclusion criteria. The median age of children using ED was 14.4 years. Of the total, 50% were female, and 44% were African American.
The most common reasons for psychiatric ED visits were depressive disorders, externalizing disorders, other mood disorders, and impulse control disorders. There were too few visits related to developmental disorders and personality disorders to be included in the analysis.
Measuring Pollution
To assess pollution exposure, researchers used estimated daily ambient concentrations of PM2.5 (as 24-hour averages) at the residential level. The model they employ is based on aerosol optical depth, a measure of the scattering of electromagnetic radiation due to aerosols in the atmosphere, calibrated with ground-based PM2.5 monitoring data.
Additional meteorological data included in the model were: air temperature, relative humidity, precipitation rate, accumulated total precipitation, and wind speed and direction.
The median PM2.5 The estimated exposure at the date of each case was 10.5 μg / m3. The authors noted that all daily exposures in the study were below the National Ambient Air Quality Standards set by the US Environmental Protection Agency.
Researchers evaluated the association between PM2.5 exposure and psychiatric pediatric ED visits using a case-control crossover design. They chose stratifying controls over a 45-day period.
A case-crossover design helps prevent confounding and is appropriate when both interest exposure and outcome are transient, as the authors in this case study write.
"A key advantage to the design is that each case serves as its own control and is, therefore, matched for fixed individual characteristics including age, sex, and socioeconomic status."
The authors estimated the odds ratios (OR) of associations for a psychiatric ED visit from 0 to 3 days after a 10 μg / m3 increase in PM2.5 exposure. They are adjusted for temperature, humidity, and holidays.
The study showed that a 10-μg / m3 increase in PM2.5 was associated with a significant increase in any psychiatric ED visit 1 day later (OR 1.07; 95% confidence interval [CI], 1.02 – 1.12) and 2 days later (OR, 1.05; 95% CI, 1.00 – 1.10). When stratified by reason for ED visit, associations were significant for visits related to adjustment disorder and suicidality.
"The important thing is that there is some kind of dose association," so the more kids exposure to the virus, the greater the risk of visiting the ED for a psychiatric issue, said Strawn.
Cumulative Effect?
The researchers looked at whether community socioeconomic deprivation would modify the association between air pollution exposure and pediatric psychiatric ED visits.
To determine deprivation, they used a validated index based on variables such as household income, educational attainment, health insurance coverage, and public assistance receipt.
"If we detect an association with an environmental factor, we want to understand more about heterogeneity," explained Strawn. "Does exposure affect everyone, or does it affect some folks more than others?"
The analysis showed stronger associations among children in high-deprivation vs. low-deprivation areas for ED visits related to anxiety (1-day lag: OR, 1.39; 95% CI, 0.96 – 2.01 vs OR, 0.85; 95% CI, 0.62 – 1.17) and suicidality (same day: OR, 1.98; 95% CI, 1.22 – 3.23 vs OR, 0.93; 95% CI, 0.60 – 1.45).
But deprivation does not seem to affect adjustment disorders. In some cases, associations with ED visits for adjustment disorder may be difficult for children in high-deprivation areas.
It is unclear why deprivation does not have a greater impact on adjustment disorders.
"Adjustment disorders tend to be a more heterogeneous group of disorders whereas we think about anxiety disorders, about suicidality, about many of these other conditions as being relatively more homogenous," said Strawn.
He explained that symptoms associated with an adjustment disorder were associated with an "acute identifiable precipitant." For example, a child with no prior problems may experience anxiety or depression after moving to a new school.
Strawn characterized the strength of associations revealed by the study as "modest."
Neuroinflammation is "one of the most plausible explanations" for the link between pollution exposure and childhood psychiatric illnesses, said Strawn. Children may be particularly susceptible to the neurotoxic effects of pollution.
It is not clear from this study whether constant exposure to pollution could be cumulative in terms of psychiatric illness outcomes.
"We can certainly speculate that with persistent exposure, because of the pro-inflammatory effects of this fine particulate matter, you would probably have more neuroinflammation, and you would have persistent effects," said Strawn.
Clinical Implications?
The relationship between PM2.5Exposure and ED visits for anxiety disorders and suicidality may have clinical implications, said Strawn.
If there is a causal association here, there is something we can do to reduce the risk of symptomatic worsening. In other words, if someone has major depressive disorder and has been suicidal historically, there is a way to attain the effect of that PM2.5 exposure? "
Perhaps vulnerable children should spend less time outdoors, he added.
Strawn emphasized that the new findings reflect a larger societal issue.
"An ED visit for any psychiatric complaint, or any other complaint, is associated with significant financial as well as societal costs."
The researchers aim to continue studying the relationship between pollution exposure and psychiatric disorders in children. Strawn said he's keen to understand the heterogeneity of the exposure effect.
"I'd like to know more about who's susceptible. In addition to what we found with deprivation, there are differences in terms of comorbidity patterns; there are differences in terms of age; there are specific windows of vulnerability; and then how do they variables interact. "
He is also interested in learning whether a young patient's treatment for some psychiatric disorder "buffers against" the effect of pollution exposure.
One limitation of the study was that diagnoses were not established using structured, clinician-administered assessments that applied strict diagnostic criteria.
In addition, outcomes were classified based on primary diagnosis entered into the medical record, without considering co-occurring disorders or secondary indications for ED visit.
Interpret With Caution
Commenting on the study for Medscape Medical News, John P.A. Ioannidis, MD, director, Prevention Research Center, Stanford University, and a director of the Meta-Research Innovation Center at Stanford, said the choice of a case-crossover design that can help minimize confounding is "ingenious."
However, the effects identified by the study, with ORs of only 1.07 or 1.05 – and even those only at select time lags from pollution exposure – are "very subtle in magnitude," said Ioannidis.
"I am concerned that in the absence of pre-registration of the protocol and of the analysis plan, there are too many degrees of freedom on how to analyze such complex data and thus obtain different results."
The study provides "only very weak evidence" for a causal association, added Ioannidis.
"It would be useful to try to reproduce this finding with pre-registered analytes and with studies that also share their raw data so that the analytes can be repeated and verified."
Two other recent studies by scientists at Cincinnati Children's Hospital Medical Center, in collaboration with researchers at the University of Cincinnati, highlight the relationship between air pollution and mental health in children.
One study, published in Environmental Research, showed an association between recent high traffic-related air pollution (TRAP) exposure and higher generalized anxiety. Another study, also published in Environmental Research, showed that exposure to TRAP during early life and throughout childhood was significantly associated with self-reported depression and anxiety symptoms in 12-year-olds.
Brokamp, ​​Strawn, and Ioannidis have disclosed no relevant financial relationships.
Environ Health Perspect. Published online September 25, 2019. Full text
For more Medscape Psychiatry news, join us on Facebook and Twitter.