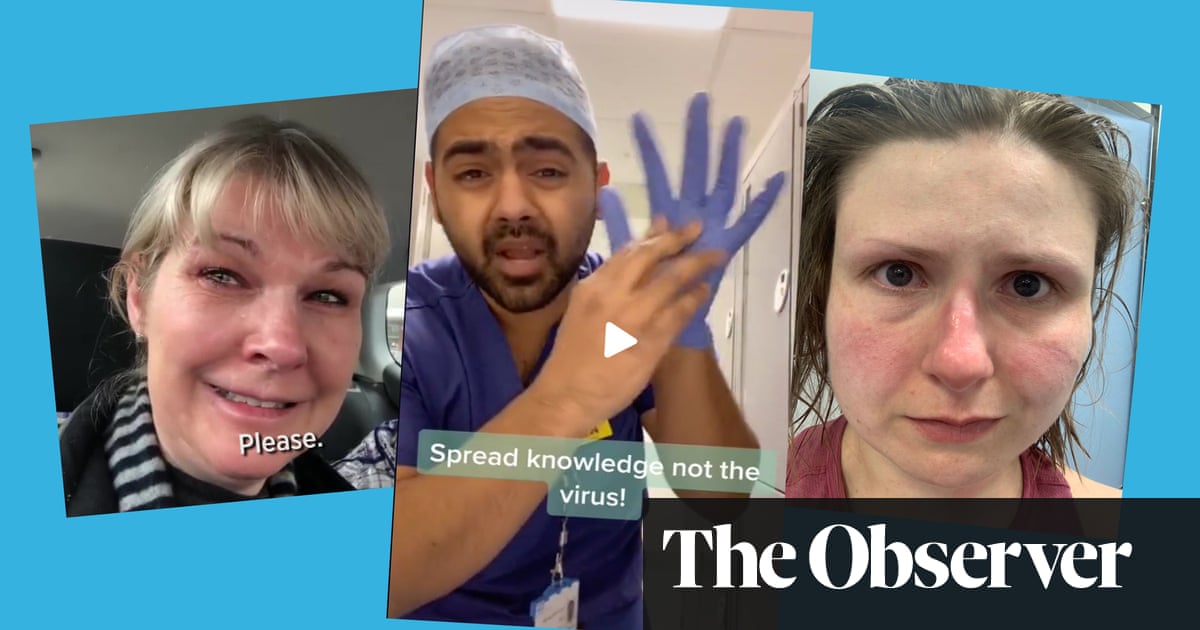 Zora Bilbrow, 52, a critical care nurse from York, works in Leeds
In the afternoon of Thursday, March 19, Down Bilbrow, a 20-year critical care nurse, was on his way home after four punishable 12-hour shifts. Stopping to get fresh food at the supermarket, she found the shelves empty and people walking around stunned, "just amazed." The next morning, on her break from work still in her peels, she was on ITV This morning.
"I'm pretty introverted, normal," she said of a video she posted on Facebook of her car, which quickly went viral, "but I felt very strong about what I had just seen." In the video, she breaks down into exhaustion and frustration as a result of buying panic. "You need to stop," she said, breaking her voice, "because people like me will watch over you."
About 27,000 people shared the emotional clip, shot in 52 seconds, Bilbro; four days later, a lock was announced. March is always a difficult month for the NHS even without Covid-19, says Bilbrow. "I do not think the public understands how challenging winter pressures are each year. "Until then, we are exhausted." This year, she was watching footage from Italy, and her team was training after hearing about bad health in London hospitals. However, it still felt like Covid had hit overnight. "The areas were suddenly banned, the doors were locked, the bar was set in places. "There was a lot of fear and dread."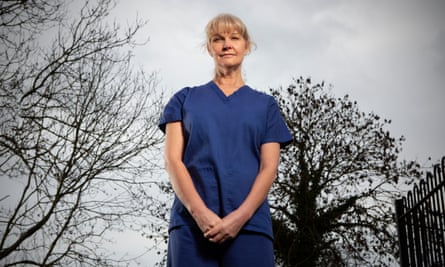 Things went "wild" after Billbrow's announcement, and she now has a publicist to send press requests so she can stick to her work. But she does not regret it. "It felt like the right thing to do and it still feels. "We need to keep talking about how we feel as workers in the NHS, how it affects us." During the year she received many messages from strangers, including messages from former panic shoppers who did not realize the impact of their actions. Her newfound fame, however, is not discussed in the workplace. "Occasionally we have a little giggle, but then we get back to it."
She still speaks loudly, she says, because the NHS "is now at a very low point again"; Lessons have been learned on how to treat some aspects of the disease, and teams are well coordinated, but she is scared of how many people are desensitized to the risks. "Even now, the label still holds that only adults who are vulnerable receive it, which is simply not true. But even if they are vulnerable, then what? These people are still people. Every life is important and the NHS is important. "We want to help everyone."
At the end of the year, Bilbro's life outside of work also remains very different from the previous one. On days off, she tries to take care of herself by exercising, eating healthy and talking to friends and family on video calls. But she still does not hug anyone, she says, and this is breaking her voice. "Sorry. I'm sorry. But it was difficult not to have that contact. We are not robots. We have emotions. "We are still human beings."
Karan Ryan, 30, a Hampshire surgeon, works in London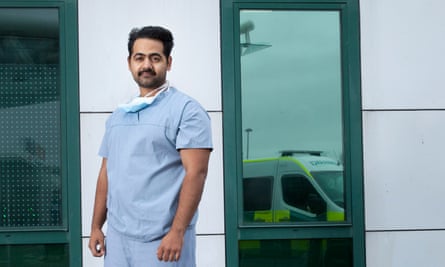 On Sunday, April 5, at 4 a.m., Dr. Karan Ryan was on the final break of his night shift, watching his surgical gloves, when he decided to post a video on TickTock. The day before, he had spotted many people taking them to the supermarket, thinking they were protecting themselves when they risked taking and carrying Covid-19 instead.
He began talking to his camera phone, effervescent in his scrubs, cap, cloak and top, marking the bracelet with lines with a pen to show the effects of touching everything: "Your glove is now full of germs than your hand would be." "Spread the knowledge, not the virus," read the text above his picture. Spread: now has more than 1 million views and he has 2.2 million followers.
Ryan was not new to social media when his video went viral. He posted videos on Instagram to help medical students with exam scores for several years, and after signing up for TickTock in late 2019, he began posting videos of "crazy medical facts, such as how the human stomach produces acid that can "Dissolve the razors," he said, smiling. He also started posting short videos to help combat conspiracy theories and misinformation about science, health and medicine – "something very important to me" – but this started with a hard-working extracurricular career.
He was a guest on Good morning Britain, and is currently working on projects with the Red Cross. Colleagues "laugh" when they see him on TV, but when patients recognize him in the hospital, they usually text him on social media later. ("It seems like everyone is so British, but I really don't mind people coming to talk to me.")
Ryan went through the early part of the first wave, urging patients to delay emergency surgery, which he said was difficult, but if people needed an emergency bed after a procedure, there would be none. He worked in emergency surgery at the time, but had to quickly change his work practice, moving away from keyhole surgery to open-air surgery, for example, because an Italian study showed that it posed fewer risks of Covid transfer. He also appeared in A&E. "So many people did a lot of 12-hour shifts," he said. "It was difficult."
He also received Covid-19 in April, at the beginning of a week of rest, and although he recovered quickly, he had long-term symptoms of Covid, including post-viral fatigue; he felt normal just a month ago. Covid changed it in other, deeper ways. During the summer, watching such close friends fall ill and hearing stories of young people whose family members had died made him feel moved to return and live with his parents in Hampshire; he is the only child and they are "more than eager" to have him around. "On a certain level, this year made me want to see my parents come home every day, and to have that contact before I go to work in the morning. "It reminds many of us how important we are to each other."
Natalie Sylvie, 35, an anesthesiologist from the West Midlands, works in London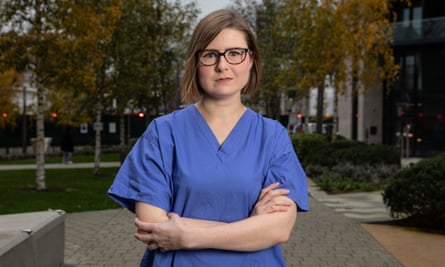 On Saturday, March 21, Natalie Sylvie was in a cabin coming home from work and was shocked by the crowds on the streets. "The inadequacy of seeing people having normal Saturday nights with what I just experienced … makes me emotional even to talk about it now."
For the past nine hours, Sylvie was in full PPE and transferred two intubated Covid-19 patients from an overcrowded hospital to relieve the pressure. She voluntarily wanted to make this shift beyond her usual work models in response to an urgent NHS request. Back at the base, she took a shower and then looked at herself in the hospital mirror, looking deep into her face. "I basically took a picture to show my mother because it looked so funny."
In the cabin, a "crying argument," she said tweeted it as part of a thread "I feel broken – and we're just at the beginning," she said. An hour later, she returned to the phone with a cup of tea, and her best friend sent them the words "Nicholas Sturgeon", without context. Thousands of people, including Scotland's first minister, have already retweeted her thread. "I was everything, oh world … I did not expect this. Do I delete it? "But the giant was out of the bottle."
Sylvie's colleagues were "very positive" about her post, however. "They said it was a good time and it seemed to raise the right kind of awareness." She now has 26,000 followers on Twitter, which she considers "a little crazy", but she tweeted as she did before the pandemic, commenting on things that happen at work and her regular life (such as where she left her glasses).
With 10 years of experience behind him, Sylvie was redeployed to the intensive care unit during the first wave. Very early on, she decided not to see her family, including her pregnant sister, who gave birth to a daughter on March 13, with whom she is very close. "I wrote a letter to my niece and told her why there were no pictures of me holding her when she was little," Sylvie said. She also wrote a will in March, on the advice of the NHS, leaving everything to her niece. At the time, she said, she "felt very scared going to work every day."
Then, in early April, Sylvie received Covid-19, despite adhering to scrupulous PPP decontamination measures (wondering if she got it on the tube while traveling to work). She felt "very bad" and "very guilty of betraying the team", but after recovering, it remained redistributed until June. She had to introduce patients to letters and photos posted on the walls instead of family visits, which was difficult. Every morning, purple hearts placed outside the intensive care unit alerted her to the discharged patients. Many may still be suffering from long-term Covid symptoms, she said. The others did not survive. "I have signed many deaths and I will not forget those people … each of them is someone's son, daughter, mother, father, grandparents." "We must not forget that this is still happening," she said. "It's frightening that so many people are still reducing that impact."
In November, she moved to hospitals and is now working on elective surgery. She is "very proud" of how the NHS manages to keep that job in this "horrible second wave". "It is very important." "Imagine feeling terrible pain at the beginning of this year and postponing surgery all the time." It's been a year that gone fast, but with the news about vaccines it really feels a ray of positivity. "It's very hopeful, unbelievable, especially since we knew nothing about Covid-19 a year ago."