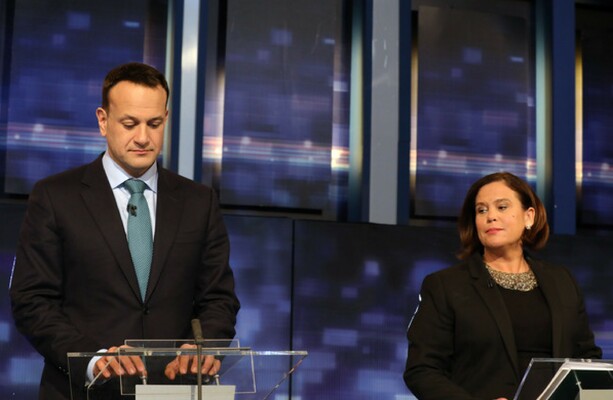 SURVEY A poll released last week summed up what is becoming clearer: that Fine Gael and Sinn Fein are currently big beavers of Irish politics.
This is not necessarily a surprise, but the fact that both parties have the combined support of almost two-thirds of the electorate means that, from now on, all the upcoming general elections increasingly look like a choice between them.
It is in this context that we must consider what is becoming an increasingly intense debate and obvious hostility between the parties.
Fine Gael's call this week that Sinn Fein's Brian Stanley will lose his chairmanship of the Public Accounts Committee comes as Sinn Fein's efforts to pass a no-confidence motion against Tanaist Leo Varadkar last month.
Depending on your point of view, each of the men may deserve to lose his position, but the fact that both parties were actively trying to send someone shows you where the relationship is at the moment.
It may also point to where the political debate is taking place in the current Dale and raise the question of whether it's best for people to score points.
Sinn Fein's proposal to trust Varadkar is perhaps an example. The party has filed a no-confidence motion against fine leader Gael over his announcement of a 2017 NAGP medical union deal.
Varadkar answered questions about the Dail incident and admitted "errors in the verdict", but did not face an official sanction, which Sinn Fein said was not enough.
The subsequent vote of confidence took place predictably along party lines and Varadkar survived, but not before the insults were thrown as predictably,
Sinn Fein accused Fine Gael of being a "network of old boys", while Fine Gael spoke of "IRA victims across the country who are still buried".
Regardless of the substance of the debate, the main contribution to anyone who hears it is that these two parties were at the center of it. A fact that is also reflected in the polls.
Some Fine Gael officials have argued that focusing on Sinn Féin is counterproductive, but it has also been suggested that it is beneficial to side with Fianna Fail, which may be Fine Gael's long-term strategy.
Consider that people miss the whole point of FG attack strategy in SF is not to reduce support for SF, but to maintain low support for FF.

As a February-by-February poll shows, a competitive SF creates a competitive FG on the other side.

– David McCann (@dmcbfs) November 29, 2020
Internet abuse
What may be a more troubling question to consider is whether hostility is in fact the most effective language in political debate at the moment. This does not mean that it is a good thing, but it is a recognition that the people who shout the loudest or the most angry have the most attention in the world of social media.
And it is this area that is particularly attractive this week, firstly because of Stanley's controversial tweets, but also especially because of Varadkar's claims about Sinn Fein supporters online.
Speaking at a meeting of the parliamentary party, Varadkar claimed that he had been targeted on the Internet by Sinn Fein supporters with racist and homophobic abuse.
Sinn Fein called the allegation unfounded, but this or a similar accusation is likely to continue, they are not really new because the party supporter has been criticized for several years.
In recent years, Sinn Féin has been actively trying to increase the number and range of its supporters on the Internet. Indeed, she still carries a page on her website specifically for this group.
This effort by the party was a huge success, but it also means that it has a responsibility not to enter into a deteriorating public discourse.
# Open journalism
No news is bad news
Support the newspaper
Yours contributions will help us continue to deliver stories that are important to you
Support us now
Sinn Fein posted instructions for its representatives and activists on how to behave online and of course reminded members of their responsibilities this week.
But there is also the question of where the responsibility lies for people who are only voters and not active members of the party.
The party may have no control over individual Twitter users, but if it encourages the growth of its Internet support to a level that is out of control or chaotic, then it may take some responsibility for it.
It is difficult to counter allegations of internet abuse by unnamed supporters, not because they are incorrect, but because the party can not blame people they do not know how to join.
Varadkar did not name names when talking to party colleagues, and party MEP Maria Walsh did not name Sinn Fein supporters when she also spoke about Internet abuse this week.
But vague claims about the behavior of individuals over the Internet may have the effect of drawing attention to the issue than to anything else, which is what Sinn Fein's Louis O'Reilly has suggested is Varadkar's intention.
Indeed, Varadkar's claims were made the same night the government voted against a proposal to pay for student nurses and midwives.
What this all means is that as long as both sides talk about each other, they are still being talked about.
As long as the polls remain the same, expect it to continue.