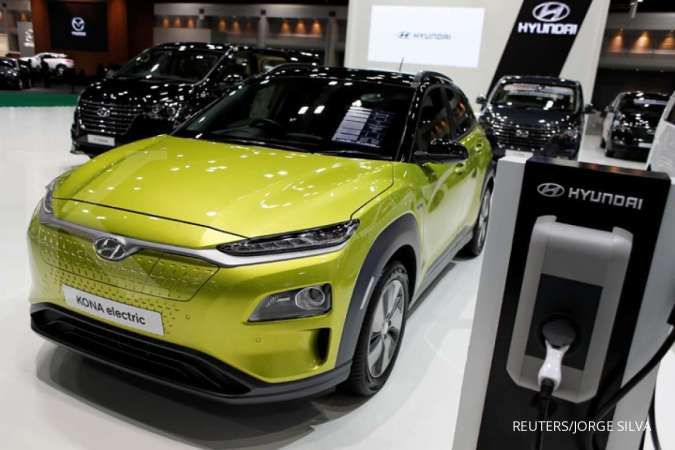 ILLUSTRATION. Hyundai Kona Electric during the Bangkok International Motor Show on July 14, 2020.
Journalist: Agung Hidayat | | Editor: Handoyo.
KONTAN.CO.ID – AKAKARTA. PT Hyundai Motors Indonesia (HMID) will launch two of its electric cars, namely Hyundai Ioniq EV and Hyundai Kona EV, which will take place tomorrow, Friday. In the invitation received from Kontan.com.id, HMID stated that the launch of the two cars will be broadcast via the YouTube channel at 14.00, tomorrow, Friday.
The name Ioniq EV has been widely heard since the beginning of 2020 and has been used as a taxi fleet over the Internet for Grab Indonesia. However, this time Ioniq EV will be offered to private consumers. The price of Hyundai Ioniq Electric and Kona Electric has spread on the Internet.
In fact, PT Hyundai Motors Indonesia (HMID) as a car ownership agent (APM) for Hyundai will launch only two electric cars. Ioniq Electric and Kona Electric have been coming from HMID for a long time.
Read also: Hyundai releases the world's smallest electric car, the Hyundai EV 45 concept
Even YoungTak Lee, chairman of Hyundai Motor's Asia-Pacific headquarters, informed the government. He said Hyundai Ioniq Electric and Kona Electric are part of the many product lines Hyundai has developed for Indonesia that are in line with the government's vision for future mobility.
As a form of commitment to bringing environmentally friendly cars to Indonesia, HMID has shown Ioniq Electric and Kona Electric to Luhut Binsar Pandyaitan, Coordinating Minister for Maritime Affairs and Investment.
Hyundai Ioniq EV is equipped with a 38.3 kWh lithium-ion polymer battery with a maximum power of 100 kW or equivalent to 134 horsepower with 295 Nm of torque. This car is equipped with a permanent magnet synchronous motor (PMSM) electric motor with front wheel drive (2WD).
The instantaneous input of electricity from the electric motor to the wheels makes this car have fast acceleration and is attracted to a maximum speed of 165 kilometers per hour. Hyundai has provided three driving modes for the Ioniq EV, namely Eco, Normal and Sport.
Meanwhile, the Hyundai Kona EV is an electric sports utility vehicle (SUV) that plays in the subcompact segment. The petrol version has been on sale in Indonesia since last year. This jeep is a popular Hyundai electric car in Europe. This car has two variants, with 42 kWh and 64 kWh batteries. The 42 kWh variant has a range of 255 km and an acceleration of 0-100 km per hour in 9.9 seconds.
DONATION, get free vouchers!
Your support will increase our enthusiasm to present quality and useful articles.
As an expression of gratitude for your attention, there are free vouchers worth donations that can be used to purchase in the CONTAN store.
Source link