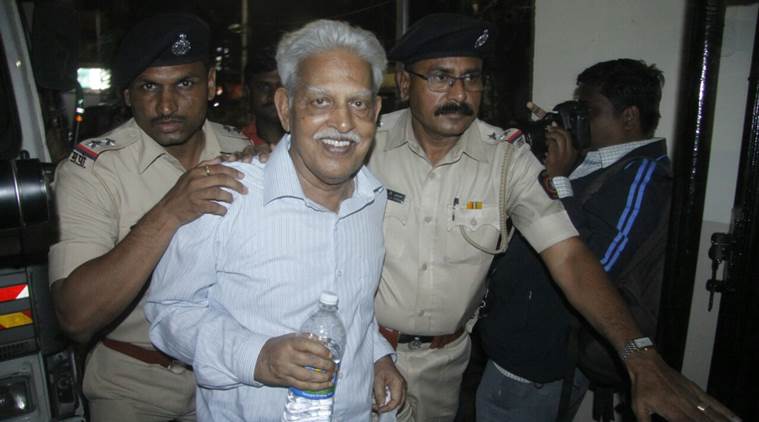 Written by Chandana Haygunde
| Pune |

Posted on November 18, 2018 at 5:21:59
The arrest of activists: False case, the fight against the policy of men, not conspiracy – says Varavara Rao
Activist, writer and poet P Varavara Rao, whose house arrest ended on Saturday, was arrested by the police of Pune City Police a few hours later in connection with the case of Elgaar Parishad. The police claimed that Rao was the senior and active leader of the forbidden CPI-Maoist and participated in a number of activities, including the purchase of weapons through contacts in Nepal and Manipur, and carrying out attacks in Surjagad in Gadhchirola.
Police Pune City arrested Rao along with activists Sudha Bharadwaj, Vernon Gonsalves, Arun Ferreira and Gautam Navlakha, on August 28 regarding the alleged connection to CPI-Maoist. They were accused of being part of a "larger conspiracy of the forbidden CPI-Maoist in order to create an" anti-fascist front "for overthrowing the democratic government of India." They were all accused in accordance with the rigorous law on the prevention of illegal activities.
On September 28, the Supreme Court put all five defendants under house arrest for four weeks. Bharadwaj, Ferreira and Gonsalves applied for bail, but their applications were rejected by the court and arrested by the police. They are currently under judicial control. On October 1, the Supreme Court in Delhi released Navlakh from house arrest.
On October 25, the Supreme Court in Hyderabad prolonged Rao's house arrest for three weeks. However, Rao's later application to revoke the transit order at Pune City Police was rejected by the High Court. When the house arrest came to an end on Saturday, a team led by AKP Shivaji Pawara took Rao to jail from his residence in Jawaharnagar, Secunderabad.
Rao will be brought to Pune and produced in court on Sunday.
For all the latest news from India, download the Indian Express app
Source link