[ad_1]
The geographical distribution of 1,667 additional coronavirus cases has been announced with a new update from EODY.
According to the Organization, Attica and Thessaloniki remain at the top of the list of new infections, with 316 and 367 infections, respectively.
Significantly reduced, compared to the previous days, are the cases in Larissa (66), while 93 new diagnoses were found in Pieria and 56 in Pella.
In 5 regions 86% of coronavirus cases
Earlier, during the information of the Ministry of Health about the coronavirus, the Deputy Minister of Civil Protection, Nikos Hardalias, referred to some of the above-mentioned areas, where, as he said, the spread of the virus continues.
Relevant articles
As informed by Mr. Hardalias, active cases of coronavirus across the country are 16,617, of which 7,031, ie 42.3%, are located in the region of Central Macedonia, 3,267, ie 19.7% are located in the region of Attica, 1,777, ie 10.7%, are located in the region of Thessaly, 1,590, ie 9.6%, are located in the region of Eastern Macedonia and Thrace and 632, 3.8%, in Western Macedonia.
As noted by Mr. Hardalias, 86.1% of active coronavirus cases are geographically distributed in 5 of the 13 regions of the country. In particular, he noted that 66.4% are located in northern Greece. He further pointed out that Attica collects 17.9% of active cases.
The tendency to reduce the number of coronavirus cases in Thessaloniki has stopped
The corresponding diagram, which shows the measurements of the viral load in the wastewater of Thessaloniki since the beginning of the epidemiological epidemic, shows that in the last four samples – from November 25 to December 2 – the declining trend that began to be observed in the previous four measurements of sampling from 16 to 23 November.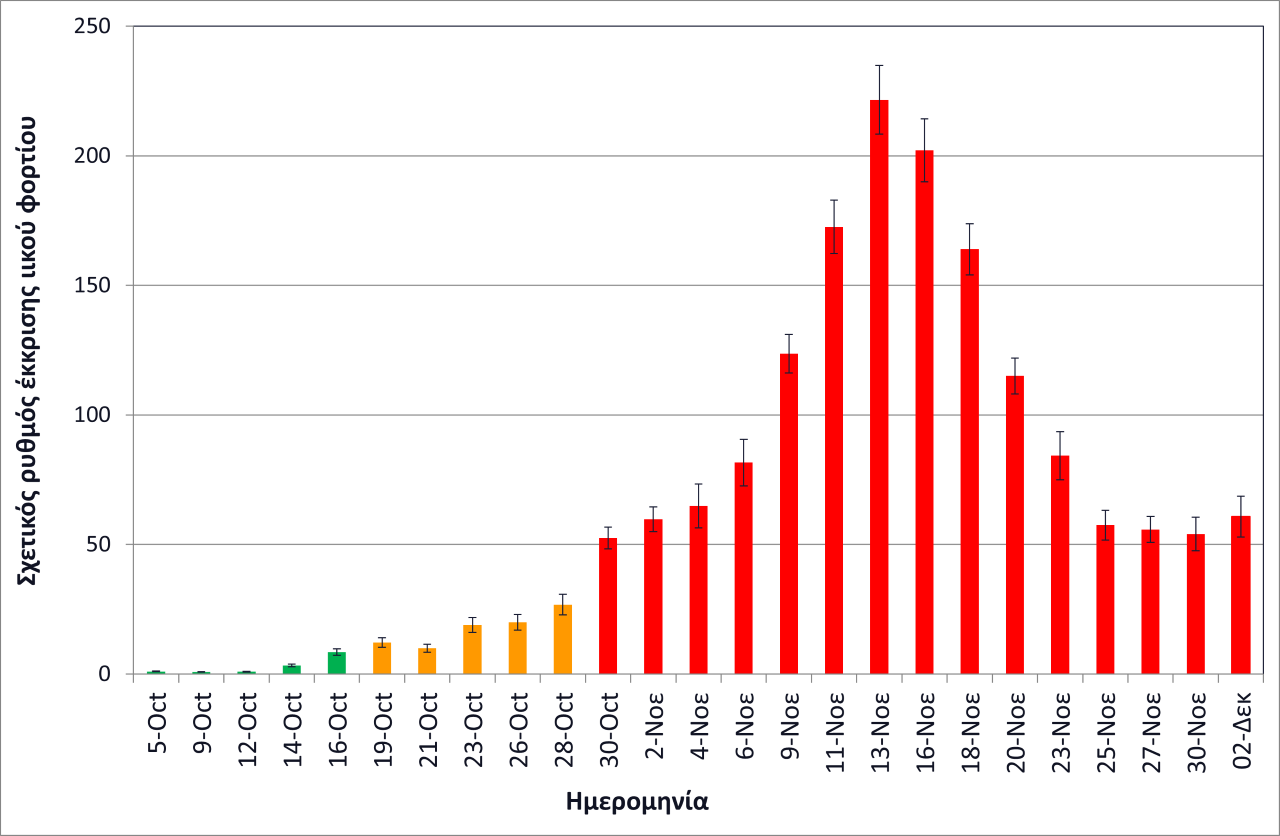 The diagram provided by APE-MPE from Aristotle University of Thessaloniki shows the course of recording the viral load in wastewater until sampling from 2 December 2020.
At the same time, according to the team of Demosthenes Sarigianis, a professor at the Department of Chemical Engineering at Aristotle University of Thessaloniki, published on Thursday, every fourth new case that will be noticed on the last day of 2020 in our country will be located in Thessaloniki, 200 cases out of a total of 700-800 that day.
Which means that in order for Thessaloniki to return to a relatively satisfactory and managed health condition, there is enough time ahead of us.
Detailed geographical distribution of coronavirus cases (Friday 4/12)
More specifically, according to EODI, 9 cases were identified during the checks performed at the country's entrance gates. The rest are found throughout the territory and are distributed as follows:
316 cases in the Attica region
367 cases in P.E. Thessaloniki
20 cases in P.E. Etoloakarnania
17 cases in P.E. Argolida
5 cases in P.E. In Arcadia
13 cases in P.E. From Achaia
14 cases in P.E. Βοιωτίας
13 cases in P.E. Grevena
33 cases in P.E. Drama
35 cases in P.E. Euros
3 cases in P.E. To Evia
5 cases in P.E. Evritania
1 case in P.E. To Elijah
79 cases in P.E. Imatia
15 cases in P.E. Heraklion
1 case in P.E. Thesprotia
12 cases in P.E. Ioannina
32 cases in P.E. Kavala
1 case in P.E. Kalimnos
29 cases in P.E. Cardigan
6 cases in P.E. Castor
2 cases in P.E. Corfu
56 cases in P.E. Кукуш
34 cases in P.E. Leather
7 cases in P.E. Corinth
3 cases in P.E. Laconia
66 cases in P.E. From Larissa
13 cases in P.E. Lesvos
1 case in P.E. Lefkada
1 case in P.E. Lemnos
51 cases in P.E. Magnesia
7 cases in P.E. At Messinia
49 cases in P.E. Xanthi
57 cases in P.E. Pella
93 cases in P.E. Pieria
1 case in P.E. Veil
20 cases in P.E. Rodopi
2 cases in P.E. Rhodes
40 cases in P.E. Ceres
23 cases in P.E. Trikala
11 cases in P.E. Phytoid
12 cases in P.E. Florina
1 case in P.E. Φωκίδας
40 cases in P.E. In Halkidiki
10 cases in P.E. Chania
5 cases in P.E. Chios
36 cases are under investigation
!function(f,b,e,v,n,t,s){if(f.fbq)return;n=f.fbq=function(){n.callMethod? n.callMethod.apply(n,arguments):n.queue.push(arguments)};if(!f._fbq)f._fbq=n; n.push=n;n.loaded=!0;n.version='2.0';n.queue=[];t=b.createElement(e);t.async=!0; t.src=v;s=b.getElementsByTagName(e)[0];s.parentNode.insertBefore(t,s)}(window, document,'script','https://connect.facebook.net/en_US/fbevents.js');
fbq('init', '590266244822380', [], { "agent": "pldrupal-8-8.9.6" });
fbq('track', 'PageView', []);

[ad_2]
Source link