The tradition of St. Barbara wants many parts of the country to prepare a sweet recipe, based on Greek soil.
On the day of St. Barbara in Kilkis, Alexandroupolis, Soufli, Serres, but also in Samos, Mytilene and Lefkada, believers prepare soup that you have probably never seen before. Barbara or otherwise asserts, full of nutritious grains and legumes, is a cottage-like dessert served with dark red pomegranate seeds.
Especially in Evros, they seem to do it on the eve of St. Barbara and instead of flour they put tahini, walnuts, figs and raisins. Generally, however, in Euros, according to many, it is made with roasted sesame seeds, chopped figs and raisins, while they also add chestnuts, dried apricots, cinnamon and for serving grated walnut with cinnamon and a cup of sugar in boiling wheat.
Legend has it that this dish has been served since antiquity during the famous Hundred Evenings, ceremonies in favor of the goddess Hecate, during which the richest offered a similar meal to the poor.
How the sweet soup went in the Christian tradition
Relevant articles
In Christian tradition, the legend wants St. Barbara, Dioscurus' daughter, to warn Christians that her father intends to exterminate the Christian population by poisoning the bread.
She warned them and invited them to do something casual with what they have at home, instead of buying bread. Thus came the famous sweet barbara, the bowl of legumes and cereals that families had in their home.
According to the life of the Saint, Barbara was a beautiful girl from Asia Minor to Nicomedia, during the time of the Roman Emperor Maximian.
Dioscorus or Diosorus, her fanatical nationalist (pagan) father, locked her in a tower to protect her from suitors. However, he secretly accepted Christianity.
The Bath of St. Barbara
Her father ordered a bath for her so that she would not have to use the public baths. So, Barbara is said to have installed three windows in the bathroom to honor the Holy Trinity, acknowledging her father's word. Seeing this change, he disappeared and ordered to surrender to the Roman prefect during the persecution of the Christians.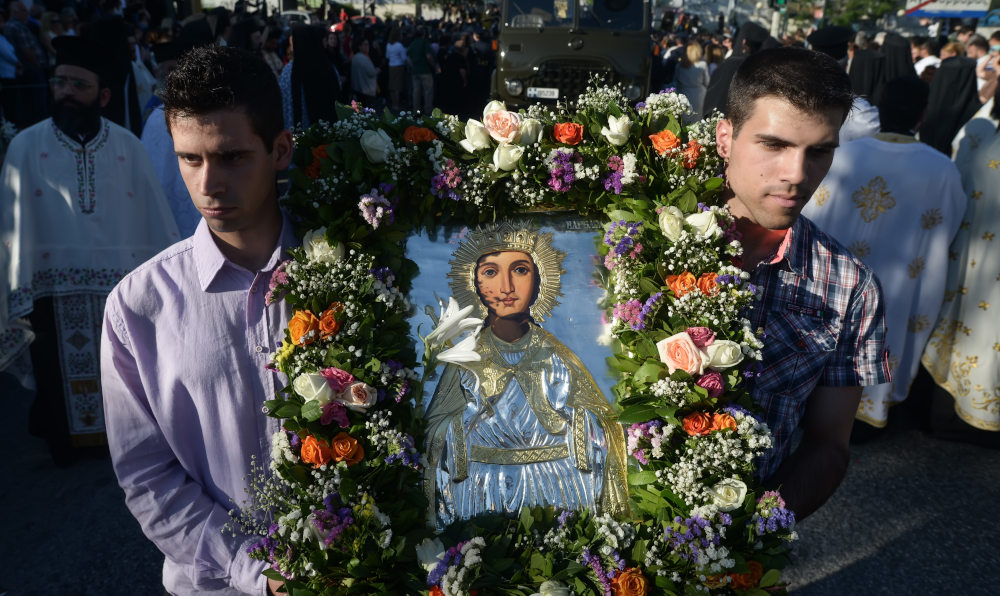 The prefect, admiring her beauty, first tried to convince her, but seeing that she was unwavering, he subjected her to martyrdom, more to save her from the wrath of her father, who wanted to kill her. Eventually, the prefect ordered her beheaded and ordered her father to execute her, which was his wish.
The place and time of St. Barbara's martyrdom are unknown. Thus, according to others, he was a martyr in Nicomedia in Bithynia in 210, according to others in Ilioupoli (modern-day Baalbek) in Lebanon in 360, and according to others (Catholic version) in a Tuscan city.
The recipe for Barbara or asure
A similar dessert is prepared in many villages in Greece on November 21, the day of Panagia Polisportisa. There the polyspores (which include many legumes and cereals) come from the contributions of the believers of the goddess Demeter in antiquity.
Materials
250 gr. peeled wheat
124 gr. sugar
1 cup walnuts
Or a glass of almonds
Or a glass of toasted sesame seeds
Seeds of half a pomegranate
3 tablespoons flour for all purposes
Cinnamon for serving
Implementation
Wash the wheat well under running water. Strain and soak in warm water for at least 3 hours before cooking
Put 1 liter of water in a saucepan and boil the wheat for half an hour on medium heat. Then add sugar and raisins and continue cooking for 10 minutes
In a non-stick pan, bake the flour until golden brown, about 1 minute. Roll the flour in a bowl with ½ a glass of cold water and stir to dissolve. Pour the flour into the pot with the wheat and mix
In Barbara add walnuts, almonds and roasted sesame seeds and mix. Serve with pomegranate seeds
!function(f,b,e,v,n,t,s){if(f.fbq)return;n=f.fbq=function(){n.callMethod? n.callMethod.apply(n,arguments):n.queue.push(arguments)};if(!f._fbq)f._fbq=n; n.push=n;n.loaded=!0;n.version='2.0';n.queue=[];t=b.createElement(e);t.async=!0; t.src=v;s=b.getElementsByTagName(e)[0];s.parentNode.insertBefore(t,s)}(window, document,'script','https://connect.facebook.net/en_US/fbevents.js');
fbq('init', '590266244822380', [], { "agent": "pldrupal-8-8.9.6" });
fbq('track', 'PageView', []);


Source link