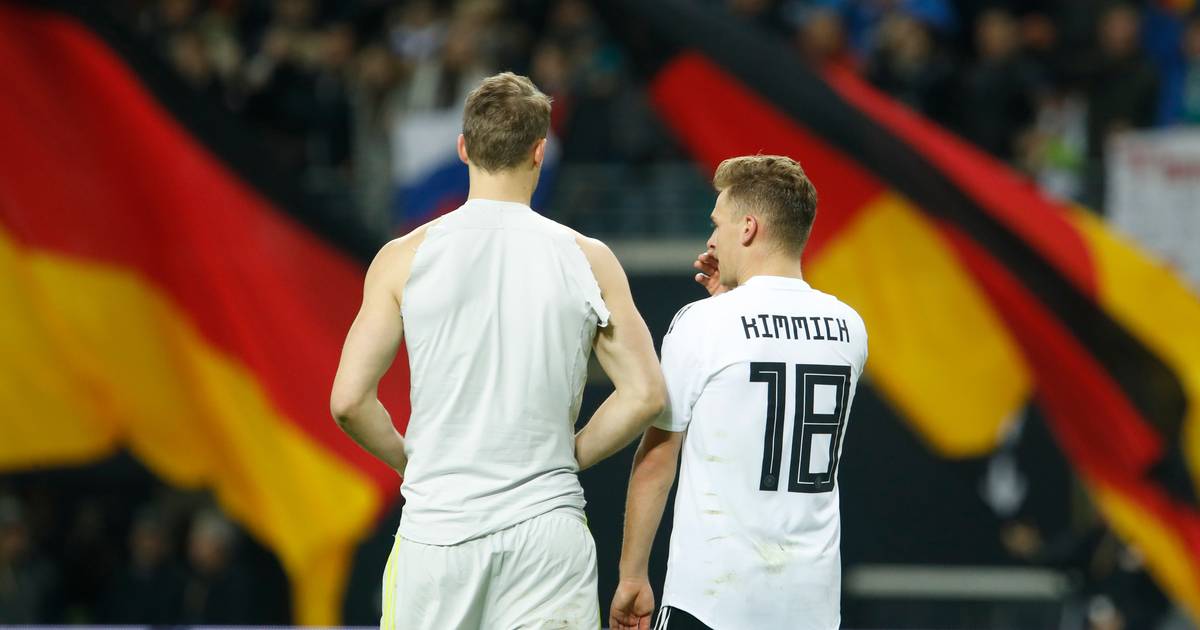 The German national team convinced themselves in a 3-0 victory against Russia, especially before the break. National coach Joachim Loew is pleased with the first half, but he sees weaknesses.
Sniper Serge Gnabry praises the rookie debut Kai Havertza, but criticizes the mood at the unpaid stadium in Leipzig. Joshua Kimmich thinks about another sport. (Game to read in LIVETICKER)
The official turnout was 35,288 people, leaving almost 8,000 vacancies.
Sport1 sums up the votes RTL and from the mixed zone together:
Joachim Löw (national trainer): "The first half was good, we had good control over the game and we had the pace in the game, the goals were very well played, so if you make so many changes, the flow will obviously be lost it was a bit confused."
… about Kai Havertz: He is a very good ball, he is oriented towards the front and has an open position to the ball, he always tries to raise the ball forward, these are also key moments in our game and he is very good at his age. He has a great overview and he quickly realizes situations. "
… on reservists Thomas Müller and Mats Hummels: "They are incredibly professional, they are also making progress in training and guiding others, and today they have completely accepted the decision."
Stanislav Chershessov (Russia coach): "In the second half we saw that we could play well, and in the first half we were not prepared for the pace of Germany, the Germans played more aggressively."
Gnabry wants a better mood
Serge Gnabry (Germany): "We had many chances in the first half and we were not so happy with the second half, we were not so aggressive in duels and we did not have so much pressure put a fool on it."
… about the change: "For us on the pitch it does not matter how old we are, we just look that they are accelerating, we just have many young players in Germany who are young regulars in their clubs." Kai Havertz is only 19 years old. A good example, a great game, so why not let him play? "
… about the mood in the stadium: "Of course it would be nice to have some more support, but on the pitch we have to make sure that the results are correct, then the fans will come back."
… about your purpose and the original Havertza: "It was a great streak, I told him in advance that he should be in front of half-spatial space so he could play Niklas Süle, that he has such an eye and he finds he is great."
AD: The UEFA League of Nations lives in DAZN – get a free month now!
Kimmich feels like in an indoor pool
Joshua Kimmich (Germany): "I thought we were in an indoor pool, with blue seats, you do not even get it as a player, the hymn is a bit too bright, but when it starts you are like In the film you can not look left and right but concentrate on the square. "
Leon Goretzka (Germany): "Especially if you are coming here from Dortmund last Saturday, it's a bit of a cultural shock, but this is how it is with such games – I think that when something comes up again, the mood in the stadium will be better again."
The new looks great
Manuel Neuer (captain of the German team): "We want to end the year with the last two games and we had to experience a difficult year with the national team, which was a good start."
… about the change: "They are all seasoned players who play in the best clubs, even on the international arena, we communicate a lot, it's important that you can say everything on the pitch, it's my job, we'll see who will play in Holland young player is very hungry, it's very positive has a lot of potential to use it. "
… about the mood: "It was not sold out, it's a pity, but we have not done so much this year that every game is sold out."
ADVERTISEMENT: Download the DFB T-shirt now – click here to view the store
Leroy Sane (Germany): "We have many good young players, no matter what the position, we played a decent game today and I hope that I can play well and win on Monday, I really like the way Yogi Löw plays it offensive and the young players showed today that we can also play in this system, so I think we can build a little more pressure. "
Havertz: "Learn from the oldest the most"
Kai Havertz (Germany): "It's always fun to play with many young players, but you can learn the most from the older ones here, you can see what the quality is, and especially as a young player, you can see a lot, be in such a game."
Niklas Süle (Germany): "We had many good things in the first half, but also many that we need to improve even more, we're on the right track and we want to resist it."
… about the Stammplatz theorem: "I would never make it public, I have my goals, I have great respect for them (Mats Hummels and Jerome Boateng, ed.), They are still amazing players, I have learned a lot from them and I will learn a lot, I'm always happy when I can play and I try to pay back my trust. "
Source link