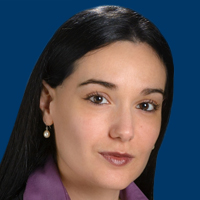 Dr. Tina Cascone
Nonadjuvant immunotherapy may offer promise in patients with non-small-cell resectable lung cancer (NSCLC), but further investigation is needed for optimal use, Dr. Tina Cascon said in a statement during the 14- Annual Symposium on Lungs in New York®.1
"We have learned that immune checkpoint inhibitors play an important role in the setting of new ligation, but many questions remain, such as the best therapy, the number of doses, the sequence of the combination, and the spatiotemporal modulation of the immune system's microenvironment. said Casco, assistant professor of thoracic cancer and head and neck cancer at the University of Texas Anderson Cancer Center, University of Texas.
However, new-treatment immunotherapy is a very active area of ​​study and evolving data from preclinical models and clinical trials are expected to provide answers. For example, ongoing Phase III Checkmate-77T (NCT04025879), KEYNOTE-671 (NCT03425643), IMpower030 (NCT034056063) and AEGEAN (NCT03800134) studies are evaluating nivolumab (Opdivo), pembrolizinum (Imbri) and pembrolizumum , in combination with chemotherapy in patients with stage II to stage III resectable disease.
"These trials will give us the opportunity to evaluate the major pathological response (MPR) and pathological complete response (pCR) as surrogate endpoints for improved survival after non-human therapy," Kaskon said. "[In NSCLC], MMR [has been recognized] as predictable for improving long-term overall survival. "
Establishing surrogate endpoints for clinical benefit is of paramount importance in the NSCLC, because "trials can take decades to complete and are costly," Kaskon added.
Surrogate endpoints should be sufficiently correlated with clinical endpoints to justify their employment and they should capture the full net effect of treatment on clinical outcome, Cascon said, adding that the FDA may approve an agent based on improvement in surrogate endpoint.2
Cascon highlights studies of phase II mutation in lung cancer (LCMC3; NCT02927301) and NEOSTAR (NCT03158129) studies as those in which MPR was a key predictor of immune response.
LCMC3 inspectors have evaluated nonadherent atozolizumab in 180 patients with stage IB surgery to IIIB NSCLC. The agent induced MPR in 19% and FFR in 5% of patients in the primary efficacy population (n = 77) who continued to have complete surgical resection. Atezolizumab had a positive activity and a favorable safety profile, confirming that the PD-L1 inhibitor is a viable treatment option in the new additive setting.3 Namely, LCMC3 was the first study to report findings of preoperative atezolizumab in resectable NSCLC.
Casco was the lead author of NEOSTAR, which randomized 44 patients with stage I to IIIA NSCLC or single-agent levelolumab or levelolab with epilimab (Cervivo). The NEOSTAR study of inappropriate lumab / ipilimalab levels has been suggested by previous evidence showing that treatment is more effective when given earlier and in combination with another agent.
"In mouse models of lung cancer, we have tested novel adjuvant and adjuvant therapies and found that combined neonatal treatment is superior to monotherapy and adjuvant therapy to improve survival and survival" said Casco.
In addition to lung cancer, Liu et al observed superiority of adjunctive anti-PD-1 therapy to adjuvant therapy in the eradication of metastases in a model of breast cancer.4 Nonadjunctive immunotherapy is an attractive treatment of modality because it increases the expression of PD-L1. Targeting PD-L1 on cancer cells reverses the function of tumor-infiltrating lymphocytes (TIL) with positive CD8 and suppresses metastases.5
The results of Phase I check of the I CheckMate-012 (NCT01454102) test of nivolumab plus ipilimumab in advanced NSCLC confirm the positive activity we previously observed in mouse models: the duplex induced high response rates and prolonged progression-free survival. The findings from the mouse models and CheckMate-012 have given motivation for the NEOSTAR study, Cascon said.
In NEOSTAR, investigators noted a combined MPR and pCR of 25% (11 patients) in the population intended for treatment (n = 44).6 The combined rate of MPR and pCR was 17% (95% CI, 0.05-0.39) in nivolumab arm and 33% (95% CI, 0.15-0.57) in nivolumab / ipilimumab arm, causing NEOSTAR to met the threshold for efficient testing. The combination of levelumab / ipilimalab as non-adjuvant therapy was associated with higher frequencies of CD3-positive TILs and increased in CD8-positive / CD103-positive (TRM) and CD4-positive / CD28-positive compartments.
Source link