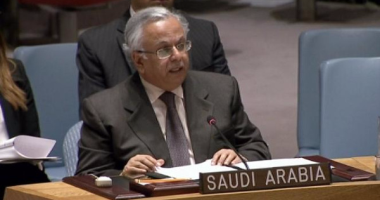 Saudi Arabia reiterated that the UF is attentive to its continued support of the WHO Regional Office for achieving UF objectives in the region by 2030.
Saudi Ambassador to the UN, Abdullah bin Yahya al-Mualimi, told the Saudi Press Agency (SPA) of a high-level meeting on universal health coverage held in New York titled "Building a Healthy World Together" UN General Assembly Seventy-Four.
He noted that the Kingdom participated in a meeting of Health Ministers in the Eastern Mediterranean held in Salalah in September 2018 and signed the International Health Partnership for Universal Health Coverage 2030, a global agreement to move towards universal health coverage.
"In Saudi Arabia we have launched a health transformation program that is one of the largest in the world. We believe that investing in health care is a precondition for sustainable development efforts, implemented by Saudi Vision 2030.
He pointed out that the Health Transformation Program aims to facilitate access to health services, improve the quality and efficiency of services and enhance prevention of health risks, which will contribute to increasing the rate of years of life and improving the quality of life. for all segments of society, pointing out that the Kingdom will seek through this program Implementation of a health care model designed to provide integrated and interdependent health services that Center of the user and to meet the psychological, physical and social needs, which will provide a comprehensive and sustainable health coverage for all segments of society.
Ambassador Al-Mualimi pointed out that the new model of care starts from a fundamental perspective that is essential for activating the role of the individual and society and focuses on efforts to promote health and protection and disease prevention as a first line of defense and most importantly. to control the chronic diseases and risk factors they cause.
" In Saudi Arabia, we recognize the importance of primary care in implementing the new model of care and are a key pillar for achieving universal health coverage, in accordance with the Astana Agreement of the World Conference on Primary Care on October 25, 2018.
Al-Mualimi said the Kingdom has taken accelerated steps in this area by developing infrastructure for primary health care centers, increasing specialized clinics including psychiatric clinics, enhancing family and nursing training programs, activating the community role of these. centers, as well as providing health care clinics. Primary mobile service for remote areas.
He explained that the Kingdom has developed e-health solutions to facilitate users' access to primary health care through appointment booking services (more than 80 million appointments scheduled through this service), as well as access to medical consultation by accredited doctors.
In the area of ​​health promotion and disease prevention, the Kingdom has intensified its efforts to control chronic diseases and their risk factors, including but not limited to 100% selective taxation on tobacco products and the adoption of simple packaging of tobacco products. In 2019 as the first country in the Middle East and the tenth country in the world, introducing a selective 50% tax on non-alcoholic beverages, and applying the calorie list to all food establishments in the Kingdom, and obliging bread producers and importers reduce the amount of salt, and prevent the use of partially hydrogenated oils in industry. Five Health Cities by the World Health Organization (WHO).
He concluded by saying that the Kingdom supported the G20's efforts to focus on the importance of universal health coverage and its role in achieving sustainable development, especially in low- and middle-income countries, including its support for international efforts to strengthen health systems and increasing their readiness to control epidemics and outbreaks by implementing regulations. International HealthInternational Health Regulations Antibacterial resistance)Anti microbial resistanceThe kingdom will continue to support these efforts through its G20 presidency next year, 2020.
Source link